Drew Faust, who became Harvard's 28th president in 2007, announced today that she will step down on June 30, 2018.
Faust, an acclaimed author and historian of the Civil War and the American South, and the first woman to lead the University, announced her decision in a message to the Harvard community.
"It has been a privilege beyond words to work with all of you to lead Harvard, in the words of her alma mater, 'through change and through storm,'" she wrote. "We have shared ample portions of both over the last decade and have confronted them together in ways that have made the University stronger — more integrated both intellectually and administratively, more effectively governed, more open and diverse, more in the world and across the world, more innovative and experimental. The dedication of students, faculty, and staff to the ideal and excellence of Harvard and to the importance of its pursuit of Veritas has made all this possible. I know this commitment will carry Harvard forward, from strength to strength, in the years to come.
"I am deeply grateful to every member of this community for the honor of being your president and for the support and, indeed, joy you have given me."
Faust also wrote of "much work to be done" in the final year of her term, saying that she looks forward to "seizing every opportunity and confronting every challenge in the year ahead."
Faust is credited with fostering "One Harvard," academic and operational collaboration among Harvard College and the University's graduate and professional Schools; opening Harvard's community to new and diverse populations; advancing the University's educational mission in the arts, sciences, engineering, and the humanities; placing new emphasis on innovation in learning and interdisciplinary programs; expanding the institution's global footprint; and modernizing governance and administrative structures.
A prominent national and international advocate for the mission of American higher education, Faust also has led a record-setting capital campaign that, with a year still remaining, has raised more than $8 billion. Its purpose is to enhance the experiences of future generations of students and faculty and to broaden the transformative impact of their work and research beyond campus.
"I am deeply grateful to every member of this community for the honor of being your president and for the support and, indeed, joy you have given me."

— Drew Faust
In a letter to the Harvard community following Faust's message, William F. Lee, senior fellow of the Harvard Corporation, said that he and his fellow Corporation members "greeted this news with a number of emotions, the strongest of which was gratitude: for her wisdom, her vision, her courage, her integrity, and her remarkable leadership of this remarkable University."
"[Faust's] intelligence, her depth, her warmth, her compassion, and her extraordinary ability to communicate — including her ability to listen to and understand what others are saying — are evidenced in all she does, and in how she leads," said Lee, who as an Overseer served on the search committee that nominated Faust, then the founding dean of the Radcliffe Institute for Advanced Study, in February 2007 to become Harvard president the following July 1. "For the last 10 years, she has approached every day with a singular purpose: to ensure that Harvard remains the preeminent academic institution in the world by constantly driving Harvard forward."
A commitment to opening Harvard, and accessing higher education
From the earliest days of her presidency, Faust made attracting the best students to Harvard regardless of their financial circumstances a fundamental priority. In her October 2007 installation address, she asserted that Harvard must ensure "that cost does not divert students from pursuing their passions and their dreams."
In December 2007, Faust announced a sweeping expansion of Harvard's undergraduate financial aid policies, extending greater support to middle-income families despite rising college costs.  Other leading universities followed Harvard's example, enabling access for many students of modest means.
"Drew is the quintessential principled leader. She starts with values and decisions follow," said Clayton Spencer, president of Bates College, who was vice president for policy at Harvard until 2012 and worked closely with Faust on the financial aid initiative. "Within her first six months in office, she expanded financial aid to families across the economic spectrum to make sure that talented students, regardless of their geography or family circumstances, would know that they were not only welcome at Harvard, but sincerely wanted and sought after.  From this early moment, she has continued to open the gates of Harvard wider and wider."
The need for generous financial aid was heightened during the global economic crisis that erupted early in Faust's presidency, when many families faced challenging financial circumstances. In 2009, as Harvard faced its own financial challenges with a 27 percent drop in the value of its endowment, Faust remained committed to increasing financial aid, recognizing its crucial role in making Harvard accessible. Student aid University-wide has risen every year under Faust's leadership, from $339 million in 2007 to $539 million in 2016.
"University leadership is a special art, one you only fully learn on the job. In that learning process, I have been incredibly fortunate to be able to count on Drew Faust as a counselor, a friend — and an inspiration."

— Rafael Reif, president of MIT
Today, more than half of Harvard College students receive need-based financial aid, and their families pay an average of only $12,000 annually. More than three quarters of the Class of 2016 graduated debt-free. Families with incomes up to $150,000 and typical assets pay 10 percent or less of their annual incomes.
Access and affordability have also been major focuses of the successful Harvard Campaign, with $907 million raised so far for student financial aid.
Expanding access to new and different learners around the world underpinned Faust's drive to partner with the Massachusetts Institute of Technology in 2012 to launch edX, making Harvard an early leader in the field of digital learning. HarvardX, which creates Harvard programming on the edX platform, has launched almost 90 courses, with 4 million registrations to date.
"University leadership is a special art, one you only fully learn on the job. In that learning process, I have been incredibly fortunate to be able to count on Drew Faust as a counselor, a friend — and an inspiration," said Rafael Reif, president of MIT.
"My admiration grew through working with her in 2012, as Harvard and MIT joined forces to launch the global digital learning platform edX.  At the time, edX was just an exciting idea. Since then, it has grown to reach 11.6 million learners, from every nation, with content from more than 100 institutions as well as our own," he said. "The Harvard-MIT partnership that made edX possible would never have taken shape without Drew's enthusiastic backing."
Beyond the gates of Harvard Yard, Faust also has visited more than a dozen high schools around the world to encourage students to understand the value of education and to consider higher education as part of their future.
A diverse and inclusive campus, community
Faust brought an unwavering determination to make Harvard a more unified, welcoming, and inclusive community during her tenure, both through efforts to create a more diverse faculty and student body, and through the creation of physical spaces meant to encourage connection.
The undergraduate student body is now majority minority, and one in five undergraduates at the College comes from a household with family income below $65,000 per year. According to Harvard's Office of Faculty Development and Diversity, the proportion of women on the tenured faculty has increased by 25 percent since 2008, now representing almost 26 percent of the total. In that same period, the proportion of underrepresented minorities on the tenured faculty has increased by 49 percent, representing 8 percent of the total. The proportion of tenure-track women and underrepresented minorities has increased steadily over the past decade.
Faust recently convened a University-wide Task Force on Inclusion and Belonging to explore further ways to advance inclusion on campus. She wrote last September that "exposure to difference fosters creativity, challenges settled assumptions, and helps make possible the advancement of knowledge central to our educational mission." She continued, "Like other educational institutions, Harvard has come to understand that the promise of diversity requires attention beyond our hiring and admissions decisions. It is no less important for us to create an environment on campus that is open and inclusive and that inspires a sense of belonging for all members of our community."
Faust's efforts to broaden inclusion were also evident in her advocacy for the repeal of the "Don't Ask, Don't Tell" policy that banned openly gay individuals from military service, and in her commitment to return the Reserve Officers' Training Corps to Harvard upon the policy's repeal.
In 2011, Faust signed an agreement to bring Navy ROTC back to campus, making Harvard among the first universities to re-establish an ROTC unit after decades of hiatus on campuses across the country.
Faust said at the signing of the agreement, "Our renewed relationship affirms the vital role that the members of our Armed Forces play in serving the nation and securing our freedoms, while also affirming inclusion and opportunity as powerful American ideals. It broadens the pathways for students to participate in an honorable and admirable calling, and in so doing advances our commitment to both learning and service." In the following years, Harvard formally recognized Army ROTC (2012) and Air Force ROTC (2016).
In 2013, the U.S. Department of the Navy awarded Faust the Navy Distinguished Public Service Award, its highest civilian honor, for the "selfless determination" she displayed in leading the move to formal recognition of ROTC.
Former Secretary of the Navy Ray E. Mabus, who worked with Faust to reinstate Navy ROTC, told the Harvard Crimson this spring that Faust was "very clear, very straightforward, and outlined exactly the steps it would take and what each of our responsibilities were." He said, "I could not ask for a better leader or a better partner in bringing ROTC back to campus."
Faust also initiated an effort to understand more deeply Harvard's historical connections to slavery and was joined by civil rights leader and U.S. Rep. John Lewis in 2016 to dedicate a plaque honoring four enslaved individuals — Titus, Venus, Bilhah, and Juba — who lived and worked in Wadsworth House during the 18th-century tenures of Harvard presidents Benjamin Wadsworth and Edward Holyoke.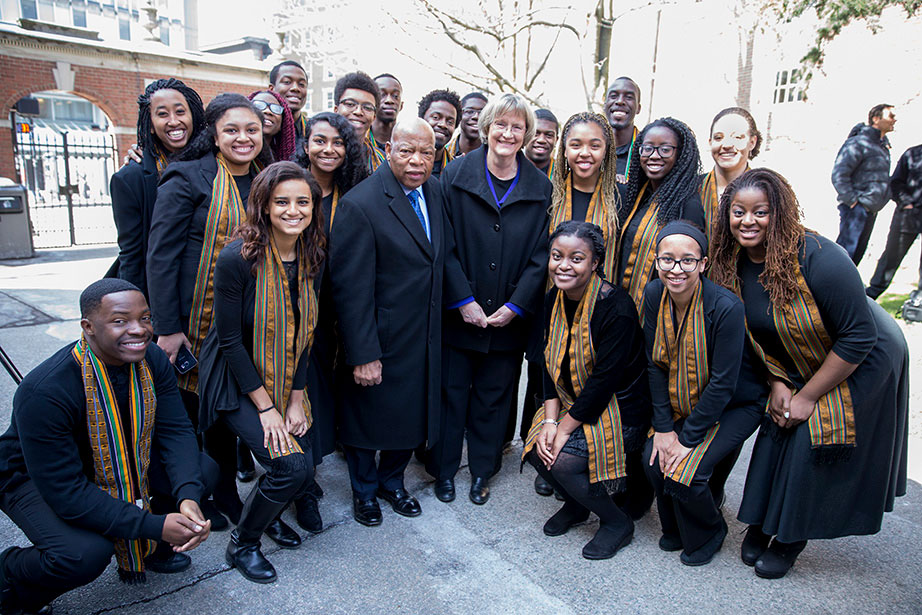 "The plaque is intended to remember and honor them and to remind us that slavery was not an abstraction, but a cruelty inflicted on particular humans. We name the names to remember those stolen lives," said Faust. Lewis followed, noting that "we have to disturb the order of things … to bring truth to light," and that it was "fitting and most appropriate that Harvard University, the first college in the nation, pause and pay tribute to the lives of these slaves who served the University … with great distinction."
He went on to thank Faust for her "courage and leadership." "Thank you for never, ever, giving up," he said, "or giving in, but keeping the faith by giving these souls some of the dignity and the honor they did not receive in life, but have deserved for centuries."
The ceremony was the first activity in an ongoing, research-driven program to chronicle the contributions that enslaved individuals made at Harvard. A conference on the topic of universities and slavery followed this March, and a faculty committee will continue to research and advise the University on the issue.
Faust also sought to bring the community together through the physical spaces on campus. In 2008, she announced a Common Spaces initiative, which she called "an effort to create new spaces that will draw our increasingly diverse and interdisciplinary community together and enhance the intellectual, social, and cultural life that is at the core of the Harvard experience."
Over the following nine years, the program reshaped much of the campus, including the addition of colorful chairs to Harvard Yard each spring, the Pritzker Commons, and the Plaza at the Science Center. The revitalized Richard A. and Susan F. Smith Campus Center, scheduled to reopen in 2018, will be a cornerstone of the initiative and a vital hub for the community, with flexible indoor gathering, study, and food areas, as well as space for exhibitions, events, and performances.
The growth of Harvard's campus in recent years has been accompanied by a significant commitment to sustainability. Faust set out ambitious greenhouse gas reduction goals for the institution in 2008, aiming to reduce emissions, including those associated with prospective campus growth, by 30 percent — relative to its 2006 baseline — by 2016.
"Our responsibility to future generations demands that we approach this problem with the seriousness of purpose it deserves and with the cooperative spirit essential to progress," Faust said at the time.
Last December, the University announced it had met its goal, with Faust saying "common purpose has brought our community together in exciting new ways." A University-wide Climate Change Task Force is currently charged with developing a new set of recommendations.
Advancing Harvard's academic mission
The inclusive concept of "One Harvard" became a driving force behind Faust's presidency, manifesting itself powerfully in the integration of academic programs and initiatives across Harvard's historically decentralized Schools.
"In regular conversations with the Council of Deans and in the programmatic expansions she personally supported with President's Funds, Drew constantly challenged us to make Harvard more than the sum of its parts," said University of Miami President Julio Frenk, formerly dean of the Harvard T.H. Chan School of Public Health. "How can we enrich this area of inquiry across disciplines? How can we enable more of our students to take advantage of more of Harvard? She constantly pressed us on this, and many new and novel programs and partnerships are the direct result."
The number of School cross-registrations has increased steadily over the past several years, reflecting a broader commitment to academic collaboration across the University. Examples include University-wide programs such as the Harvard University Center for the Environment, the South Asia Institute, and the Center for African Studies, as well as a series of new joint degrees, including the recently announced dual master's degree program in Engineering, Design, and Innovation Management, a collaboration between Harvard Business School and the Harvard John A. Paulson School of Engineering and Applied Sciences.
"In regular conversations with the Council of Deans and in the programmatic expansions she personally supported with President's Funds, Drew constantly challenged us to make Harvard more than the sum of its parts."

— Julio Frenk, president of the University of Miami
The sciences have flourished at Harvard under Faust's leadership, with $2.9 billion raised to support them as part of the Harvard Campaign, the establishment of the Wyss Institute for Biologically Inspired Engineering and the Ragon Institute with MIT and Massachusetts General Hospital, and the strengthening and expansion of flagship initiatives such as the Harvard Stem Cell Institute and the Broad Institute, in partnership with MIT.
Since Harvard engineering was elevated to School status in 2007, Faust has overseen the evolution and growth of what became the Harvard John A. Paulson School of Engineering and Applied Sciences. She has administered the formation of cross-University initiatives in the sciences, including a Data Science Initiative, the Harvard Global Health Initiative, and the Climate Change Solutions Fund, which has supported 25 projects since its founding in 2014.
From the outset of her presidency, Faust set a course to put the arts — in all forms — at the center of University life, asking a cross-disciplinary Task Force on the Arts to examine their role at Harvard, including connections between arts activities and science, technology, the humanities, and other fields.
Addressing the recommendations of the task force in December 2008, Faust said, "In prose both elegant and forceful, the report calls for Harvard to end the 'curricular banishment' of the arts and recognize that they belong at the core of the University's educational mission.''
Many of the group's recommendations have been implemented, and the arts have become a more powerful presence at Harvard within and beyond the curriculum.
An undergraduate track in architecture developed jointly by the Harvard Graduate School of Design and the Department of History of Art and Architecture was introduced in 2012, and a new Theater, Dance & Media concentration was launched in 2015 to encourage students to become art makers and researchers across theater, dance, and performance-based media by drawing on the University's unparalleled resources, from the Harvard Library's Theatre Collection to the American Repertory Theater.
The new Harvard/Berklee College of Music program allows students to earn both a bachelor's degree from Harvard and a master's from Berklee over five years, and an Art, Design, and the Public Domain program created by the Graduate School of Design seeks individuals from all backgrounds with an interest in contemporary issues of urban, historical, aesthetic, and technological culture.
Harvard's curricular ambitions for the arts have been matched by a commitment to physical spaces and activity beyond the classroom, notably the major renovation and reopening in 2014 of the Harvard Art Museums that united the Fogg Museum, the Busch-Reisinger Museum, and the Arthur M. Sackler Museum under one glass roof designed by Pritzker Prize-winning architect Renzo Piano, as well as the opening that same year of the Ethelbert Cooper Gallery of African and African American Art at the Hutchins Center, featuring contemporary and historical exhibitions and installations of African and African American art.
The University also has enhanced efforts to recruit and support leading faculty artists, including Diane Paulus, Vijay Iyer, Jill Johnson, Claire Messud, and Krzysztof Wodiczko, and to bring artists such as Wynton Marsalis, Herbie Hancock, and Liz Lerman to campus for innovative residency programs.
Innovation in teaching and learning
In 2010, Faust approached Rita and Gus Hauser about supporting a new initiative to spark and spread innovation in the classroom and beyond, and in 2011 the Harvard Initiative for Learning and Teaching was launched. HILT has since awarded 90 project grants, including support for a program designed to create and evaluate portable teaching kits to convert any space into a flexible learning environment, and for an effort to explore the medium of sound for conveying knowledge.
The University also advanced its ventures in the digital delivery of knowledge under Faust's leadership through edX and HarvardX. In addition to reaching millions of new learners around the world, HarvardX, with its rich trove of data about learning, will provide critical research on how digital technologies can help students to succeed.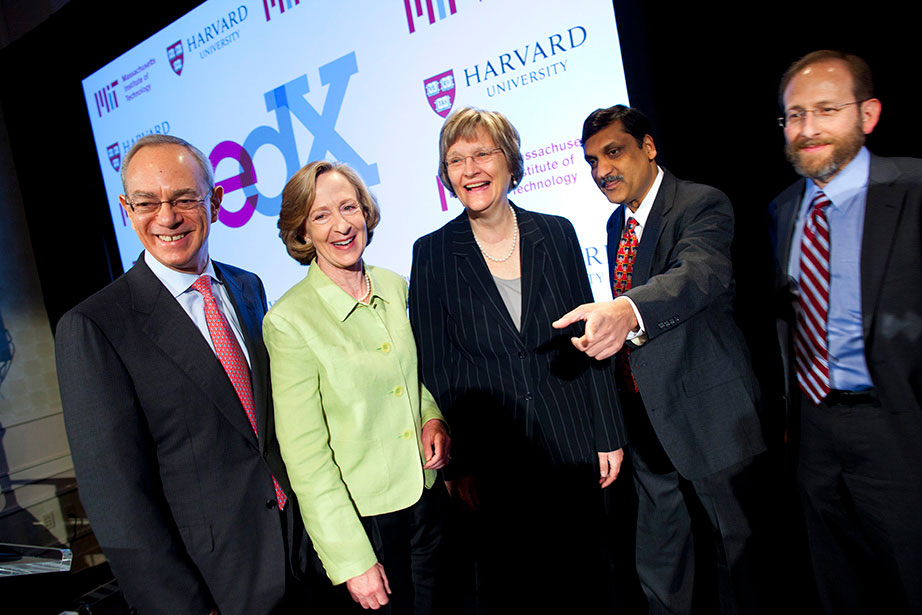 Faust also has invested in and encouraged the growth of hands-on, experiential learning. The Harvard Teacher Fellows program, led by the Harvard Graduate School of Education, offers teacher preparation for Harvard College seniors who intend to become middle and high school teachers, including a year of field-based training in school districts around the country.
The HBS FIELD (Field Immersion Experiences in Leadership Development) program required of first-year MBA candidates also exemplifies the new commitment to on-the-ground learning across Harvard. Designed as a complement to the renowned case method, the yearlong course deploys students to real-world situations around the globe, providing them with meaningful opportunities to lead and to translate their ideas into practice.
The Harvard Kennedy School launched the Strengthen Learning and Teaching Excellence (SLATE) initiative in 2007 to enhance teaching throughout the School.
The College, the Graduate School of Education, Harvard Law School, Harvard Medical School, and the Chan School have also undertaken significant curriculum changes during Faust's tenure, taking advantage of her commitment to a dynamic and innovative academic environment dedicated to meeting the changing needs and expectations of today's students. The College also overhauled its undergraduate religion concentration in collaboration with Harvard Divinity School.
Faust also oversaw the implementation of a coordinated academic calendar in 2009-2010, aligning the schedules of Harvard's Schools and creating the opportunity for innovative programming throughout January. At the College, for instance, Wintersession gives undergraduates the chance to participate in non-credit enrichment programming that encourages personal reflection, intellectual curiosity, and social interaction.
Engineering, innovation in Allston and beyond
Nowhere will Harvard's academic ambitions be more visibly on display in the coming years than in Allston, the Boston neighborhood that is currently home to Harvard Business School and Harvard athletics programs and facilities. A new Science and Engineering Complex that will serve as the primary home of the Harvard Paulson School of Engineering and Applied Sciences is under construction, a 500,000-square-foot facility that will cement Harvard's — and Allston's — position as a vibrant innovation hub.
Plans for development in Allston were paused by Faust in 2010, citing what she called in a letter to the Harvard community and its neighbors the "altered financial landscape of the University, and the wider world."
"The finest leaders in the financial crisis were those who didn't just accumulate the right information, but then actually had the courage and the vision to go ahead and make real determined, active decisions. And Drew did that," said Edward Forst, former executive vice president at Harvard. "What is emerging now in Allston is a vibrant, dynamic innovation hub that will position Harvard and the wider region well for the future."
"Drew is the quintessential principled leader. She starts with values and decisions follow."

— Clayton Spencer, president of Bates College
Community engagement, property stewardship, and campus planning have continued in Allston. With a new 10-year institutional master plan approved in 2013, the emergence of the Harvard Innovation Labs, a residential development, and the Science and Engineering Complex that will open by 2020, locating engineering and applied sciences directly across from the Business School, progress in Allston is moving apace under Faust's leadership.
The Science and Engineering Complex will be the latest evidence of her support for the growth of engineering at Harvard. There are three times as many concentrators in the School of Engineering and Applied Sciences today as in 2007, up from 310 to 972, and there are four times as many women concentrators as a decade ago.
Faust has emphasized engineering and computer science as part of the Harvard Campaign, with a transformational $400 million gift by John A. Paulson and a gift by Steve Ballmer that will increase Harvard's computer science faculty by 50 percent.
Faust also has deepened Harvard's commitment to fostering entrepreneurship and innovation, initiating a number of accelerator programs that connect innovators to industry in a wide range of fields and harnessing the power of Harvard's innovation community through the i-lab innovation cluster in Allston.
The i-lab; the Launch Lab, which supports alumni ventures; and the new Pagliuca Life Lab have helped 75 young companies make it to market in the less than six years since the first lab opened.
A more global Harvard
Faust also has led a significant expansion of Harvard's global presence while eschewing the trend toward international campuses. She set a course for Harvard to be what she termed "intentionally global" by supporting international faculty initiatives and growing strategically sited global research centers in Asia, Africa, Europe, and Latin America. Nine such research centers opened under her tenure.
"In an era in which knowledge is the world's most valuable resource, we seek to create the largest intellectual footprint with the smallest physical footprint," she said in 2012.
International experiences for students have also been boosted during Faust's presidency, highlighted by the HBS FIELD program and a $70 million gift by alumnus and philanthropist David Rockefeller to provide financial support for experiences abroad to hundreds of undergraduates who might not otherwise be able to afford to participate. Faust also deployed the President's Innovation Fund for International Experience to support innovative undergraduate programming developed by Harvard's international centers and graduate and professional Schools.
Harvard's global research programs have grown dramatically in recent years. In 2015, the Harvard Global Institute was created to encourage and fund research on topics that transcend disciplinary and regional boundaries, such as climate change, urbanization, education, water, and migration. The first research program supported by HGI is a multi-year effort to investigate climate change, energy security, and sustainable development in China, with 17 Harvard faculty from five Schools working closely with counterparts in China.
A campaign dedicated to impact
Faust will step down as president as the Harvard Campaign concludes on June 30, 2018. Publicly launched in 2013, the campaign has raised $8 billion and has been a broad and inclusive effort, with more than 500,000 gifts from 137,000 households in 170 countries.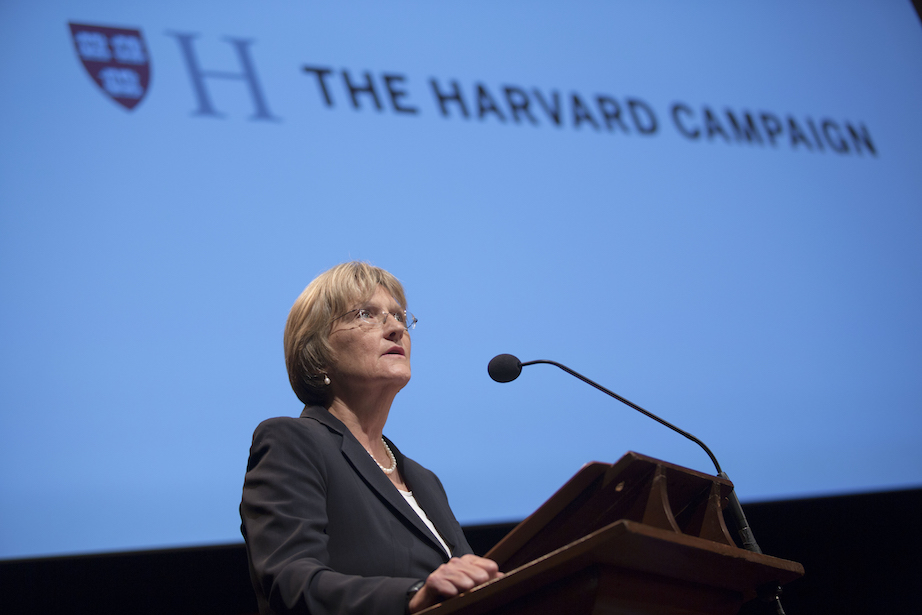 Key University priorities have been boosted by Faust's fundraising efforts throughout the campaign. A total of $907 million has been given to support financial aid across the University, while $2.9 billion has been raised for the University's science Schools and initiatives, and $364 million for the arts. Campaign gifts will support 117 professorships across the Schools and disciplines. The campaign is changing the face of the campus as well.  Renewal of Harvard's undergraduate Houses has been a key priority, with Lowell House the latest to be renovated, slated for completion by fall 2019. The Harvard Kennedy School campus is being entirely renewed thanks to philanthropy, while gifts for the Smith Campus Center and the Business School have added significant new convening spaces.
Two of Harvard's Schools have been named for donors. Paulson, an HBS alumnus, donated the $400 million to the School of Engineering and Applied Sciences as it began to plan its move to its primary new home across from the Business School in Allston, and a $350 million gift by the family of the late T.H. Chan will likewise support the work of the School of Public Health in perpetuity.
"By any measure, the campaign has been a terrific success and is an endorsement of Drew's leadership, her vision, and her team," said Paul Finnegan, University treasurer and co-chair of the University-wide Campaign Executive Committee. "Importantly, it has demonstrated the growing strength and potential of 'One Harvard.'"
"We look forward to a strong final year of the campaign under Drew's leadership," said Finnegan.
The campaign also has inspired enthusiastic volunteerism by alumni and friends, and engaged more than 4,300 of them at 14 "Your Harvard" events around the world, including in Berlin, London, Mexico City, and Singapore, as well as Miami, New York, and Boston. The series continues later this month when Faust meets alumni in Minnesota.
Modernization of management, governance
Faust oversaw a far-reaching modernization of Harvard's management and governance, revamping structures initially created for a 17th-century institution for what she and then-Corporation senior fellow Robert Reischauer called in a 2010 letter to the Harvard community a "vastly larger, more ambitious, and more diverse University in the 21st."
Faust embarked on an ambitious effort to streamline administrative architecture and improve business practices, bringing finance, information technology, human resources, campus services, and other administrative functions under an executive vice president. These "One Harvard" reforms introduced University-wide capital planning and multi-year budgeting and became critical factors in the University's effective response to the financial crisis.
Faust also led a governance reform effort that introduced historic changes to Harvard's highest governing body, the Harvard Corporation. With a recognition of the increasing complexity of managing 21st-century Harvard — a $4-billion-a-year operation — the board was expanded from seven to 13 members with defined terms of service, and three new standing committees were introduced to ensure attention to core areas of fiduciary concern, including finance, facilities and capital planning, and governance.
"The reform of Harvard's governance structures, while little noticed beyond Harvard, might be among the most far-reaching, consequential and lasting initiatives undertaken by Drew during her presidency," said Reischauer, who partnered with Faust during implementation of the reforms. "Modernizing the governance of an institution that has over 300 years of history is inherently a complex and intricate undertaking, but Drew's steady leadership and clearly articulated view of the positive long-term effects these changes could have for Harvard set the institution on a path that has made for more informed deliberation and better long-term, strategic decision making."
Harvard's globally renowned libraries were also streamlined under Faust's leadership, bringing them together under the Harvard Library structure to ensure greater collaboration and enable more effective and efficient adoption of new technologies in the library system.
The University also recently appointed Narv Narvekar as chief executive officer of Harvard Management Company, which oversees the Harvard endowment. Faust noted in announcing Narvekar's appointment that HMC plays a "critically important role in supporting the students, faculty, and staff who advance the teaching and research mission of the University." Narvekar has introduced a set of sweeping reforms at HMC designed to strengthen the endowment's performance.
Strong public advocate for higher education
Faust has also been widely acknowledged as a powerful public advocate for higher education, advancing arguments to support the liberal arts, the humanities, scientific research, and immigration policies that allow talented individuals to come to America's universities.
Using her voice as Harvard's president to reinforce the value and importance of a liberal arts education in a 2016 speech at the U.S. Military Academy, Faust said that an understanding of humanity — developed best through a broad-based liberal arts education — is at the heart of leadership. She argued that, as students encounter the humanities, they come to understand the wisdom of historical figures, the intellectual acuity that underlies decision-making, and the language that inspires others toward progress.
"Such inquiry teaches us how to scrutinize the thing at hand, even in the thick dust of danger or drama or disorienting strangeness," Faust said at West Point. "It imparts skills that slow us down — the habit of deliberation, the critical eye, skills that give us capacity to interpret and judge human problems, the concentration that yields meaning in a world that is noisy with information, confusion, and change."
This year, Faust has dedicated a significant portion of her time to federal advocacy, visiting Washington, D.C., three times since January, connecting with dozens of members of Congress, including Senate Majority Leader Mitch McConnell and House Speaker Paul Ryan, to advance the University's position on scientific research funding, tax reform, and immigration policies that would affect the Harvard community. She is a vocal advocate for the DREAM Act, which would help undocumented individuals find a path to college and citizenship.
Faust has expressed serious concerns about the recent executive order seeking to restrict travel to the United States, saying, "Our robust commitment to internationalism is not an incidental or dispensable accessory. It is integral to all we do, in the laboratory, in the classroom, in the conference hall, in the world. It fuels the capacity of universities to spur innovation, to advance scholarship and scientific discovery, and to help address society's hardest challenges."
Officials in higher education lauded a $2 billion increase in funding for the National Institutes of Health in a recently passed federal fiscal 2017 budget, a key priority of Faust's advocacy efforts. She also wrote a strong defense of the National Endowment for the Humanities in the New York Times in March, citing the ways the NEH contributes to the fabric of American society.
"I have been deeply impressed with President Faust's wide-ranging leadership on the national stage," said MIT president Reif. "Since 2010, long before the issue made the headlines, she has been an outspoken advocate for the undocumented students known as DREAMers. For years, she has spoken and written eloquently about the profound value of the arts and humanities, and with equal conviction about the central importance of science and innovation. And in recent months especially, she has been on the ground in Washington, arguing thoughtfully but relentlessly for preserving the global flow of creative talent and sustaining our national investments in research and education."
Harvard's relationships with its host communities have been a priority for Faust, as she helped to establish Harvard's position as a strong, trusted partner with the state of Massachusetts and the cities of Boston and Cambridge. She has brought Harvard's educational mission into communities through increased educational programming to support lifelong learning, public school partnerships that support local teachers, and engagement with community groups.
The Harvard Education Portal, which opened in 2008 and moved to a new, custom-built facility in 2015, is a central community hub for Harvard programming in Allston-Brighton, acting as a front door to the University's educational, cultural, arts, and recreational resources.
"… working with and beside her has been one of the most extraordinary and rewarding experiences of my career."

— William F. Lee, senior fellow of the Harvard Corporation
"In this space, where the emerging Harvard campus meets the Allston neighborhood, collaboration and breakthroughs will occur that will be transformative to Allston, Boston, and Harvard," said Faust during the opening of the reimagined Ed Portal in 2015. "My predecessor, President Charles W. Eliot, said in 1909 that education 'should be the work of the whole life.' He could not have imagined this space, but he would be in full support of its transformative work."
In his message to the community thanking Faust for her contributions and looking to the year ahead, Lee, Harvard Corporation senior fellow, said, "In the coming weeks, the Corporation will assemble a search committee and we will have more to say about that process.  Like Drew, we recognize that there is much still to be done, and many challenges for higher education in general and Harvard in particular."
He concluded, "For today, I wanted each of you to know that working with and beside her has been one of the most extraordinary and rewarding experiences of my career. I hope you will join my fellow Corporation members and me in offering President Faust our profound thanks and deep admiration for leading this venerable University 'through change and through storm.'"