Hundreds of listeners from Harvard and beyond packed a Radcliffe auditorium on Friday for a series of wrenching discussions about the historical role of universities in the propagation of slavery.
After calling on Harvard last year to investigate further its ties to slavery, President Drew Faust convened a faculty committee to develop the conference, called "Universities and Slavery: Bound by History," which was sponsored by the Radcliffe Institute for Advanced Study.
The day of discussions, remarks, and poetry readings at the Knafel Center featured academicians, scholars, and administrators who explored how Harvard and other universities have been coming to terms with their pasts. Harvard was complicit in slavery from the 17th century until the practice ended in Massachusetts in 1783, said Faust, and the University maintained financial and other ties to the slave-holding South through Emancipation during the Civil War.
"This history and its legacy have shaped our institution in ways we have yet to fully understand," said Faust. "Today's conference is intended to help us explore parts of the past that have remained all but invisible. To acknowledge those realities is essential if we are to undermine the legacies of race and slavery that continue to divide our nation, and if we are to commit ourselves to building a better future."
Ta-Nehisi Coates, a journalist for The Atlantic whose book "Between the World and Me," a searing 152-page letter to his son about being black in America, won a National Book Award in 2015, delivered the day's keynote address. The author referred to slavery as "big business," so big, in fact, that he finds it "impossible to imagine the United States of America without it."
"We talk about enslavement as though it were a bump in the road," said Coates, "and I tell people it's the road, it's the actual road."
Coates offered up suggestions for institutions eager to dig into their pasts and confront their ties to slavery. First, he cautioned them not to "limit the study of enslavement to enslaved peoples." What Coates calls the "plunder of enslavement" did not end with enslavement, he said, but extended through segregation, and its effects continue to be felt in the country's current deep inequality.
He suggested that reparations should be a key part of solutions moving forward, and he added that university leaders need to encourage other institutions and other leaders across the country to "do this type of research and to try to think about what they owe."
"When you stand on the backs of other people who have been exploited," he said, "any sort of moral institution that wants to teach young people about morality and ethics has to do the right thing and try to make some amends for that."
Language, in particular the way slavery is framed, also needs to be an important part of the discussions, said Coates. Slavery wasn't about one group of people simply being rude to another, he noted. It was a highly organized, structured system.
Listening will also be key. Anger will be an inevitable part of any dialogue, said Coates, who urged his listeners not to "retreat into yourselves."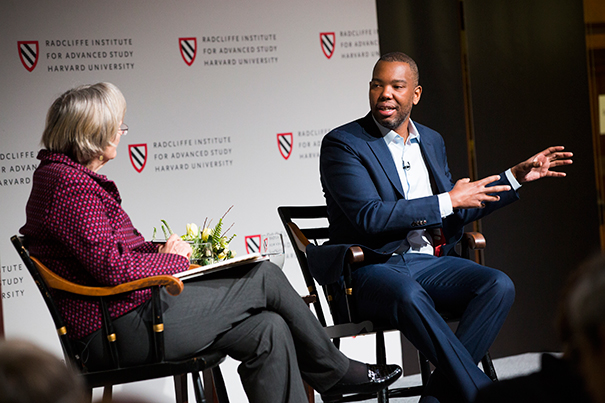 Later, Coates and Faust, a historian of the Civil War and the American South who is also Harvard's Lincoln Professor of History, discussed issues of slavery and reparations on stage.
The barrier to reparations isn't the inability to come up with some kind of workable payment system, Coates told Faust. "The barrier is that people don't want to pay and they don't think they should have to," he said.
To end their talk, Faust asked Coates if he was optimistic about the ability of universities and the nation to come to terms with the past.
The question of optimism or pessimism "is almost beside the point," said Coates. "It is what it is, and people need to act . . . we have a moral responsibility to act, to do, to think."
The day of deep discussions built on other work about Harvard in recent years. In 2007, Laird Bell Professor of History Sven Beckert partnered with other Harvard faculty and students to develop the Harvard and Slavery initiative to investigate the University's slavery ties. Based on some of the findings, Faust last year ordered a plaque affixed to Wadsworth House to commemorate the lives and contributions of four enslaved women and men who worked there during the presidencies of Benjamin Wadsworth and Edward Holyoke in the 1700s. She also convened a faculty panel to organize Friday's symposium, a group led by Beckert; Evelyn Brooks Higginbotham, the Victor S. Thomas Professor of History and of African and African American Studies; and Daniel Carpenter, director of the social sciences program at Radcliffe and the Allie S. Freed Professor of Government.
Faust recently announced plans to fund a researcher who will be "charged with discovering the history of slavery at Harvard."
As part of the discovery and education effort, the Harvard Archives opened an exhibit on Thursday featuring much of the material uncovered in recent years relating to the University's slavery ties. Harvard also just launched a website on the topic.
Friday's panels included a session on slavery and universities that featured speakers from Georgetown, Stanford, and the Massachusetts Institute of Technology. In September, Georgetown announced it would atone for its own past, including the sale of 272 slaves in 1838 to help pay off the institution's debts. Georgetown pledged to offer preferential admissions to the descendants of those enslaved people, to erect a memorial to them, and to create an institute to study slavery.
Ivy League efforts to shine light into the slaveholding past largely began at Brown University in 2003, when President Ruth Simmons appointed a committee to investigate the school's ties to slavery. In 2007, the committee reported back that the early institution had significantly benefited from the trans-Atlantic slave trade.
James T. Campbell, a history professor at Stanford who chaired the Brown committee, said that Simmons "had the courage to debate even the most painful issues," and that her efforts helped to ignite similar investigations.
Georgetown history professor Adam Rothman said that while his school's history wasn't a secret, it was also "not widely known," and he called the missed opportunity to reach the wider public with that story a "failure of scholarship." He urged academics to "make it known … and remind us of this history in new ways."
Citing recent student demonstrations around the country protesting how some campus buildings are named after slaveholders, Craig Steven Wilder, a professor of history at MIT, urged faculty, administrators, and trustees "to confront that past" themselves. "It's time for us to support the students in the most direct way that we can, which is by actually living up to the values that we define ourselves by."
In a discussion exploring Harvard's direct ties to slavery, Beckert said that his initial 2007 seminar on the topic was inspired by Simmons' efforts at Brown and by his own upbringing in Germany, which taught him how "almost anywhere some dark history lurks."
That history at Harvard, explored by his students, was not only part of the school's past, it was part of the nation as a whole, said Beckert, and was present in the slaveholding South as well as in "the merchant houses of Boston, the banks of New York, the factories in Rhode Island, and the universities throughout New England."
"Slavery is our present," Beckert continued, and it must be confronted and acknowledged with "economic and political consequences. It cannot be purely symbolic or rhetorical."
An afternoon discussion touched on the recent controversy surrounding Harvard Law School's shield. Last March, the University retired the shield, which was modeled on the family crest of Isaac Royall Jr., an 18th-century slaveholder whose bequest endowed the first professorship of law at Harvard. History scholar Daniel R. Coquillette, who recently helped to publish a book on the first century of HLS, said his research brought him to Royall and also to Antigua, the West Indian island that was the home of his lucrative sugar plantation. "As we got into" the research, he said, "it got worse."
Coquillette, the Charles Warren Visiting Professor at HLS, said that the School was founded on money earned by the labor of Royall's slaves. During his research, he also learned how Royall helped to brutally repress a slave revolt on Antigua. "We must not forget that Harvard Law School is linked with slavery," said Coquillette, and that it owes a debt to the people of Antigua. Part of Harvard's greatness, he added, is in its ability to "recognize in itself the truth, veritas."
His comment was in part a reference to Professor Annette Gordon-Reed's written response to the shield controversy, what he called "one of the most eloquent pieces of writing I've ever seen." Gordon-Reed, author of groundbreaking work on the relationship between Thomas Jefferson and his slave Sally Hemmings, penned a passionate argument in favor of maintaining the former HLS shield. Doing so, she wrote, "and tying it to a historically sound interpretive narrative … would be the most honest and forthright way" to honor the memory of the people enslaved by Royall.
Gordon-Reed, the Charles Warren Professor of American Legal History at HLS, the Carol K. Pforzheimer Professor at Radcliffe, and a professor of history, returned to that argument on Friday and explained how she had hoped the School might reconstitute the shield during its centennial with a ceremony that linked the three bushels of wheat on it to the lives of the enslaved people whose labor harvested that crop.
"They would be remembered in a way that would be living and go forward … and we could make the story what we wanted it to be, rather than being hostage to Isaac Royall and his family."
The day's final panel explored links between slavery and universities globally and included speakers from the University of the West Indies and the University of Cape Town, as well as the former justice minister of France.