June 2009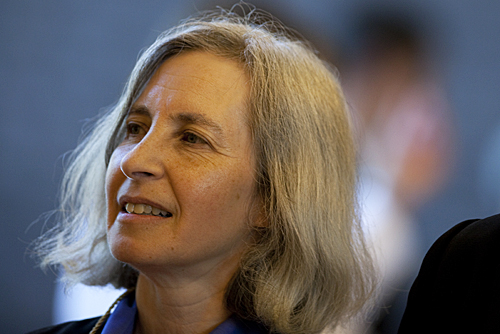 Martha Minow, the Jeremiah Smith Jr. Professor of Law at Harvard Law School (HLS), is announced as the next dean of the Faculty of Law, beginning July 1. A member of HLS faculty since 1981, Minow is a distinguished legal scholar with interests that range from international human rights to equality, religion, schooling, and other governmental activities.
Harvard researchers for the first time document variation in intelligence in individual monkeys within a species, a new step in understanding primate intelligence.
July 2009
Cherry A. Murray, who was named dean of the School of Engineering and Applied Sciences (SEAS) in March 2009, takes the helm.
August 2009
A multidisciplinary team of computer scientists, engineers, and biologists — primarily from the School of Engineering and Applied Sciences — receives a $10 million National Science Foundation Expeditions in Computing grant to fund the development of small-scale mobile robotic devices.
Erez Lieberman-Aiden, a Ph.D. candidate at the School of Engineering and Applied Sciences, invents a computerized shoe insert that predicts the wearer's risk of falling.
Harvard launches a YouTube channel to broadcast everything from the University's local events to its international research efforts.
September 2009
President Faust visits Capitol Hill and meets with House Speaker Nancy Pelosi and other congressional and administration officers to advocate for continued support of science research at U.S. universities.
The Program in General Education takes effect at Harvard College. Commonly called Gen Ed, the program outlines liberal arts courses that must be taken outside a concentration in order to graduate. The Class of 2013 is the first embraced by the new design, though other undergraduates may opt in.
A coordinated academic calendar synchronizes the schedules of Harvard's 13 Schools. Geared toward improving student access to University-wide resources, the calendar makes it easier for students to take classes in more than one School.
According to "Beyond the Yard: Community Engagement at Harvard University," in a single year about 7,000 Harvard students collectively performed more than 900,000 hours of community service in and around metropolitan Boston.
The Department of Stem Cell and Regenerative Biology launches an undergraduate concentration in human development and regenerative biology.
The Harvard Graduate School of Education (HGSE) announces a tuition-free Doctor of Education Leadership Program (Ed.L.D.) that will be taught by faculty from HGSE, the Harvard Business School, and the Harvard Kennedy School. The program offers an unprecedented approach to preparing leaders for the future. The Ed.L.D. is the first new degree offered in 74 years by HGSE.
Michael Sandel's popular course "Justice" is available for anyone to take, thanks to a dedicated Web site and Harvard's YouTube and iTunes channels, which begin airing Sandel's lectures. The Anne T. and Robert M. Bass Professor of Government's arguments become the most-watched videos, with WGBH also airing the 12-part lecture series.
President Faust appoints Katie Lapp as executive vice president to oversee the financial, administrative, human resources, and capital planning functions of the University's central administration.
Harvard Yard is outfitted with colorful tables and chairs for meeting, relaxing, studying, or watching open-air performances. The initiative is a result of the Steering Committee on Common Spaces, charged with developing ideas to ensure that the physical environment better supports the University's intellectual and social vitality.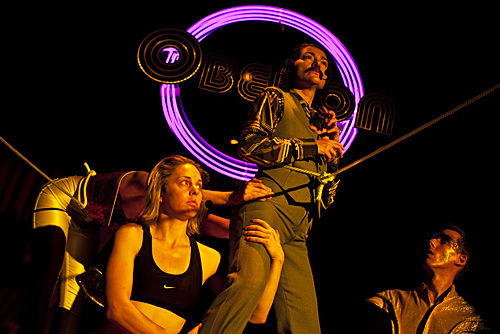 Diane Paulus '88, the American Repertory Theater's (A.R.T.) new artistic director, opens the company's new drama space Oberon with "The Donkey Show," a critically acclaimed retelling of "A Midsummer Night's Dream" — set to disco.
Lakshminarayanan Mahadevan, Lola England de Valpine Professor of Applied Mathematics and of Organismic and Evolutionary Biology at Harvard's School of Engineering and Applied Sciences, and Peter Huybers, assistant professor of Earth and planetary sciences in the Department of Earth and Planetary Sciences at Harvard, are named MacArthur Fellows.
The Harvard Extension School celebrates its centennial with the premiere of Dean Michael Shinagel's book "The Gates Unbarred," which traces the School's evolution.
Environmental scientists from Harvard and Tsinghua University demonstrate the enormous potential for wind-generated electricity in China. The researchers estimate that wind alone has the potential to meet the country's electricity demands for 2030.
October 2009
Harvard kicks off a yearlong focus on public service with Public Service Week, a series of seminars, lectures, career forums, and service activities highlighting the richness of the service landscape at Harvard. President Faust announces that the University will undertake a yearlong commitment to provide volunteer support of the Greater Boston Food Bank.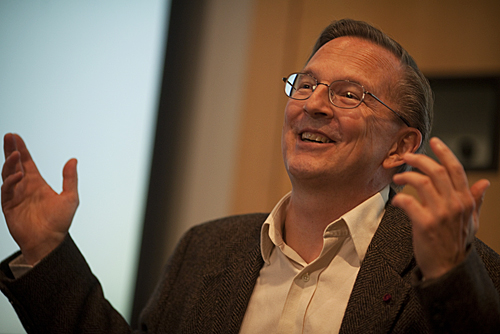 Genetics professor Jack Szostak at Harvard Medical School and Harvard-affiliated Massachusetts General Hospital wins the 2009 Nobel Prize in physiology or medicine for pioneering work in discovering telomerase, an enzyme that protects chromosomes from degrading.
Researchers at Harvard, the Broad Institute of Harvard and MIT, the Massachusetts Institute of Technology, and the University of Massachusetts Medical School, decipher the three-dimensional structure of human DNA, detailing complex folding beyond the molecule's double-helix and paving the way for new insights in genomic function.
The Radcliffe Institute for Advanced Study turns 10 years old and celebrates by launching an interdisciplinary symposium titled "Crossing Boundaries."
Researchers at the Harvard Stem Cell Institute, the School of Engineering and Applied Sciences, and Massachusetts General Hospital announce a breakthrough in making replacement cardiac parts, creating a functioning strip of mouse heart muscle starting with a cardiac master stem cell.
November 2009
President Faust visits Africa. During her trip, she meets with Harvard-trained researchers in a state-of-the-art laboratory built and operated by the Botswana-Harvard Partnership for HIV Research and Education, a novel collaboration between the Harvard School of Public Health's AIDS Initiative and the government of Botswana. Later, Faust visits the University of Johannesburg at Soweto, where she announces that Harvard and the host university are developing an initiative to train school principals in some of South Africa's most-challenged school districts.
Harvard becomes the largest institutional buyer of wind power in New England, with an agreement to purchase more than 10 percent of the electricity needed to power the Cambridge and Allston campuses from a wind farm in Maine.
Harvard Business School Dean Jay Light announces his retirement after 40 years of teaching and leadership as a member of Harvard's faculty and five years as dean.
The Task Force on University Libraries releases a report saying Harvard must restructure its fragmented library system and establish shared administrative services to respond to the rapidly changing technological and intellectual landscape of the 21st century.
Harvard biologists and bioengineers report that a cancer vaccine carried into the body on a fingernail-sized implant is the first to successfully eliminate tumors in mammals.
Harvard scientists create a quantum gas microscope used to observe the behavior of single atoms at temperatures so low they follow the rules of quantum mechanics.
December 2009
In a letter to the Harvard community, President Faust outlines Harvard's path forward in Allston in three phases: property stewardship and community engagement, campus planning and greening, and campus development. A new work team with expertise in design, urban planning, business strategy, and public policy is charged to work with University leaders to understand the priorities of the University over the next decade, fully integrating them with a vision for Allston as a community.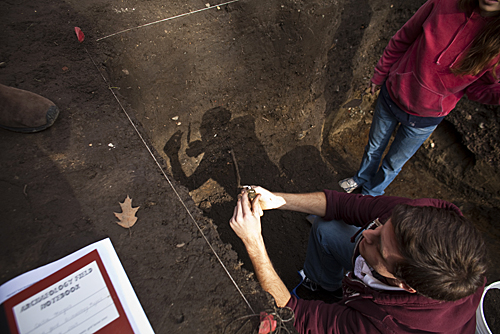 Archaeologists and archaeology students working near Matthews Hall uncover what they believe to be the bottom of an architectural trench dug for the Indian College that stood on the site from 1655 to 1698, built to house Native American students as part of the University's original mandate to educate the youth of both European settlers and Native people.
James R. Houghton '58, M.B.A. '62, announces he will step down from the Harvard Corporation after 15 years of service, at the end of the academic year. He is succeeded as senior fellow by Robert D. Reischauer '63.
A study from Harvard and the University of Michigan shows that increasing obesity in the country threatens to eclipse health gains from the decline in cigarette smoking.
President Faust announces formation of the Harvard University Committee on the Arts. The committee is charged with working to enhance the presence of the arts on campus.
Harvard's Museum of Comparative Zoology (MCZ) celebrates its 150th anniversary. Digitization is also under way, with museum staffers loading almost 700,000 digital records onto the Web.
A Harvard and Princeton study shows that even moderate gains in global temperatures could melt ice stored at the poles, leading to dramatic sea level rise.
January 2010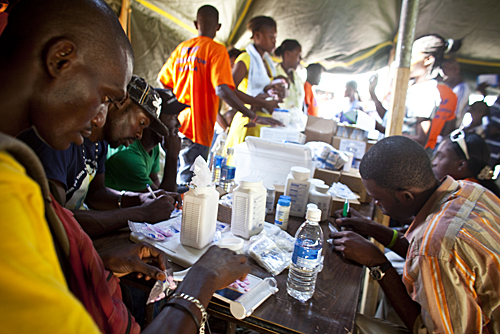 Harvard-affiliated doctors spearhead Haiti earthquake medical relief efforts, working at a field hospital erected by the Harvard Humanitarian Initiative.
After the Jan. 12 earthquake in Haiti, Merrick Lex Berman, a research manager at Harvard's Center for Geographic Analysis, designs the Haiti Earthquake Data Portal. The portal seeks to improve information flow for responders on the ground. When the Chile quake struck on Feb. 27, Berman created a portal for that country in just a few hours.
Work begins on the Harvard Art Museum renovation project at 32 Quincy St. to allow students, faculty, scholars, and the public significantly greater access to collections, not only through larger exhibition galleries, but through new, expanded study centers.
Harvard opens to the community the Harvard Allston Skating Rink in a refitted garage on Western Avenue. On opening night, hundreds of skaters show up for raffle prizes, hot chocolate, and some good old-fashioned falling.
President Faust leads a delegation of University deans to the 2010 Annual Meeting of the World Economic Forum in Davos-Klosters, Switzerland.
Researchers at the Harvard Stem Cell Institute and the Joslin Diabetes Center make old mouse stem cells act young again by exposing them to factors in the blood of young mice, an advance that may provide a key to aging.
Harvard Business School enhances its M.B.A. curriculum by offering intensive seminars, independent study opportunities, and an expanded Immersion Experience Program during winter break.
February 2010
Evelynn Hammonds, dean of Harvard College and Barbara Gutmann Rosenkrantz Professor of the History of Science and of African and African American Studies, is appointed by President Barack Obama to the Board of Advisors on Historically Black Colleges and Universities.
An international team led by Harvard researchers creates a genome-scale map of 26 cancers, revealing more than 100 sites where tumor DNA is missing or abnormally duplicated compared with normal tissue.
Harvard Law School announces the creation of the Public Service Venture Fund to help graduating students pursue careers in public service. The first program of its kind at a law school, the fund will offer seed money for start-up nonprofit ventures and salary support to students who hope to pursue postgraduate work at nonprofits or government agencies.
The Harvard Kennedy School receives a $5 million gift from Glenn Dubin to launch the Dubin Graduate Fellowships for Emerging Leaders, which will support and develop new programs for emerging leaders.
March 2010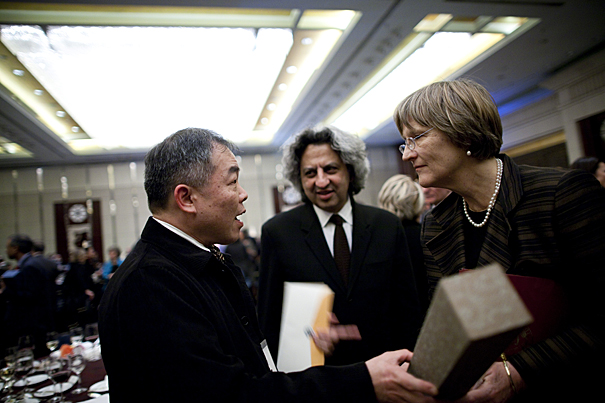 President Faust travels to Japan, where she meets with alumni at the Harvard Club of Japan and visits with Prime Minister Yukio Hatoyama.
President Faust leads a delegation to China to mark the Harvard Shanghai Center's official opening. During the festivities, Faust says, "Increasingly, we are in a world of universities without borders. This new center is a case in point."
Harvard launches its iTunes channel. iTunes U is a dedicated area within iTunes allowing students, faculty, alumni, and visitors to tap into the University's wealth of public lectures and educational materials.
President Faust announces the appointment of Lisa Coleman as chief diversity officer and special assistant to the president. Faust says, "It is crucial that we ask ourselves if we are doing enough today to foster an environment in which diversity is not simply valued, but cultivated in a systematic way."
Harvard Law School announces that Grainne de Burca, a leading authority on European Union law and European human rights law, will join the HLS faculty as a tenured professor of law on July 1.
The Faculty of Arts and Sciences votes unanimously to approve a new, dedicated undergraduate concentration in biomedical engineering, to be managed by the Harvard School of Engineering and Applied Sciences.
Researchers discover that amyloid–beta protein, the primary constituent in the plaques found in Alzheimer's disease, may be part of the body's immune system, according to a study by Massachusetts General Hospital researchers.
Researchers at the Harvard School of Public Health and Walter Reed Army Institute of Research find that the risk of multiple sclerosis increases many times after one is infected by the Epstein-Barr virus.
A collaboration with internationally acclaimed chef Ferran Adrià of El Bulli fame and the School of Engineering and Applied Sciences leads to the creation of a new undergraduate course on science and cooking.
April 2010
For the first time in Harvard's history, more than 30,000 students apply to the College, leading to an admission rate of 6.9 percent for the Class of 2014. Notifications of admission are mailed to 2,110 of the 30,489 applicants. More than 60 percent of the admitted students will receive need-based scholarships averaging $40,000.
The Harvard Alumni Association launches "Public Service on the Map," an interactive Web site where alumni, students, faculty, and staff can register service projects around the globe. Within its first month, nearly 1,000 people register; one-third are alumni.
William F. Lee '72, a Boston-based intellectual property expert and former Harvard overseer, is selected as the newest member of the Harvard Corporation.
Harvard recognizes 160 faculty, students, and staff who have made significant contributions to green house gas reduction and sustainability at the first annual Green Carpet Awards.
Earthwatch Institute, a leading international nonprofit environmental organization, settles into its new world headquarters in Harvard-owned property in Allston, bringing about 50 staff to the former headquarters of WGBH media on Western Avenue.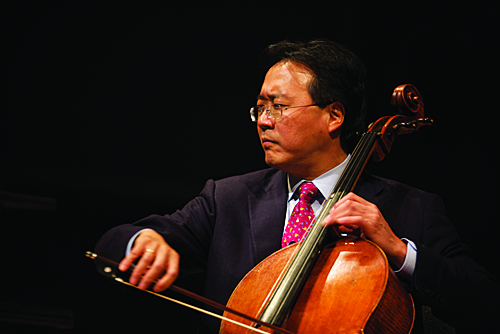 Harvard President Faust and Yo-Yo Ma '76, founder and artistic director of the Silk Road Project, announce the relocation of the Silk Road Project from Rhode Island to Harvard-owned property at 175 North Harvard St. in Allston this July, enabling new artistic and cultural opportunities at the University and in surrounding communities.
Microsoft founder Bill Gates visits Harvard as part of a three-day tour of universities around the United States designed to inspire students and scholars to focus on the biggest problems facing humanity.
May 2010
President Faust announces that Nitin Nohria, the Richard P. Chapman Professor of Business Administration at Harvard Business School, will become the School's 10th dean. A scholar of leadership and organizational change, Nohria previously served as the School's senior associate dean for faculty development and chair of its organizational behavior unit. Nohria will take up his new role on July 1.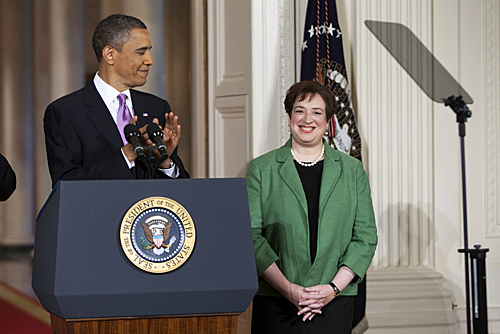 U.S. President Barack Obama nominates U.S. Solicitor General and former Harvard Law School Dean Elena Kagan to replace Justice John Paul Stevens on the Supreme Court. If appointed, Kagan would join HLS alumni and fellow Justices John Roberts, Antonin Scalia, Anthony Kennedy, and Stephen Breyer.
Harvard opens its new Center for Biological Imaging (CBI). The facility is unique in that its cutting-edge instruments will be replaced every 24 to 36 months. President Faust says the most important part of the CBI is not its instruments, but rather that "it makes the instruments the instruments of collaboration, as well as the instruments of science."
Officials announce that historian Annette Gordon-Reed, J.D. '84, will join the faculty in July as a professor of law at Harvard Law School and a professor of history in the Faculty of Arts and Sciences. Gordon-Reed will also be the Carol K. Pforzheimer Professor at the Radcliffe Institute for Advanced Study.
Michael Van Valkenburgh, Charles Eliot Professor in Practice of Landscape Architecture at the Graduate School of Design, is honored with the American Academy of Arts and Letters' 2010 Arnold W. Brunner Memorial Prize in Architecture.
Dean Michael D. Smith of the Faculty of Arts and Sciences announces that five FAS professors have been awarded Harvard College Professorships in recognition of their outstanding contributions to undergraduate teaching, advising, and mentoring: Michael Brenner, Glover Professor of Applied Mathematics and Applied Physics; Julie Buckler, professor of Slavic languages and literatures; Emma Dench, professor of the classics and of history; Peter Gordon, professor of history; and Daniel Lieberman, professor of human evolutionary biology.
— Compiled by Sarah Sweeney