As the University's faculty and students return for the start of the spring semester, the early impact of The Harvard Campaign can be seen and felt across the campus and beyond.
"Our alumni and friends have been extraordinarily generous with their time and resources from the moment The Harvard Campaign began," said Tamara Elliott Rogers '74, vice president for alumni affairs and development. "Their volunteerism and support will make a difference for generations to come."
The first such effort inclusive of all Harvard's Schools, the Campaign seeks to shape the future of education with a focus on University aspirations, including: advancing new approaches to teaching and learning, attracting and supporting the best students and faculty, creating a campus for the 21st century, and supporting multidisciplinary research. Since the Campaign publicly launched in September 2013 with a $6.5 billion goal, the University has reported $4.8 billion from more than 274,000 gifts.
Here are just a few examples of the impact The Harvard Campaign is already having on our community.
TEACHING AND LEARNING
With more than 2 million people having registered for HarvardX courses, it can be easy to forget that the endeavor is less than three years old. The support of many alumni and friends has allowed for the production of 45 open courses, with 37 more in the works.
This past year, Hartley Rogers '81, M.B.A. '85, and Amy Falls, M.P.P. '89, established the Leading in Learning Fund to support fellows through the College's Derek Bok Center for Teaching and Learning. The Bok Center, now 40 years old, helps instructors evaluate and improve their undergraduate teaching, and offers a variety of teacher-training programs for graduate and undergraduate students. Blending insights from online and on-campus learning, the fellows will serve as expert resources to faculty as they design or enhance their on-campus or HarvardX courses.
An anonymous $10 million lead gift, along with support from Richard Menschel, M.B.A. '59, and Ronay Menschel and President Drew Faust, helped the Harvard Graduate School of Education (HGSE) launch the Harvard Teacher Fellows program to prepare undergraduates at Harvard College for careers in teaching. The program will be available to a limited number of College seniors, with the inaugural round of applications opening in fall 2015. The seniors begin eight months of intensive training in the spring semester before graduating, then will teach in schools across the country at reduced teaching loads while taking additional courses at HGSE over distance. To complete the program and earn initial teaching licenses, they will return to HGSE for a second summer. Those interested in continuing their education can apply program credits toward a master's degree at HGSE.
SUPPORT FOR FACULTY
A $17 million gift to the Foundations of Human Behavior Initiative from The Pershing Square Foundation, founded by Bill Ackman'88, M.B.A. '92, and Karen Ackman, M.L.A. '93, included funding for three faculty chairs along with a research venture fund. Last spring, Matthew Rabin, a leader in the field of behavioral economics as well as a John Bates Clark medalist and a MacArthur fellow, came to Harvard as the first Pershing Square Professor of Behavioral Economics, with appointments in the Department of Economics in the Faculty of Arts and Sciences (FAS) and at Harvard Business School (HBS).
Rabin's work explores the ways in which psychological research can be used to improve economic models that fail to adequately consider the effects of such variables as inclinations toward fairness, expressed preferences, self-image, limited attention, and more.
In addition to recruiting leading scholars, funding has also been used to support the work of accomplished Harvard faculty members. Renowned stem cell researcher Douglas Melton began his teaching career at Harvard in 1981. Recently, his efforts have led to groundbreaking discoveries in the treatment of type 1 diabetes. As part of his Campaign gift, Siddharth Yog, M.B.A. '04, created the Xander University Professorship, now held by Melton, for a faculty member whose research crosses scientific disciplines.
In total, more than $1.5 billion has been raised for faculty support, teaching, and research since the start of The Harvard Campaign.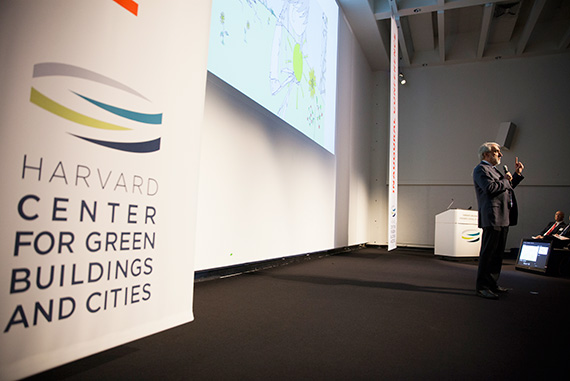 FOSTERING DISCOVERY
With support from the Evergrande Group, the Graduate School of Design (GSD) last year opened the Center for Green Buildings and Cities, which seeks to transform the building industry by connecting architectural research with real-world development processes and production. In November the center hosted its first "Challenge Conference," convening leaders in fields related to green building. This annual gathering will help refine the center's agenda through discussions on climate change and strategies for sustainable building and planning.
The NeuroDiscovery Center at Harvard Medical School (HMS) has long benefited from the generosity of Richard Moskovitz '69, M.D. '73, and his wife, Nancy. Their funding of research on Alzheimer's — a disease that affects 10 percent of Americans over 65 years old — continued with their recent support of the center's biomarker discovery program. This research seeks to better diagnose, monitor, and treat the disease for the growing number of patients suffering from this terrible disease.
Declining federal funding makes it more difficult for researchers to advance high-risk, high-impact projects across the natural and social sciences. James Star '83, decided to help provide seed funding for cutting-edge work in FAS through the Star Family Challenge for Promising Scientific Research. Last year, the Challenge's first, four grants ranging from $20,000 to $200,000 were made to projects, including one conducted by Charles Lieber, the Mark Hyman Jr. Professor of Chemistry, examining the potential for injectable nanotechnology that would assist in the detection, monitoring, and treatment of diseases.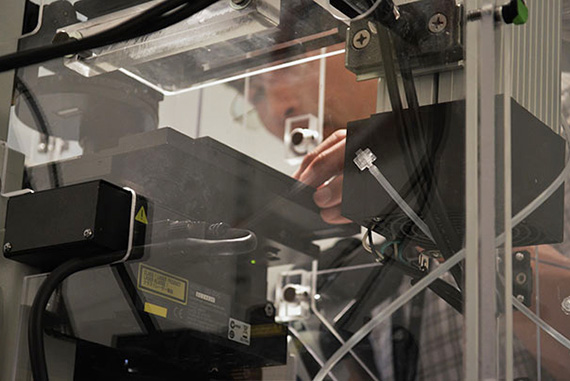 OPENING HARVARD'S GATES MORE WIDELY
More than $570 million has been committed to student financial aid across the University. Most notably, Ken Griffin '89, made the largest gift in Harvard College history with $150 million, primarily in support of undergraduate financial aid. In the coming years, 200 Harvard students will benefit directly from the Griffin Scholarships. To encourage others to help ensure that a Harvard education remains accessible to all admitted students, the Griffin Leadership Challenge Fund has the potential to add an additional 600 College scholarships.
Fellowships have also provided support to graduate students throughout the University. In fact, as part of the Johnson-Kulukundis family's gift to the arts at Harvard — which included generous donations to the President's Fund and toward the transformation of the Radcliffe Institute's gallery in Byerly Hall — an endowed fellowship was established to fund a doctoral student in the arts during the early years of advanced study.
At Harvard Kennedy School (HKS), the first cohort of Sheila C. Johnson Leadership Fellows arrived in the fall. Johnson's gift to the School will support up to 10 students each year for the next five years. The recipients have shown both leadership potential and dedication to African-American and other underserved communities across the nation.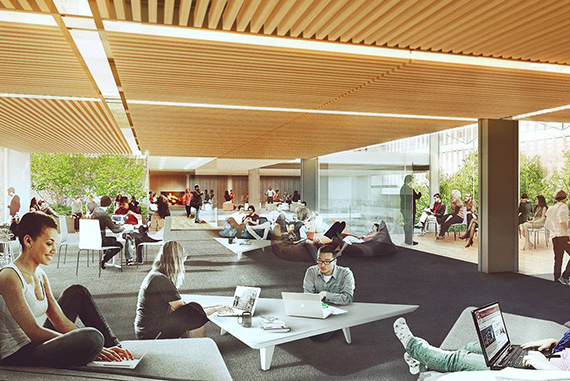 CAMPUS OF THE FUTURE
Perhaps the most visible (and audible) effect of the Campaign is seen through the construction and renewal of buildings across campus. To date, nearly $600 million has been committed toward physical space.
With construction scheduled to begin in 2016, the transformed Richard A. and Susan F. Smith Campus Center (formerly Holyoke Center) will become a central meeting place for all members of the Harvard community. Recently released design concepts — the result of an extensive community input process — reveal a mix of flexible meeting spaces, event spaces, landscaped gardens, and more centralized University resources.
Another significant landmark on campus, the Harvard Art Museums, reopened this fall after a six-year construction project that combined the University's three art museums: the Fogg Museum, the Busch-Reisinger Museum, and the Arthur M. Sackler Museum. Thousands of students, faculty, and visitors have strolled through the new facility, which boasts 40 percent more gallery space, to view a vast array of the University's collection of approximately 250,000 objects, as well as a variety of research centers, curatorial divisions, and teaching venues.
The House Renewal initiative, which began with Quincy House's Stone Hall (formerly Old Quincy) in 2012, has also transformed Leverett House's McKinlock Hall, with the first full House to undergo renewal, Dunster House, slated to reopen this fall. Winthrop House will follow, continuing the process of updating and improving the residential experience for undergraduates.
GLOBAL HARVARD
The family of the late T.H. Chan, including his son Gerald Chan, S.M. '75, S.D. '79, joined President Faust and Dean Julio Frenk on the campus of Harvard School of Public Health (HSPH) this past September to celebrate the largest gift in the University's history. Signaling what President Faust called a worldwide "public health moment," the Chan family's endowment gift will strengthen the School in perpetuity and dramatically enhance its work against four global threats: pandemics old and new, harmful physical and social environments, poverty and humanitarian crises, and failing health care systems around the world. In recognition of this historic gift, the School has been renamed the Harvard T.H. Chan School of Public Health in honor of Mr. Chan.
Beyond campus, the Campaign has also brought together Harvard communities around the world. The "Your Harvard" series has visited New York, Los Angeles, and Dallas, and traveled abroad to London and Mexico City. Thousands of alumni and friends have joined President Faust to hear her vision for the future of the University and learn about the fascinating fields that faculty are exploring. This year's stops will include Seattle, Beijing, and Chicago, with many more to come as the Campaign continues in the years ahead.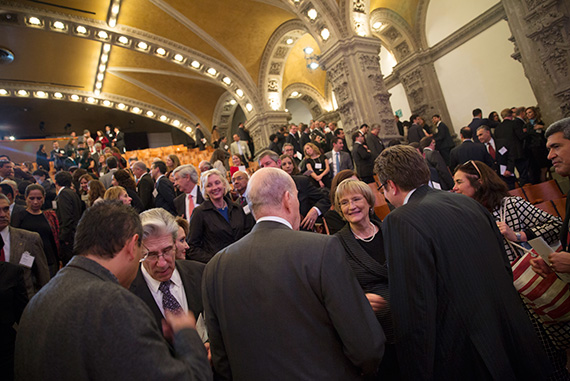 As Faust explained at the Campaign's launch, "Creating new knowledge, reimagining teaching and learning, engaging globally, reinventing the spaces where we learn and live, attracting and inspiring the best students and faculty: These are essential to our enduring strength. But the future requires something more … Harvard also must shine a light on why universities matter — and why the higher purposes of higher education must continue to claim a central place in our national life and its educational agenda."