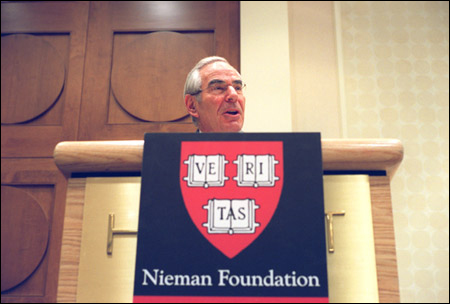 More than half of the weekend's 23 inches of snow had fallen, and, with the wind launching most of it at me, I climbed over a knee-high drift to free myself from the shin-high swell blanketing the sidewalk. Walking on the street allowed for some speed, and the circumstances demanded speed. It was close to 8 o'clock on Saturday night, the season's first storm was trapping people indoors, and my notebook, filled with two days' worth of quotes, notes, and observations, was still at the Hyatt Regency Cambridge where the Nieman Conference on narrative journalism was taking place all weekend – and I wasn't.
A lone van trundled along Quincy Street and, thinking it was a University vehicle, I flagged it. The passenger side window slid down and the smell of fresh cookies, cakes, and wafers that wafted out somehow lingered despite the gale. Flouting every safety rule, I opened the door, and the driver, a woman with a gentle rural accent and ruddy cheeks, moved bouquets of dried blossoms and a heavy serving platter off the seat. She was negotiating her way to Storrow Drive and didn't mind scooting down Memorial on the way. As her van ploughed on despite the skids, stalls, and inoperative windshield wipers, she fiddled with the defroster and talked. She was Dina Baker the Eccles cake maker and she was positive that her vehicle could trump any roadside impediment. Then again, it's tough to even feign concern when you're swaddled in the scents of a buttery British bakery.
With a terse response to my grateful effusions, baker Baker let me off before the B.U. Bridge. Scrambling into the hotel, I found the notebook where I left it and flipped through the pages, relieved to get back to this anchor of documentation and attribution. After all, as Jack Hart, managing editor at The Oregonian, noted on Friday afternoon while heading the workshop about "ethical narrative reporting in the post-Jayson Blair era," we all know "just how fallible human memory is … . Everybody has a different recollection [of an event], and it's almost always self-serving."
Hart's session was just one of dozens of workshops, panel discussions, and keynote addresses led by Pulitzer Prize- and Peabody award-winners, a MacArthur Fellow, a Knight Fellow, and holders of a host of other honors. Collectively, the speakers lay claim to centuries of experience in journalism and have covered everything from gender differences and drag car racing to genocide and race relations. They convened to share their narrative know-how with nearly 1,000 attendees, an assembly that represented every medium of journalism, every American state, and not a few foreign nations as far flung as Denmark, Spain, Ghana, and the Philippines. If the most often-heard complaint from attendees was not knowing how to decide which session to attend in a particular time slot, at least nobody had to choose when it came to the conference-wide readings. Each day, speakers delivered samples of their signature sentence-smithing to an audience that sat as still as the frozen river across the street.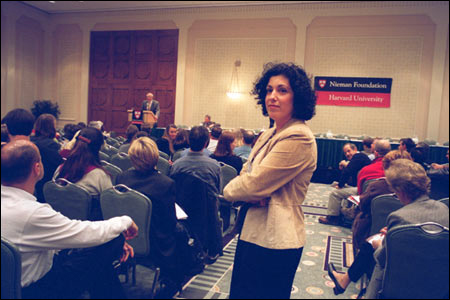 "This year, the topics and selection were even better than last year. There's more attention on how to handle content and on ethical issues. Those are key things for those of us practicing journalism," said Susan Richardson, a 2003 Nieman Fellow from the Austin American-Statesman who's currently getting her master's degree at the Kennedy School of Government. "The whole idea of narrative journalism – I support it – is that writing has to be … in service of something. While we want to tell a story and reflect voices, it's also a powerful tool to change policy and think about issues not just in the political arena."
The conference has evolved since its genesis six years ago at Boston University, where Mark Kramer was a professor of journalism for a decade. It's been held under the auspices of Harvard since 2001, when Kramer came to the Nieman Foundation as director of the Nieman Program on Narrative Journalism and writer-in-residence.
"There was a time in narrative when a lot of focus was on 'what is this narrative thing all about?'" said Bob Giles, the Nieman Foundation's curator. "As people have begun to understand and use it more, now the focus is on sophisticated techniques. There's a lot of learning that goes on about how to do it, which is what you want people to take away from something like this."
To ensure participants acquire and take with them a comprehensive toolkit of how-to tips, this was the first year that sessions were organized around themes, or "threads," like "Structure," "Political Narratives," and "Narrative in the Newsroom." But even with all the expert approaches presented in workshops and the nuggets of advice casually exchanged over lunch, perhaps the most valuable lessons participants could cart back to their own desks was an understanding that there is neither a prescribed formula nor an all-encompassing definitive method for crafting narrative. It's a concept that was communicated throughout the weekend in a tone of remarkable humility, a tone that emphasized that regardless of how many years a journalist plies his trade, he never ceases to grapple with the profound challenges and slippery ethical implications of his work.
"I'm not sure that a work of nonfiction can ever rise to the level of greatness if all that's going on in it is yarn-spinning. I suspect not," said keynote speaker Nicholas Lemann, who recently ended his stint as The New Yorker's Washington correspondent to become dean of the Graduate School of Journalism at Columbia University. "And it's certainly true that we practitioners of narrative nonfiction tend not to have a full enough sense of the importance of ideas in our work, and that we haven't sufficiently developed a stated set of techniques for combining ideas in narrative."
But if there isn't yet a "stated set of techniques," the conferees generously shared their own particular techniques – or absence of them. Hearing Lane DeGregory, features writer at The St. Petersburg Times, reveal that she gets some of her best story ideas by reading personals, ignoring important people, and hanging out in bars; or Ken Burns talk about the countless hours of interviews he feeds to the cutting room floor; or New York Times columnist Bob Herbert confess he is "frankly at a loss on how we should be proceeding on this issue" of writing about race is to be enthused and apprised at the same time.
"As a freelancer, being around people who do the same work as you is inspiring," said Adrian Nicole LeBlanc, a presenter and author of "Random Family: Love, Drugs, Trouble and Coming of Age in the Bronx." "It's a relief to have a high level of conversation about the mechanics and carpentry [of narrative]. I find the level of conversation here superior in large part because it's so focused. And a lot is driven by passion. It's uplifting because there are 16 different ways it can happen. Basically, it's saying 'trust your instincts, follow your passion,'"
And really, what besides a certain kind of passion could drive a reporter to hop in a van with a stranger during a blizzard?