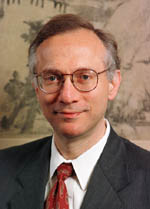 Harvey V. Fineberg, former provost of the University, has been selected to become the seventh president of the Institute of Medicine (IOM). He will begin his six-year term on July 1. Fineberg was dean of the School of Public Health for 13 years before serving as the University's provost from 1997 to June 2001.
The 1,429-member Institute of Medicine was chartered in 1970 by the National Academy of Sciences (NAS) to enlist distinguished members of the health professions in examining health-policy matters. Under a congressional charter granted to NAS in 1863, IOM advises the government on issues such as vaccine safety, health-care delivery and quality, nutrition standards, cancer prevention and management, and military and veterans' health.
In announcing the appointment, NAS President Bruce Alberts said, "Dr. Fineberg's background and skills are ideal for this position. Public health has become recognized as an area of increased national importance, which will make IOM's mission to advise the nation on health policy even more critical."
Kenneth I. Shine, the president of the Institute of Medicine noted, "Harvey Fineberg combines a rich academic leadership experience with a continuing commitment to and involvement in the health of the public. He is an outstanding choice."
As president, Fineberg also will serve on the governing board that oversees the National Research Council, which is the operating arm of the National Academies.
"To meet the public's health needs and to fulfill the promise of science for health," said Fineberg, "have never been more compelling social goals. Thanks to the work of Ken Shine and many others, the Institute of Medicine is better prepared than ever to accomplish these objectives. It is a privilege to be named as president-designate of the IOM, and I relish the opportunity to lead this vital and dynamic institution."