For a week in August, incoming Harvard Medical School students ignored the siren call of sun and sand for a chance to spend a week weighing and measuring preschoolers at the Dimock Early Head Start Program in Roxbury.
The result was an eye-opener for the medical students as well as a relief for officials at Dimock and at the Harvard Pediatric Health Services Research Fellowship Program, which is collaborating with Dimock in a research partnership.
"It's important because what we can do is focus on better nutrition for the children," said Dimock Center-Based Coordinator Fernanda Brito. "It's wonderful that they're helping with this piece because it would be one more thing our staff would have to do and they're already overloaded."
The work wasn't brain surgery but still proved tricky, as the students attempted to coax reluctant 3-year-olds onto a scale where they could be weighed. Getting the children to stand up straight to measure their height also proved challenging.
The power of stickers
As a solution, rainbow stickers were put on the upright portion of the tall medical scale. The stickers held the children's attention long enough for the measurements to be taken — most of the time. Once completed, the children were rewarded — with stickers, of course — and whisked back to their classes.
"It's a critical thing. If we run out of stickers, we're dead," joked Sharon Muret-Wagstaff, who directed the medical students and who serves as associate director of the Harvard Pediatric Health Services Research Fellowship Program.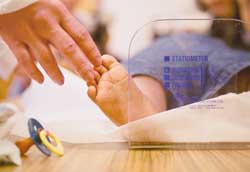 Teacher Norma Suarez of Dimock Early Head Start massages the toes of her young charge, while Harvard Medical School students measure the baby's height. The students were among more than 50 first- and second-year medical students who participated in a weeklong program called FUNC, or First-Year Urban Neighborhood Campaign. Students participating in the program went to Dimock and seven other sites to volunteer their services to various community organizations.
Data gathered at Dimock were passed along to each child's parents. The information will also help Head Start leaders pinpoint health issues that deserve future study.
"They teach us about the needs of children in the community. We can then help answer questions they have through our research," Muret-Wagstaff said. "It's very definitely a joint effort."
Brito said the information can be used by the center's incoming nutritionist and will be shared with the children's parents. Some children in the community are overweight, Brito said, partly because many cultures prize plump babies as a sign of beauty. Center staff has already incorporated suggestions from the Harvard Pediatric Health Services Research Fellowship Program about simple ways to make the children more active, such as having them walk and wave their hands instead of just sitting when singing songs.
Trial pediatrics
But weighing and measuring dozens of children isn't as simple as it sounds. That's where the medical school students come in, Muret-Wagstaff said. With the help of the students, children can be weighed without involving teachers who are also responsible for the well-being of the other children in the class.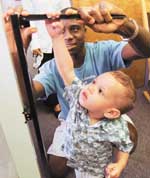 "Everyone should be weighed and measured regularly, but how do you do that? It takes a small army," Muret-Wagstaff said. "We've had nine terrific medical students out here who could have been studying or sleeping late [instead]."
The medical students themselves, however, have not gone unrewarded. For some, it's their first chance to work with small children, giving them a brief taste of the life of a pediatrician. "I learned that I have a patience for them [children]. I didn't think I would," said Enyi Nwaneri, who had been considering specializing in obstetrics but who said she would now also consider pediatrics. "This really opened my eyes to that possibility."For others, the week was a chance to connect with and contribute to the Boston community before getting caught up in the hectic life of a medical school student.
"I jumped at the opportunity to do some community service before I started," said first-year student Jerrilyn Jones. "I just think I've been really blessed and getting the opportunity to give back to individuals who might not be as blessed as me is paramount."