At the Center for Government and International Studies (CGIS) an intimate exhibit captures the work of an artist deeply influenced by Harvard, by a range of cultural forces, and by the postwar art movements swirling in Europe and New York City in the 1950s and '60s.
"Irresolution: The Paintings of Yoshiaki Shimizu" shines light on the brief artistic career of the man acknowledged more for his art history scholarship than his abstract expressionist output. "The fact that he was a painter is very poorly known," said Yukio Lippit, professor of history of art and architecture, who curated the show of 30 works that include oil paintings, watercolors, drawings, and collage.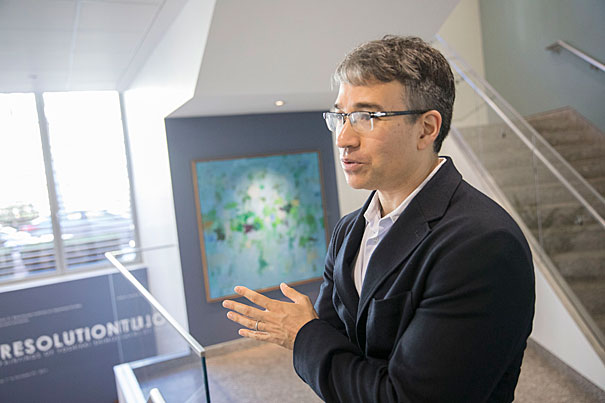 Thanks to Lippit, Shimizu's artwork is getting some deserved attention in the exhibit sponsored by Harvard's Edwin O. Reischauer Institute of Japanese Studies, and running through Oct. 31.
The artist himself is also on view; his image greets visitors as they enter the show on the building's lower level. The picture, on a large vertical banner suspended from the ceiling, captures a 24-year-old Shimizu casually leaning against a door. Clad in a jean jacket, he holds a paint can in one hand, a cigarette in the other, and stares into the lens with a James Dean-like air of rebellion.
"The fact that he's looking back at you with a certain defiance captures for me that he was literally un-locatable according to the critical terms of the period," said Lippit. "He embodies a kind of counterclaim or contradiction to the cultural constructs of the period."
But while Shimizu pushed back against such constructs, his output was undeniably informed by them.
Works done during his Harvard years in the 1950s reflect the University's efforts to raise its arts profile. The Department of Visual and Environmental Studies was newly established; plans for Swiss-French architect Le Corbusier's only American building were underway; the social realist Ben Shahn was the Charles Eliot Norton professor; and Walter Gropius, the German architect, founder of the Bauhaus School, and a faculty member of Harvard's Graduate School of Design, had invited a number of his Bauhaus colleagues to campus to teach.
Harvard was "an interesting and layered environment for art-making," said Lippit, despite Shimizu's claims otherwise. He took classes with Shahn and T. Lux Feininger, the son of the avant-garde photographer Lyonel Feininger, who had studied with expressionist artists such as Josef Albers, Paul Klee, and Wassily Kandinsky. Feininger brought "all those practices we associate with the Bauhaus — visual empathy, design across different media," into his fine arts courses, said Lippit, who is the Johnson-Kulukundis Family Faculty Director of the Arts at the Radcliffe Institute for Advanced Study.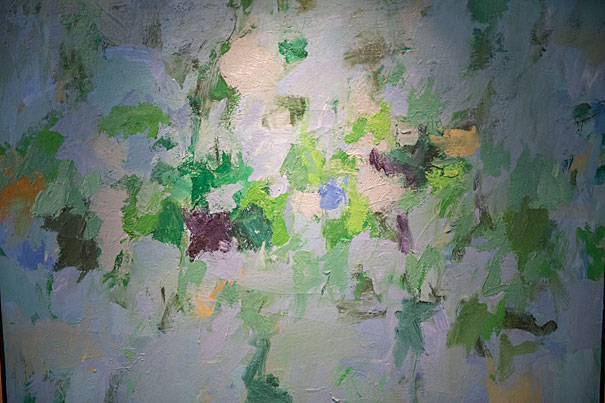 Shimizu's "Nocturnal View," an abstract work that captures moonlight streaming through a grove of trees, appears "almost like a Bauhaus exercise," Lippit noted. Nearby, a work resembling a deconstructed musical staff floating above patches of color evokes the abstract forms favored by Klee. On the same wall, Shimizu's troubled-looking self-portrait is done almost in "Kandinsky mode."
Restless, Shimizu left Cambridge in 1957 for the Museum of Fine Arts School in Boston, then headed to art school in Hamburg, Germany, the following spring. There, a traveling show featuring eight of America's leading abstractionists lured him back to the United States. Standing before a massive, paint-splattered Jackson Pollock canvas, Shimizu realized "he needed to immerse himself in the tumult of the New York art world to really achieve where he wanted to go as a painter."
In New York, Shimizu's work reflected the influence of "Nipponism," a term coined by the then-director of Boston's Institute of Contemporary Art (ICA) to describe an exhibition at the ICA of abstract works by contemporary painters of Japanese origin. Instead of the "penetrating, gestural abstraction" favored by American abstract expressionists, the Japanese painters "practiced an all-over style with small units of mark-making, muted tonalities [that created] an almost dignified, elegant atmosphere," said Lippit.
Shimizu's work was further influenced by the "tumult" of the New York art scene. He roomed with Liam Clancy, a member of the Irish folk group The Clancy Brothers, and befriended Allen Ginsberg and many other Beat Generation poets. He also met Joop Sanders, a Dutch-born American painter and a contemporary of the abstract expressionist Willem de Kooning. Soon Shimizu gravitated toward a more gestural form of abstract painting.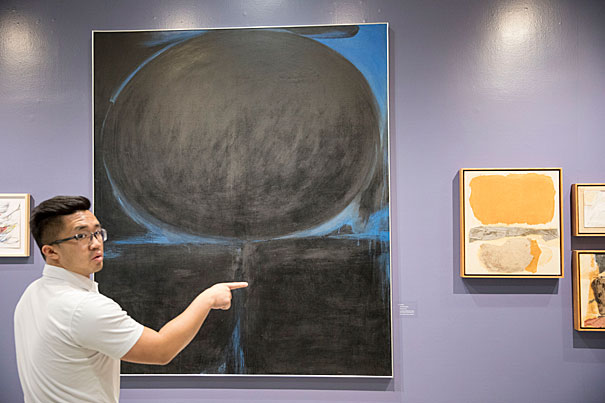 The shift is evident in the show's largest work, a painting on loan from the Massachusetts Institute of Technology's List Visual Arts Center. The untitled piece from 1963 contains large geometric forms of black paint edged by a vibrant blue. It is reminiscent of Mark Rothko's signature color block style, yet Shimizu "hated what he called 'Rothko fluffy color fields,'" said Lippit.
"He was much more interested in imbuing the work with movement and structure and in generating color fields that way."
Shimizu returned Harvard to finish his degree in 1962, then moved to Kyoto to pursue a life as a painter. But Japan had changed in the intervening years and the art scene he encountered was informed more by political protest than by any aesthetic. "Few people were doing the kind of abstract painting Shimizu is doing," said Lippit.
In 1967 Shimizu moved back to the United States to pursue a master's degree and a Ph.D. and to begin his long career in as art historian.
"He did occasionally paint later on and the works were so good we had to include them in the show," said Lippit of Shimizu's subsequent efforts, such as his 1989 watercolor and charcoal on paper titled "Homage to Willem de Kooning," the cover image for the show's catalogue.
The "ghostly" work, said Lippit, "captures a lot of movement and structure, and the kind of perpetual striving that Shimizu felt every canvas should reflect."