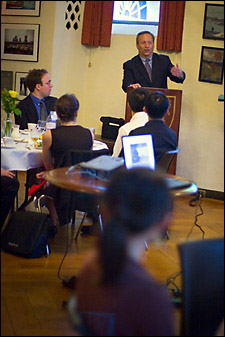 The Presidential Instructional Technology Fellows (PITF) Program was launched in summer 2004 at the request of President Lawrence H. Summers. To date, more than 150 graduate and undergraduate students have provided services to faculty at the Faculty of Arts and Sciences, Harvard Law School, Harvard Medical School, Harvard School of Public Health, and the Schools of Design, Education, and Divinity. Approximately 500 courses at the University have benefited.
The Presidential Instructional Technology Fellows work one-on-one with faculty to develop digital course materials with immediate educational uses. These fellows leverage existing software tools developed at Harvard and provide outreach, consulting, training, and support for those faculty who wish to use digital resources in their teaching. Presidential Instructional Technology Fellows have created a variety of reusable content including simulations, interactive syllabi, library research guides, and customized learning modules for hundreds of courses at the University.
The 2006 PITF recipients of the Award for Achievement in Instructional Technology are Clara Koh, Harvard Divinity School; Ronen Mukamel '05; and Alan Wagner, Graduate School of Arts and Sciences.
The recipients of this award built a first-of-its kind Kinship Editor tool for anthropology courses that allows students to collect and digitally graph genealogical information in complex ways. Prior to creating this tool, these types of assignments were completed by hand. Koh and Wagner demonstrated outstanding technical proficiency and design skills in creating the tool.
Other fellows include Harvard Graduate School of Education (HGSE) doctoral student Jacy Ippolito, who made use of the existing Harvard course platform and multimedia applications in creative ways for a course for HGSE doctoral students on educational research. As a result of his work, students can look at case-study photos and watch streaming video interviews that have been edited to address specific course questions.
Harvard School of Public Health (HSPH) doctoral student Evan Johnson is also being recognized for outstanding and creative use of existing University academic software. Johnson worked with an HSPH faculty member teaching a course on computational molecular biology. Because the field changes rapidly, Johnson worked doggedly to ensure that cutting-edge research and recent journal articles were incorporated into the course Web site. He also created online surveys to evaluate lectures and students' comprehension.
The students received their awards at a May 18 ceremony at Adams House.