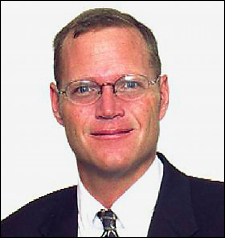 James Gray, a seasoned professional in real estate management, has been appointed associate vice president of Harvard Real Estate Services (HRES). He assumed his new Harvard role on Nov. 11.
"With his extensive property management, leasing, construction and development experience, Jim brings a deep understanding of real estate to this position," said Sally Zeckhauser, vice president for administration. "He has earned a reputation for outstanding team leadership, high performance, and the delivery of exceptional customer service. This combination of abilities will enable him to help create a clear and achievable vision for the University's real estate goals, and to implement that vision as efficiently and effectively as possible. "
Gray is charged with creating a top-notch service organization that will guide real estate strategies for Harvard. He is also responsible for the stewardship of Harvard's real estate portfolio, and for the management of the Harvard Real Estate Services' graduate and faculty housing, project management, and capital project approvals units.
"I'm excited to join the outstanding team at HRES and to be part of the larger Harvard community," said Gray. "We have many challenges at HRES and an important role to play in supporting the academic endeavors of our faculties, as well as enhancing the residential living/learning environment for our affiliates."
Prior to joining Harvard, Gray spent 14 years with Duke Realty Corp., where he held a number of key positions, including senior vice president and general manager of Minneapolis operations, where he was responsible for the company's 8.5 million-square-foot office and industrial portfolios, and senior vice president and general manager of their Cincinnati office group, where he oversaw an office portfolio of 6.2 million square feet.
Before joining Duke Realty, Gray served for three years as vice president and general counsel to Brian Properties, Inc., a Chicago-area commercial real estate developer. He has also engaged in the private practice of law with concentration in commercial real estate development, lending, and zoning work.
A native of Connecticut, Gray earned a B.S. in Public Affairs in 1982 and a juris doctorate degree in 1985, both from Indiana University.
Gray has a long history of community involvement. He has served on the Executive Committee of the Minneapolis Regional Chamber of Commerce, was a Board member of the Minneapolis chapter of the National Association of Industrial and Office Properties, served as an Executive Committee member of Downtown Cincinnati, Inc., and is a former member of the Indiana University Board of Trustees.