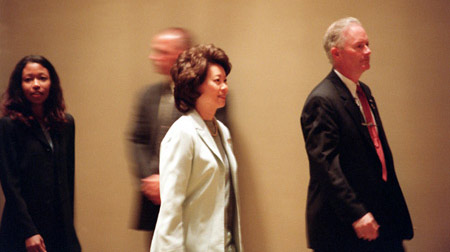 Harvard Business School's message to tomorrow's business leaders couldn't be clearer – or more timely: Values like honesty, integrity, and corporate responsibility are as important to leadership development as any business skills.
"We really need leaders who are prepared to take responsibility, be held accountable. ä who are prepared to make a difference in the world," said Business School (HBS) Dean Kim B. Clark in his address to the M.B.A. Class of 2004, which packed Burden Auditorium Aug. 23 for the annual Dean's Welcome. "We believe that you have the capacity to be precisely those leaders."
Guest speaker Elaine Chao (M.B.A. '79), U.S. secretary of labor, underscored Clark's point.
"True leadership draws its source from core values such as character, integrity, personal courage, and a commitment to ideals," Chao said.
Winner of HBS's 1993 Alumni Achievement Award, Chao fondly recalled her own days as an aspiring M.B.A., when she was one of few women in a far less international class.
"My life and career have turned out to be so much more interesting and exciting than I ever could have imagined sitting in your place," she said.
Chao, who emigrated from Taiwan to the United States with her family when she was 8, lauded America's free enterprise system while sounding an alarm.
"That system, I am so sad to say, which has given so much to so many, is in crisis today," she said, citing the corporate scandals that have dominated headlines for the past year: off-balance sheet accounting, insider loans, and executives who bankrupted their companies and cheated shareholders while lining their own pockets.
The reeling market left in the wake of such corporate wrongdoings does not, Chao said, signal an economic crisis. She pointed to low interest rates, strong auto and home sales, low inflation, rising productivity, and three consecutive quarters of positive earnings as indications of the economic health of the country.
Rather, she said, it's a crisis of confidence that's battered the stock market.
"When the public loses its trust and confidence, the bottom line will surely suffer. The market has already shown that it will not tolerate any perceptions of corporate misdeeds," she said.
Chao, who assumed the top spot at the United Way of America in 1992 on the heels of that organization's scandal and executive wrongdoing, has personal experience with public trust. Restoring the United Way's financial integrity was easy, she said, compared with rebuilding trust and confidence in the charity.
Quoting her boss, fellow HBS alum President George W. Bush (M.B.A. '75), Chao said, "There is no capitalism without confidence. There is no wealth without character."
She outlined some of the ways that government is stepping in to restore confidence: The president's plan demands clarity and transparency in key business practices, better information for investors, an improved audit system, and CEOs' personal certification of their companies' annual reports, she said.
Yet while government can play a role, individuals are key to restoring America's confidence in the free enterprise system.
"We need men and women of character who know the difference between ambition and destructive greed," Chao told the students. "Only character can help you resist some of the temptations that are waiting out there."
At stake, she said repeatedly, is no less than the American free enterprise system – something close to the hearts of the M.B.A. students.
"You have a major role in safeguarding this promise of opportunity and hope for millions of Americans and others around the world," Chao told them.
While the dean's welcome convocation is an annual event, kicking off the incoming M.B.A. class' two-year HBS education, having a speaker from outside the School is a departure from the norm. Chao's presence underscored the School's commitment to incorporating values into its education.
"We firmly believe that our community standards of honesty, integrity, personal accountability, and respect for others are the standards by which strong, principled leaders work and live," said Steve Nelson (M.B.A. '88), executive director of the M.B.A. program. Two years ago, Nelson said, Dean Clark created a faculty taskforce charged with more fully integrating community standards with students' experience in and out of the classrooms.
Second-year M.B.A. student Lisa Lewin, a member of the Leadership and Values Student Committee, followed Chao with some personal reflections on HBS's Leadership and Values Initiative, which brings speakers on the topic to campus throughout the year.
Harvard Business School, with its case method curriculum, "broadens your set of analytic tools to include the very careful consideration of ethical and moral issues in the normal course of the decision-making process," Lewin said. "At the end of the school year you realize that you've exercised and developed this muscle called ågood judgment.'"
Joking that she would be sorry to depart HBS in June and was starting a Students for a Three-Year M.B.A. Club (dues: $50,000), Lewin urged the students to take full advantage of their time to learn both values and leadership.
Use the classroom to "discern for yourself, using your own moral compass, what the right course is," she said. "Once you can do that, you will be in the position to offer capable, principled management, which is what the best leaders do."
For the students, selected from an applicant pool of more than 10,000 – the largest in the School's history – the event's message packed a powerful punch.
"Incredible," said entering student G.R. Nelson, from Houston, of the speeches. Hailing from Enron's hometown, he said, has made him even more aware of the importance of corporate integrity.
"People look at business leaders [with] guilt by association," he said. "The actions of a few are often misrepresentative."
Discerning whether the current spate of corporate scandals is in fact the result of a few bad apples or is a widespread problem, said Nelson, "will be the fun part of the next few years."