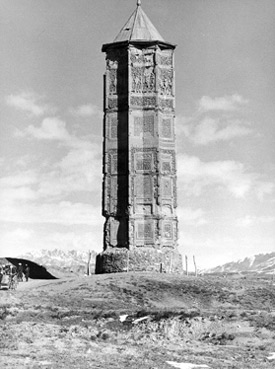 The American photographer and ethnographer Josephine Powell spent years in North Africa and the Middle East, documenting local architecture, textiles, nomad life, and village cultures. Traveling on horseback to some of the most isolated parts of these regions, Powell became a legendary figure among the people she encountered and stories were often told about this fearless American woman. This month a gift from Powell, a unique collection of her photo negatives and contact sheets, became a part of the Harvard College Library's collection and will be housed at the Fine Arts Library.
"Josephine's work greatly enhances our collection. It covers areas of architecture and cultural materials that will significantly augment our holdings," said Martha Mahard, curator of historical photographs and special collections, Fine Arts Library.
Born in New York in the early part of the 20th century, Powell received a degree from the Columbia School of Social Work. After a stint working with war refugees in Tanzania, she moved to Rome where she began her career as an architectural photographer. Her photographs, taken over a period of four decades, have appeared in many standard texts. On a commission from the scholar David Talbot Rice, she went to Istanbul to photograph Byzantine mosaics. From here her fascination with Middle Eastern architecture and culture grew and led to many subsequent photographic expeditions through Turkey, Iran, Afghanistan, and Pakistan. With the recent social and political changes taking place in that portion of the world, Powell's documentation of these areas has become increasingly important.
"Josephine Powell is a remarkable person. Her work documents art and architecture which, in many cases, no longer exists because of theft and destruction during political conflicts and wars. Josephine Powell's work is an important source of scholarship and Harvard is fortunate to be the steward of it," said Jeffrey Horrell, associate librarian of Harvard College for collections.
In the early 1960s her passionate interest in Anatolian nomadic culture led her to make Istanbul her home base. In addition to her professional work she developed an extraordinary body of images (mainly 35mm color slides) principally documenting the nomadic weaving arts. These slides will form part of the proposed Center of Anatolian Ethnography and Textile Studies in Istanbul.
During the course of Powell's career from the 1950s to 1980s, the Fine Arts Library regularly acquired photographs from her catalogs. In the early 1990s, Scott Redford, then a Ph.D. candidate in Fine Arts at Harvard, met Powell in Istanbul and when he learned that she was looking for a place for her archives he suggested Harvard's Fine Arts Library. In 1996, Powell came to the University to lecture and to assess the library as a potential home for her collection. In January of this year, Mahard and her curatorial assistant, Joanne Bloom, met Powell in her Rome office where the archives have been maintained. They helped Powell finish identifying and inventorying the contents and oversaw the preparation of the collection for transfer to Cambridge. This new acquisition will be processed and available for users by 2003.