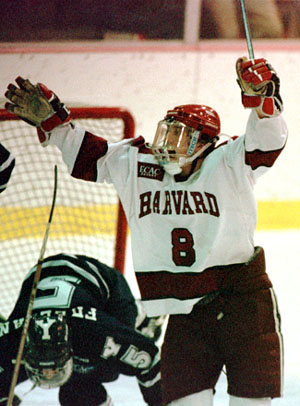 The Harvard men's hockey team unleashed some serious offensive might against rival Yale this past Friday and Saturday (March 10 and 11) – exploding for 12 goals in two victories – defeating the Bulldogs 5-4 and 7-4 in the best-of-three first-round ECAC Quarterfinals. With the wins, the Crimson advances to the 40th annual ECAC Semifinals in Lake Placid, N.Y., where they will take on Cornell tomorrow (March 16). It is Harvard's first appearance in the semifinals since 1998.
Friday's match-up at Bright Hockey Center marked the first time in history that the two schools faced off in an elimination playoff bout. The game proved to be a torrid scoring affair, with nine different players connecting. Crimson freshman forward Kenny Turano notched the game-winning goal – a power-play tally – when he broke free down the center of the zone and tipped home a blast from sophomore Dominic Moore. It was Turano's seventh goal of the year and Harvard's 29th with the man advantage. The Crimson held on for a 5-4 victory despite a late-period goal by Yale's Luke Earl.
Saturday night was an equally raucous affair. In the third period alone, the Crimson scored four goals in under 6 minutes of play. Down 4-3 in the final stanza, sophomore Brett Nowak kicked-off the Crimson onslaught, slapping home a rebound shot past Yale netminder Dan Lombard. Less than a minutes later, in a bit of déjà vu, senior Steve Moore ripped home a rebound off another Lombard stick save. Freshman Dennis Packard chipped in two minutes later, scoring the Crimson's third consecutive goal. Dominic Moore added an insurance goal two minutes later – good enough for a three-goal margin and the 7-4 win. With less than seven minutes remaining, Yale – the Ivy League Champ – was unable to recover.
No. 3 seeded Crimson will face off against No. 4 Cornell tomorrow (March 16). New England Sports Network (NESN) will broadcast the game at 4 p.m.