When I knocked on her office door, Margo Seltzer, newly tenured professor of computer science, was changing her daughter's diaper.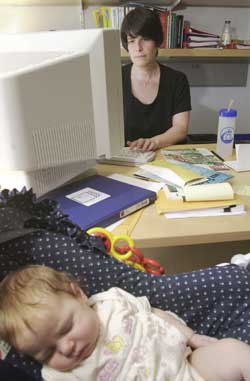 "I'll come back," I said.
"No need," she replied.
In answer to the questioning look on my face, she explained, "when a friend of mine told me about taking her infant daughter to work, I thought, 'what an interesting idea.' That was three years ago when I had my son, Tynan. This year, when Teagan was born, I couldn't imagine doing anything else. I wanted to spend time with my kids, but I'm also committed to my job. I am extraordinarily grateful for how incredibly supportive people here have been of that decision."
Seltzer then nursed Teagan while she answered my questions about her career and her feelings about becoming the second woman in Harvard history to be appointed a professor of computer science.
"Looking back over the past seven years, I feel that I have contributed in a significant way to changing the shape of computer science at Harvard," she said. "Largely because of some of the work I've done, the University has a respected presence in areas of this field that didn't exist here before I came. It was pretty clear to me, and I think it was pretty clear to my colleagues outside Harvard, that giving me tenure was the right thing to do. The fact that I'm a woman probably made an easier case for doing so. But I believe that Harvard would not have made the decision it did if I were not competitive with my male colleagues."
Despite her self-confidence, Seltzer, 38, admits to feeling "a little disbelief along with some relief." "But I haven't had much time to think about it because students need to be met, papers written, and, in my case, diapers changed."
Throwing candy
"Margo is an outstanding computer scientist and just a fabulous teacher — demanding, yet engaging and funny," says Harry Lewis, Dean of the College and Gordon McKay Professor of Computer Science. "She uses every dramatic artifice in the book to keep her students engaged, including rewarding questions by throwing candy to the questioner. She is right at the top of her field in terms of technological currency; everyone, here and across the country, turns to her for advice on computer systems issues. We are extremely fortunate that she has joined us permanently."
In addition to students, research, and babies, Seltzer runs a software business out of her home in Carlisle, Mass., with husband Keith Bostic. Called Sleepycat Software (she's a cat fancier), the business develops, distributes, and supports the most widely used embedded database system in the world.
"I could use another 24 hours in every day, or at least three or four of me," Seltzer admits. Then why not quit being a professor and work full time at a job where you don't have to commute? she was asked. The answer involves a combination of being goal-oriented, loving teaching, and having too much fun.
"My husband asked me if I really wanted tenure," Seltzer says. "'I really haven't stopped and thought about it,' I told him, but tenure is the ultimate game, and I don't like to lose. Academia attracts people like that; we all got here because we don't like to lose."
Now that she's won, Seltzer's unlikely to leave. "I've been teaching the graduate and undergraduate courses in operating systems, which I've enjoyed immensely. Now, with tenure, I feel I have the flexibility and time to develop new courses."
"Her operating systems course is one of the toughest in terms of workload in the entire catalog, yet it gets extremely high ratings for quality of instruction," Dean Lewis points out.
"It is also worth noting," he continues, "that the field of operating systems around which her work is centered is one with virtually no women at all."
Operating systems are invisible to computer users; but they allow people to do things better, or do things they couldn't do before. For example, the system might allow a database program to run faster while a new type of scientific simulation is run on the same machine, without the two causing problems for each other.
Seltzer's group is designing a new system called VINO, which she compares to "a versatile pickup truck that can haul the program equivalent of bulk loads, or serve as a customized vehicle to carry special tools and materials."
Although still a research prototype, some of the techniques used inside VINO have found their way into commercial products. "That's most gratifying," Seltzer says.
A turning point
Seltzer didn't start out to become an operating systems expert. When she came to Harvard in 1979, computers were not ubiquitous. "I am a math and science kind of person," she recalls, "but I had to search the catalog to see what best fit my goals. I looked for concentrations that would grant honors without a senior thesis or a comprehensive exam. That narrowed it down considerably."
She decided to study computers in what was then the Division of Applied Sciences. "My older brother did computer science and electrical engineering," she notes. "I thought if he did it, I could do it. At the beginning, I wasn't particularly good at it, but I enjoyed it. The real turning point came when Nathan Goodman (a former professor) hired me as a teaching fellow."
"I first got to know Margo when she was an undergraduate," Lewis takes up the story. "In the fall of 1982, she was a course assistant for me in the introductory course in computer science, which she returned to Harvard to teach a dozen years later. In between, she was an engineer in several software companies before doing her Ph.D. at [the University of California,] Berkeley. When she finished, she was the most highly sought-after faculty recruit in computer science in the country. It came down to Harvard and M.I.T., and we were fortunate she chose to come here."
"If I chose M.I.T., I didn't think I could fundamentally change its computer science department," Seltzer says. "Harvard was saying that it wanted to build up computer science, and they had no one in operating systems. If Harvard succeeded and I wasn't part of it I would never be able to live with myself."
While a graduate student at Berkeley, Seltzer met her husband, Keith. "I was looking for an apartment, and he was looking for a roommate, so I moved in," she says.
Their son, Tynan, was born in December 1997; daughter Teagan in March.
"When I came here, the obvious goal was to get tenure," Seltzer notes. "If things didn't work out, I thought, I could always take a job where I worked less and got paid more. That wouldn't have been bad. Now that the pressure's off, I've started to ask myself: What's my next goal? I won my black belt in karate a year ago. I've got tenure, a wonderful family, and a thriving business. It's time to figure out what's next."