A portrait of George Franklin Grant, D.M.D. 1870, the creator of a prosthetic for cleft palates, inventor of the wooden golf tee, and the first Black faculty member at the University, now hangs at Harvard School of Dental Medicine.
The son of formerly enslaved parents, Grant was born in Oswego, New York, in 1846. Grant's father, who escaped bondage in Maryland, had become a prominent barber in the town and Grant and his siblings had the advantage of attending a school where Black and white children were "equally admitted." His first taste of dentistry was at age 15 when he was hired to run errands for a local dentist and soon became his laboratory assistant. Grant learned the basics of dental practice for five years and in 1867, at the age of 21, he moved to Boston.
At the time, Boston was considered an epicenter for the American antislavery struggle — both formerly enslaved persons and free individuals flocked to the city following the Civil War, hoping to find opportunities for educational and economic advancement. Grant rubbed shoulders with well-known abolitionists of the day and lived on Beacon Hill boarding with John J. Smith who was known for his work with the Underground Railroad.
Harvard Dental School, founded in 1867, was located nearby where Massachusetts General Hospital stands today. Grant's early dental experience got him in the door of the School and he was initially hired as a laboratory assistant. He was invited to attend the School and matriculated the following year. In 1870, he graduated with distinction and was subsequently hired as an assistant in the Department of Mechanical Dentistry in 1871. In 1884, he was elevated to the post of instructor in Treatment for Cleft Palate and Cognate Diseases, a faculty appointment, which made Grant the first Black professor at Harvard University and the nation's first Black faculty member in dental education.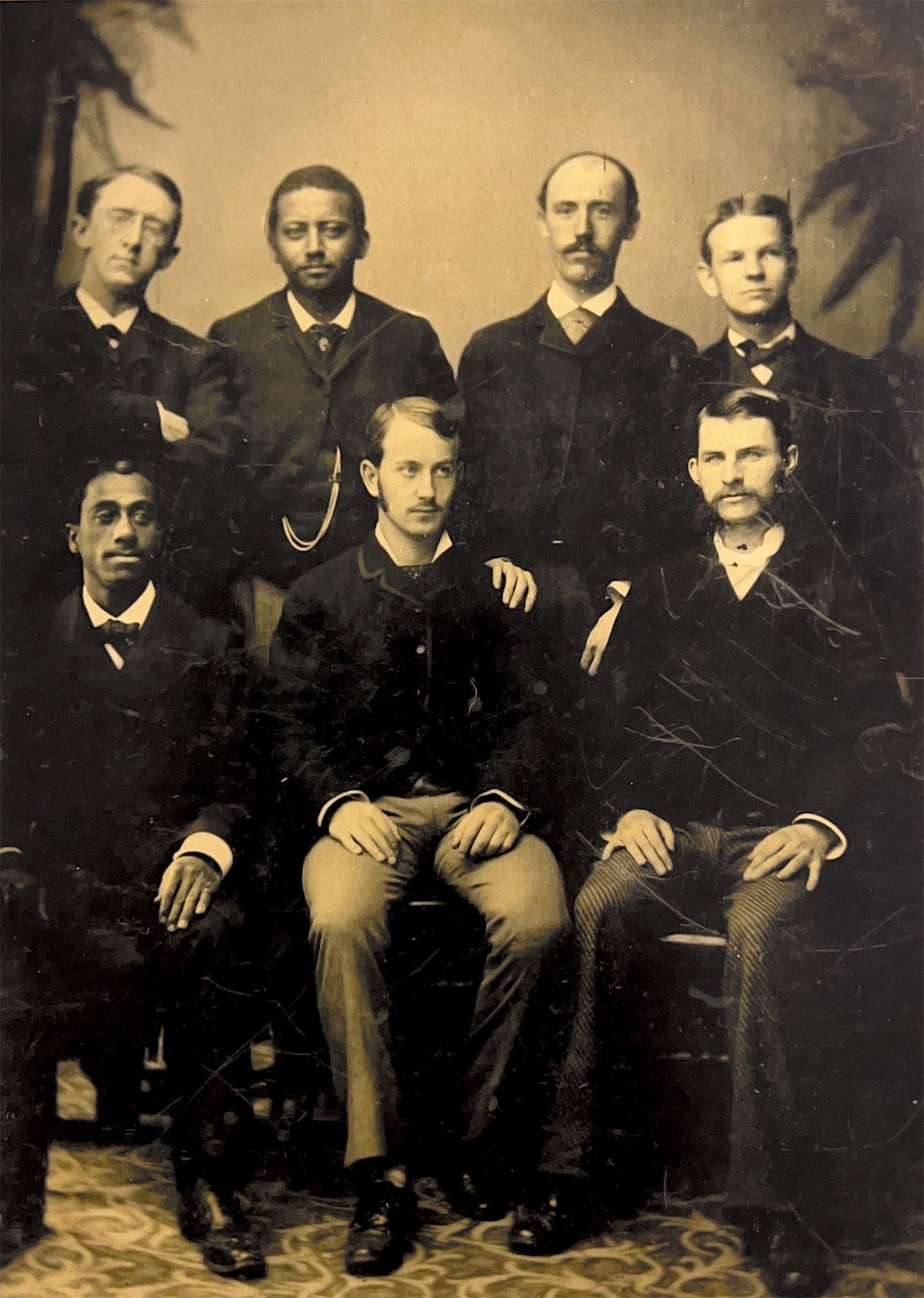 "Dr. Grant's life achievements have played a key role in shaping our history. They are a testament of his luminary status because he accomplished great things despite the times," said Fadie T. Coleman, HSDM's assistant dean for Diversity, Equity, Inclusion, and Belonging. "Displaying Dr. Grant's portrait on the very walls that once only told an incomplete narrative around the prominent historical figures at HSDM is critical. It tells an important story about our institution and its role in shaping our past and desired future. This will recognize and celebrate his contributions for generations to come."
Grant was a skilled clinician who treated patients that included Harvard University President Charles Eliot. He specialized in treating patients with cleft palate, a congenital condition in which the bones and soft tissue in the roof of the mouth are not closed. Grant invented and patented a prosthetic device he called the oblate palate, worn by patients to help them speak and eat more normally.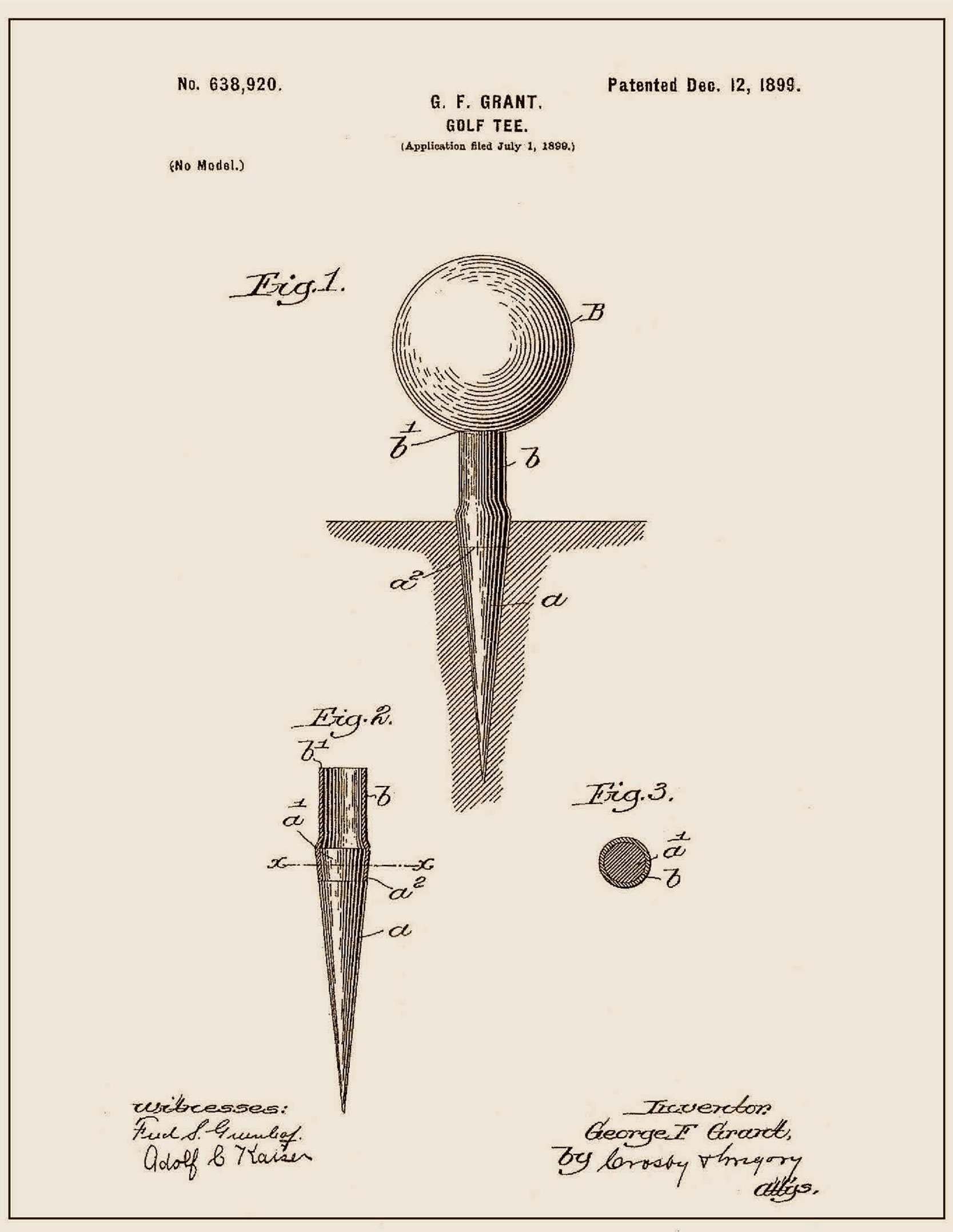 "He went on to receive awards, he wrote papers on the cleft palate, he was an important person," said Brian Swann, assistant professor of oral health policy and epidemiology. Swann said it is not surprising that someone like Grant who enjoyed "tinkering" and engineering new devices would go on to invent the wooden golf tee.
Grant was as passionate about the game of golf as he was about dentistry. The one aspect of the golf game that frustrated him however was the imprecise and messy process of teeing up the ball, which required mounding dirt to form a cone. Grant would devise an invention that would forever change the game of golf. On Dec. 12, 1899, he received U.S. patent No. 638,920, the first patent for a wooden golf tee.
After 19 years, Grant left Harvard to open his own dental practice and remained connected to the School as an active member of the Harvard Dental Alumni Association. In 1910, at the age of 64, he died of liver disease.
HSDM commissioned a portrait by artist Stephen Coit, who painted the portrait of Freeman as well as several other prominent Harvard alumni. Coit consulted with faculty member Lydia Legg, an instructor in oral and maxillofacial surgery and restorative dentistry and biomaterials sciences at HSDM and Massachusetts General Hospital, for the painting's accuracy and detail.
"Dr. Lydia Legg came to my studio and helped me identify the instruments and tools pictured in the portrait. A maxillofacial prosthodontist herself, she made a huge contribution to the portrait's creation," said Coit. "Dr. Legg had some final comments as she was heading back to MGH after spending time in my studio, she said, 'In that portrait, I feel like I am looking at someone like myself.'"
The portrait is now on display in the Dean's Office suite in HSDM's main building at 188 Longwood Ave., Boston.
"We're honored to pay tribute to Dr. Grant by giving his portrait a place of prominence at Harvard. His story and remarkable accomplishments as a trailblazing clinician, inventor, and scholar are inspirational," said Dean William Giannobile. "Our hope is that many future generations of dental students who come through the doors of HSDM will draw inspiration from his legacy."
The Daily Gazette
Sign up for daily emails to get the latest Harvard news.