The walls of Annenberg Hall are lined with Harvard luminaries: University alumni, professors, and benefactors depicted in paintings and sculptures. On Thursday, a new portrait joined the array, that of Richard Theodore Greener, Class of 1870, the first African-American to graduate from Harvard College.
Greener was an outstanding Harvard undergraduate who won the prestigious Bowden Prize for elocution in his sophomore and senior years, and was a Class Day speaker at Commencement. A Stoughton Hall resident, he was well respected and went on to a distinguished career in education and public service.
Greener's portrait, by artist Stephen Coit '71, was commissioned as part of the Portraiture Project, overseen by the Harvard Foundation for Intercultural and Race Relations. S. Allen Counter, the foundation's director, presided over the unveiling ceremony, which included a performance by the Kuumba Singers, an African-American student group directed by Sheldon Reid '96. The group performed a musical arrangement of Maya Angelou's poem "Still I Rise."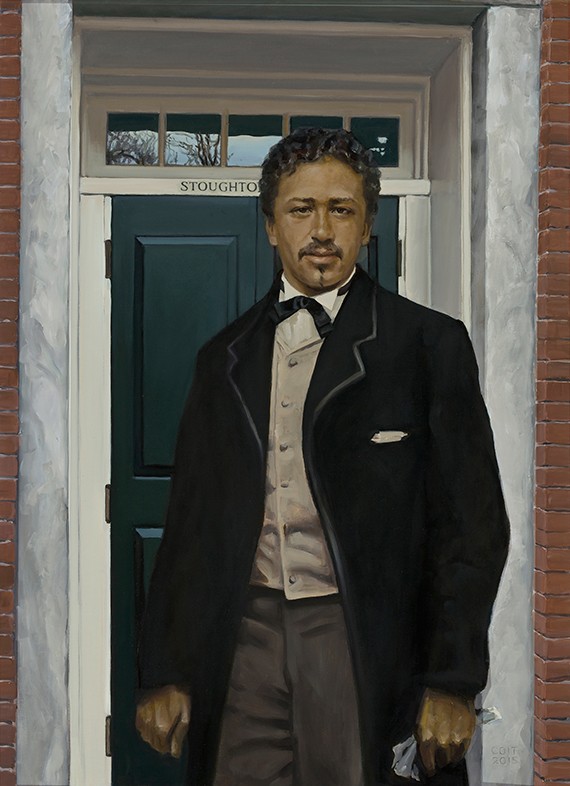 Reid, speaking briefly after the performance, called Greener a trailblazer. Reid spoke of the challenges faced by black Harvard students past and present, as did several Harvard College students who are active in African-American student organizations.
On behalf of the Harvard Black Men's Forum, Colin Marts '16, said Greener's portrait was "a small step in the right direction." Thalia Orphee '18, president of the Association of Black Harvard Women, noted that the overwhelming majority of portraits on campus — in Annenberg and elsewhere — depict white men. Greener's presence, she said, "helps us begin to paint a more complete picture of Harvard's history."
After graduating from Harvard, Greener became principal of the male department at the Philadelphia Institute for Colored Youth, which became Cheyney University. He later taught philosophy, mathematics, languages, and history at the University of South Carolina, where he also served as librarian and earned a law degree. Greener served on the Supreme Court of South Carolina and worked as a lawyer in the District of Columbia.  He later became a diplomat, holding positions including United States consul to Bombay, India, and Vladivostok, Russia. He was the first American to hold the latter post.
David L. Evans, senior admissions officer for Harvard College (whose portrait hangs in Lamont Library), concluded the ceremony by exhorting the students present, some of whom he has advised and mentored, "Greener is a part of the Harvard community, but he also belongs to you.
"His portrait represents an important change" in the University's history, Evans said, "but don't let this be the last change. Continue the change."