On his first day at Harvard, Gabe Fox-Peck '20 met Joshuah Campbell '16 in the arts preorientation program, and the two began to bond over their shared Southern roots and deep passion for music.
"My mom had called ahead because it was my birthday, so Joshuah, who was my proctor, had a little cupcake for me," recalled Fox-Peck, who grew up in Durham, N.C. "We're both from the Carolinas, so it's like we could relate to being a fish out of water."
Both were grateful for the mentorship of Vijay Iyer, Franklin D. and Florence Rosenblatt Professor of the Arts, and each performed for the other's senior creative thesis (Fox-Peck's was a gospel performance, Campbell's jazz).
"We've been tight collaborators off and on," said Campbell, a South Carolina native who is currently working on a master's in divinity at Union Theological Seminary in New York City. "Harvard has given me several people like Gabe. We had to find community with other people in extracurriculars. We learned to hustle, and we learned to love doing it with each other."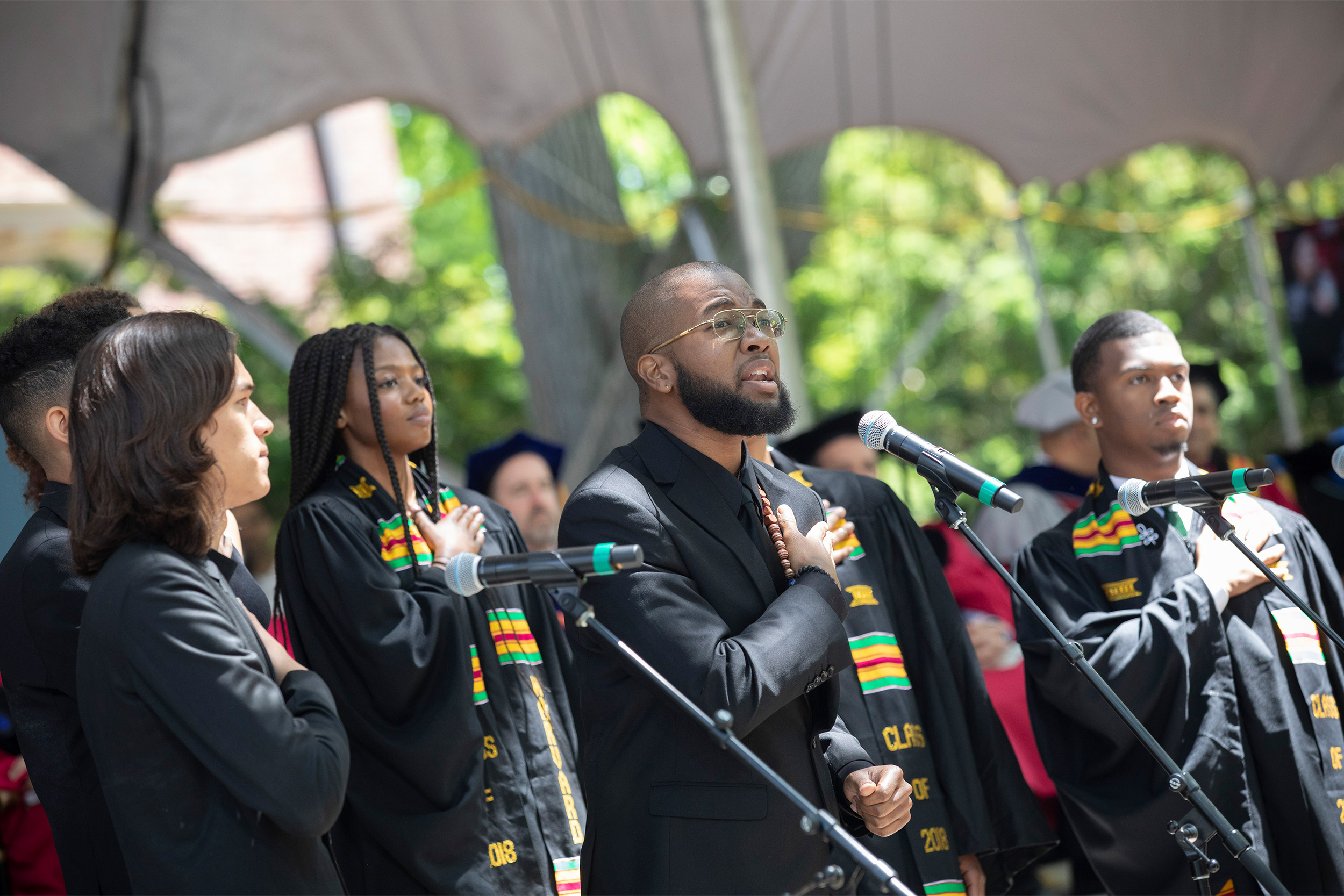 On Sunday, the pair will be together at the Oscars in Los Angeles, where "Stand Up," a song that Campbell co-wrote and Fox-Peck co-produced for the biopic "Harriet," is nominated in the best original song category.
(The song ultimately did not win Sunday night, though co-writer and "Harriet" star Cynthia Erivo did sing it on the Oscar telecast. Still, alumnus Miky Lee, MA '86, did win big as executive producer of "Parasite," the landmark South Korean film that won best picture and best director awards, among others.)
"My goals were something that sounded good and that honored Harriet Tubman," said Campbell, who got a call for a demo recording after the film's composer, Terence Blanchard, saw him perform his piece "Sing Out, March On" in 2018 as a tribute to the day's Commencement speaker, John Lewis, the congressman and legendary Civil Rights leader. "It wasn't unexpected. I knew the product was good, but it wasn't even in my realm of thinking that it would get to this level."