In his opening remarks at Writers Speak at Memorial Church, Homi Bhabha noted that many of Michael Ondaatje's stories explore "the persistent ghost of childhood … that earlier place to which we all belong, for better or for worse, for the rest of our lives."
It was an incisive comment.
As he took to the dais, Ondaatje looked at Bhabha, director of Harvard's Mahindra Humanities Center, and said, "You read my mind." The novelist then shared passages from three of his books: "In the Skin of a Lion," "The Cat's Table," and "Divisadero." Each excerpt contained vivid scenes viewed through the eyes of a child that were then recalled by the same character years later.
The people in the books "move forward," said Ondaatje, "… but keep looking back."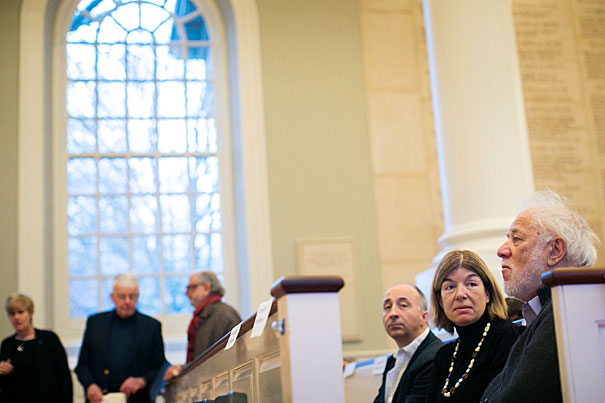 Ondaatje's penchant for narrative driven by time, place, and circumstance may well be informed by his own childhood, which was shaped by his parents' divorce, his Tamil, Dutch, and English heritage, and his ocean crossings in search of family and home. Born in Sri Lanka, Ondaatje was raised mostly in England. At 18 he immigrated to Canada, where he studied at the University of Toronto and Queen's University in Kingston while also finding his voice as a writer. He has published numerous works of poetry and several novels, including "The English Patient" (1992), a Booker Prize co-winner that was adapted into an Oscar-winning film.
During the program's question-and-answer session, audience members were eager to hear more about the beloved book and how it was brought to the screen. Ondaatje had input on the film and helped craft early drafts of the screenplay, he told the crowd, but the final vision belonged to director Anthony Minghella.
"It was Anthony's version of the same story," said Ondaatje, who agreed with Minghella's decision to focus on certain sections of the book and leave others out, such as the bombings of Hiroshima and Nagasaki, which "just didn't work" on film.
Senior lecturer in creative writing and novelist Claire Messud led the Nov. 13 conversation, which was co-sponsored by the Humanities Center and the Canada Program at the Weatherhead Center for International Affairs. Messud said she was "struck by the intense sensuality and the vividness" of detail in Ondaatje's work, calling it almost sacred.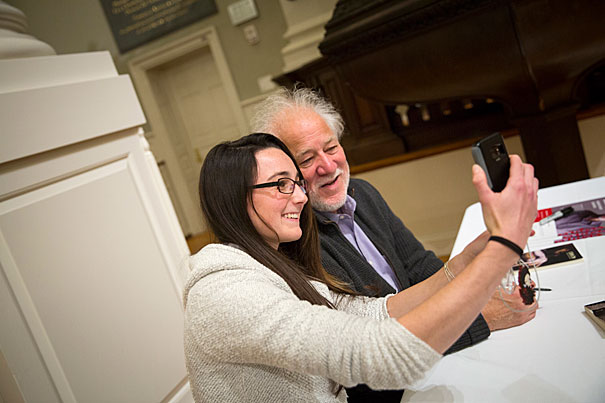 "To what extent do you think of yourself as a spiritual writer?" she asked.
Ondaatje answered that his writing wasn't so much spiritual as deeply sincere. After working for years on a particular book, he is so focused on the characters, the time, and the story, he said, that he becomes "obsessed with being fair to them" and has to go "as deep as [I] can go toward representing them."
Still, Ondaatje said he takes care not to give everything away. As with his poetry, in his fiction he encourages readers to do a little work to divine meaning for themselves.
"I want the reader to be an active participant."
Though he declined to discuss his forthcoming book, "Warlight," due out in the spring, the plot, which involves two teenagers growing up in London in the aftermath of World War II, suggests another narrative in which childhood plays a central role.
And the work never ends. In response to a question about his process, Ondaatje responded that with writing, "You are always finding the next step."