In many ways, 2016 was one for the history books. Few years have seen so much political upheaval, cultural shifts, and scientific progress. As New Year's Eve approaches, the Gazette looks back on some of the year's most popular and substantial articles.
True to form, students and faculty excelled, with five students named Rhodes scholars and Professor Oliver Hart awarded the Nobel Prize in economics. A College fencer represented the U.S. at the Olympic Games in Rio, while three Harvard Divinity School students took a Nimbus 2000 to the top of the iTunes podcast charts with "Harry Potter and the Sacred Text."
Steven Spielberg gave the Class of 2016 villains to vanquish, and Stephen Hawking explained how strange our universe is beyond our tiny blue home. Babar the Elephant stopped by the Houghton Library, Joseph Gordon-Levitt and Larry Wilmore tickled our funny bones, and Toni Morrison and Rashida Jones appealed to our greater humanity. Exhibits and excavations revealed Harvard's past as never before, while The Gazette photographers took us behind the scenes of campus rituals and daily life at Harvard.
Out of Harvard's labs came leaves that generate fuel, diamonds that transmit signals and monitor neural pathways, organs-on-a-chip that perfectly mimic an individual's own organs, and 3-D printed flowers that dance and bloom when dropped in water. Millions marveled at an autonomous little octopus that moves without electronics, while others watched in sober awe as bacteria overcame heavy doses of antibiotics in just 11 days.
The University took a bold step with the decision to place limits on single-gender final clubs, and tempers flared at the Institute of Politics' quadrennial "debriefing," where top campaign aides took the gloves off after a contentious election. President Drew Faust assembled the Task Force on Inclusion and Belonging, and scholars offered deeper understanding about the vexing stubbornness of American inequality. With their future uncertain, undocumented students stood strong, and the University heard their voices and supported them.
Here is a selection of Gazette stories that resonated with readers in 2016, along with videos and photos shared across the internet: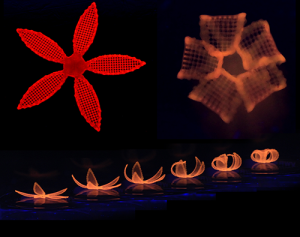 4D-printed structure changes shape when placed in water
Wyss, SEAS researchers create shape-shifting architectures that mimic plant movements
A team of scientists at the Wyss Institute for Biologically Inspired Engineering at Harvard University and the Harvard John A. Paulson School of Engineering and Applied Sciences (SEAS) has evolved their microscale 3-D printing technology to the fourth dimension, time.
Gut-brain connection moves into MS territory
BWH researchers find evidence that diet and gut microbes can influence brain inflammation
Using pre-clinical models for multiple sclerosis and samples from MS patients, a Harvard-affiliated team found evidence that changes in diet and gut flora may influence astrocytes in the brain, and, consequently, neurodegeneration, pointing to potential therapeutic targets.
A cinematic approach to drug resistance
Scientists film bacteria's maneuvers as they become impervious to drugs
Scientists at Harvard Medical School and Technion-Israel Institute of Technology have built a giant petri dish to visually demonstrate how bacteria move as they become immune to drugs.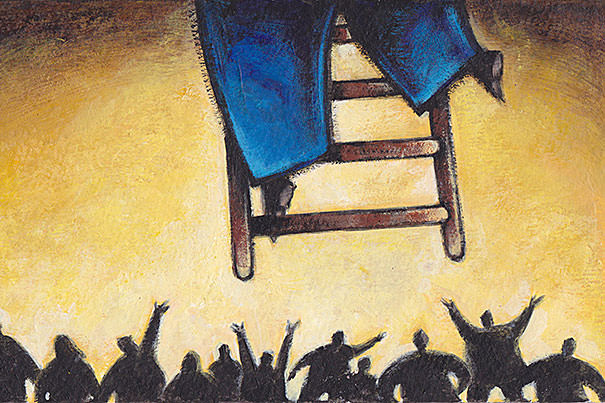 The costs of inequality: When a fair shake isn't
Harvard researchers, scholars identify stubborn tenets of America's built-in inequity, offer answers
First in a series on what Harvard scholars are doing to identify and understand inequality, in seeking solutions to one of America's most vexing problems.
For President Trump, the road ahead
Harvard analysts ponder changes across the American and global landscapes
Noted faculty across Harvard weigh in on the election of Donald Trump and what his presidency is likely to mean for the economy, presidential politics, and more.
Where runners go wrong
Researchers seek clues among an exceptional group: The injury-free
A new study out of Harvard Medical School and the National Running Center at Harvard-affiliated Spaulding Rehabilitation Hospital examined why runners get injured so often.
Hawking at Harvard
At packed Sanders Theatre, theoretical physicist and cosmologist tackles the contradictory qualities of black holes
Acclaimed theoretical physicist and cosmologist Stephen Hawking discussed the mysterious qualities of black holes during his lecture at a packed Sanders Theatre.
Spielberg: Find a 'villain to vanquish'
Filmmaker urges graduates to make their 'character-defining' choices wisely
In his Commencement address, veteran filmmaker Steven Spielberg urged the members of Harvard's Class of 2016 to stick to their morals and act when necessary.
The Yard awakens as freshmen arrive
Members of Class of 2020 find their way to new homes at Harvard
After nearly 13 weeks of summer quiet, Harvard Yard awoke again as the Class of 2020 officially arrived on campus this morning.
Joining the ranks of Rhodes
Realizing dreams, Harvard's newest scholars unveil plans for Oxford years
Spencer Dunleavy, Nancy Ko, Maia Silber, and Anthony Wilder Wohns were among the 32 American students named as Rhodes recipients.
Putting the Glass Flowers in new light
Gallery set to reopen after major renovation
The famed Glass Flowers gallery will reopen May 21 after the most extensive renovation in its history.
'If you're not failing, you're probably not trying as hard as you could be'
Interview with geneticist George Church as part of the Experience series.
Stories of learning, teaching, and turning points, in the Experience series.
Books of their youth
Scholars explain staying power of certain literary encounters
The Gazette asked a group of Harvard professors to talk about a book from their student days that has since gained in resonance or meaning.
Potential diabetes treatment advances
Device shields beta cells from immune system attack
Researchers at MIT's David H. Koch Institute for Integrative Cancer Research, in collaboration with scientists at the Harvard Stem Cell Institute and several other institutions, have developed an implantable device that in mice shielded insulin-producing beta cells from immune system attack for six months — a substantial proportion of life span.
The first autonomous, entirely soft robot
Powered by a chemical reaction controlled by microfluidics, 3D-printed 'octobot' has no electronics
Developed by a team of Harvard researchers, the first autonomous, entirely soft robot is powered by a chemical reaction controlled by microfluidics. The 3-D-printed "octobot" has no electronics.
O'Neal, MacGraw revisit youthful 'Love'
In return to campus, a look back at film that made them stars
Actors Ali MacGraw and Ryan O'Neal returned to Harvard to revisit the scene of their iconic movie "Love Story."
Save
Save
Save
Save
Save