Most Harvard College graduates can trace a fairly straight line from Opening Days in their freshman fall to Commencement in their senior spring. But for some, there were unexpected twists and turns along the way. Faced with opportunities or obstacles, they chose a different path.
Reylon Yount '16-'17 was one of 100 students to be honored last Friday at the Midyear Graduates Recognition Ceremony in the Student Organization Center at Hilles. For Yount, the fork in the road was a rare chance to pursue two of his passions: music performance and environmental science. Yount, who has achieved international renown for his artistry on the yangqin, or Chinese hammered dulcimer, spent time away from Harvard during his sophomore year to perform as a featured soloist with the Reno Philharmonic Orchestra, followed by two internships in Australia studying fisheries management and algae biofuels. Though it meant postponing his graduation until December, he is grateful for the experience.
"It was incredibly eye-opening. Not only was I able to get a glimpse of what it's like to be a concert musician, but I also got to travel and meet people who have a completely different worldview. It put my own worldview into perspective and made me appreciate the things that Harvard gave me — the wonderful opportunity that I and many of my friends have had here to be explorers, to be shapeshifters," said Yount, who will spend two years studying music and film producing in London on a Marshall Scholarship beginning next fall.
Addressing her fellow midyear graduates, Eliza Pugh '16-'17 asked them to recall the courage it took to make the decisions that led them to graduate off-cycle. "Whether we took time to do something exploratory, vocational, professional, reflective, or any mixture of these, our experiences have changed who we are," said Pugh, who spent her junior fall in the Andes region of South America. "It is now up to us to use the knowledge we gained to shape our future. Bring that sense of adventure and wonder that you felt when you were forging your own road less traveled by to the next phase of your life."
Rakesh Khurana, Danoff Dean of Harvard College, applauded the graduates for their flexibility and strength in the face of uncertainty and urged them to remain open to the "unexpected moments that make life both messy and majestic."
"I hope your time at the College has taught you to fear failure less and even to value it," said Khurana, himself a midyear graduate from Cornell University. "You will meet more obstacles no matter what you attempt to do. The only real failure would be not to attempt at all."
In her faculty address, Jill Lepore, David Woods Kemper '41 Professor of American History, recounted a story about poet Henry Wadsworth Longfellow. When he was a 16-year-old undergraduate at Bowdoin College, Longfellow wrote a letter to his mother in which he professed his admiration for poet Thomas Gray, for the impenetrable obscurity of his verse. In her reply, Longfellow's mother offered advice that her son would take to heart and put into elegant practice: Don't admire obscurity. Make your meaning clear.
"That's the wisdom I want to share with you today," Lepore told the graduates. "The clarity and force of language will help you find your way out of every maze of obscurity. It will give you courage in your convictions, and it will make you listen to the music in your soul. It will make you soar, and it will make you sing."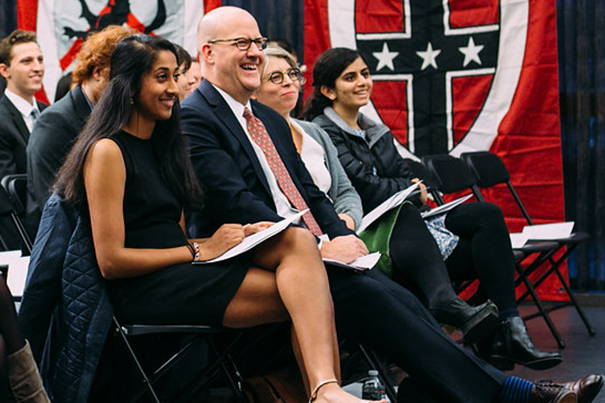 "Admire what is worthy, and do work worth admiring," she continued. "Give to the world the gift of your voice. Say what you mean, and mean what you say."
Philip Lovejoy, executive director of the Harvard Alumni Association (HAA), welcomed the graduates as the newest members of the HAA and encouraged them to be active participants in the alumni community, citing the HAA's Welcome to Your City events and the contributions of recent graduates to Harvard Clubs and Shared Interest Groups around the globe.
"The HAA is here to help you stay connected to Harvard and to your fellow alumni," Lovejoy said. "Together you will shape and sustain Harvard into its fifth century as you make your own mark on the world."
Save
Save