The residents of Allston-Brighton and Cambridge little knew that they would see Harvard become the only undefeated team in the Ivy League when they came out for Community Football Day last Saturday. But that was just the exciting conclusion to a spirited afternoon, and a 29–13 victory over Cornell, at Harvard Stadium.
It could not have been a better day for football. The sun came out from behind the clouds just as the festivities began at the community tent, where families, friends, and even politicians enjoyed a traditional tailgate.
"This is my fourth or fifth year coming to Community Football Day. Growing up in Cambridge, I've been coming to Harvard games on and off for probably 35 years," said Neal Johnson of Cambridge. "I used to go to the tailgates with friends, now we really enjoy this."
Attracting some new faces and many familiar ones, the annual event welcomes football fans of all ages, and never disappoints. From face painting, coloring, and lawn games for children to tables where families and neighbors gather, eat, and converse, there was plenty to enjoy for an hour before the game. Lunch, pregame activities, and game tickets were all free and part of the invitation from Harvard University.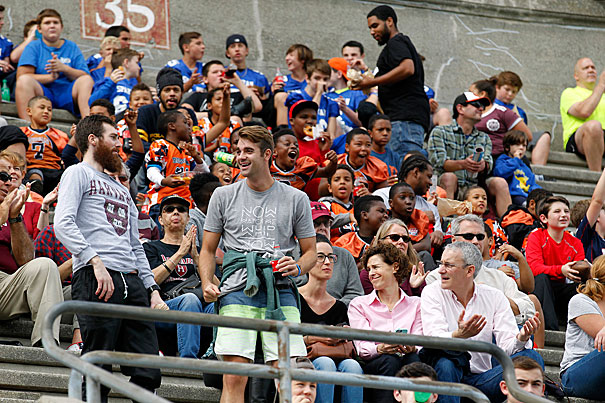 "I've been coming here since I was 14, since I played football for Brighton from 2004 to 2008," said Renel Jean, defensive coordinator and assistant head coach of Brighton High School. "Even after I left high school I've been coming to this. My brother played for Brighton and he would tell me when Community Football Day was and I would come up from [University of Massachusetts] Dartmouth for the game."
Jean said the annual event is a great experience for his players, who learn from the college players while enjoying the game. More than 40 members of the Brighton football team came from Dorchester, Mattapan, and Roxbury to participate.
"The kids love it. Everything they see here they take it back with them to the Brighton football program," he said.
Kayla Roche '19, who is concentrating in cognitive neuroscience and a member of the Harvard Crimson Dance Team, was on hand for face painting and temporary tattoos for children. Volunteering with three other members of the dance team, she was excited to flex her creative muscles by trying some creative designs.
"I'm looking forward to meeting the families and the kids and getting people excited to be a part of this fun community day," she said. "I love when there's a really great turnout at the games and people are just hanging out together all cheering for the same team; it's a really fun community moment."
More than 1,100 community members attended last Saturday's event.
Before the game, State Rep. Kevin Honan enjoyed a hot dog while chatting with several guests.
"It's a tremendous opportunity for our neighborhood to come, a great opportunity as an elected official to meet constituents in a very informal, dynamic, and exciting setting," he said. "We have two undefeated football teams here and they are going to see a wonderful football game, which is very exciting."
Mark Ciommo, the Boston City Councilor for the district of Allston-Brighton, agreed.
"It's a beautiful day for football and a beautiful day in our community," he said.
Save
Save
Save