Colby Knight '17 was not sure what he was running for on a sunny, windy fall morning, but he knew it was a good cause. And he was not alone.
Knight was one of hundreds of Harvard students, alumni, faculty, and staff who hit Brighton Avenue in Allston last Sunday for the Brian J. Honan 5K Run/Walk, an annual charity event benefiting local and national education programs.
"It's my first year running this race. I learned about it when I recently joined the Harvard Running Club," said Knight, a member of the Harvard wrestling team. "I'm glad I'm able to help support a good cause."
The race benefits the Brian J. Honan Charitable Fund, and more than 1,300 runners and walkers from Harvard, Boston College, Boston University, Northeastern University, and the Allston-Brighton community turned out for its 13th year. The annual event honors the memory of the former Boston District city counselor representing Allston-Brighton who died in 2002.
"The 5K is a wonderful event in memory of Brian that brings the whole neighborhood together, longtime residents and college students," said State Rep. Kevin G. Honan, his brother. "There's a tremendous presence from Harvard, and we would like thank all of the students who run from all of the schools each year."
The competition among local colleges to see which team would finish fastest was playful and in the spirit of the race's goal. Harvard had won the Honan Race Cup Championship for 12 straight years going into Sunday's race, and this year's team of runners did not disappoint. Once again, Harvard took home the plaque.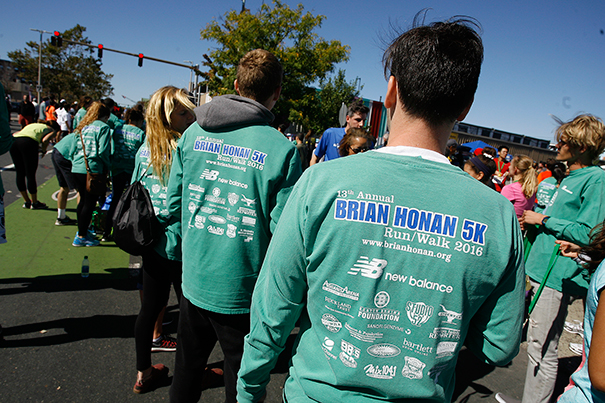 Before the race, Boston Mayor Martin J. Walsh thanked both the runners and the many race volunteers for honoring Brian Honan's legacy and his family's mission to advance the causes he had championed during his years in public service.
A dedicated advocate of giving ordinary citizens an opportunity to live extraordinary lives, Honan's national and local programs in education, recreation, housing, and health care continue through funds raised by events such as the 5K.
The fund supports the Brian J. Honan Fellowship at the West End House Boys & Girls Club in Allston, which offers as many as eight outstanding high school students a chance to learn the nuts and bolts of government while gaining skills and experience. The program also helps students create a network to make positive changes in their communities through internships and community service.
"When I think of the Honan Road Race, yes, it's a race but it's one of the ongoing key initiatives that shine a light on Brian's commitment to community," said Andrea Howard, chief executive officer of the West End House. "Brian grew up going to the West End House, first as a club member, then as a board member. It's very personal for us and very much part of our mission that we continue to help young people grow up to be like Brian and make impacts like he did."
After years of watching the race pass outside her window, Allston resident Neri Da Costa walked in the family-oriented 5K with her two sons, Matheus, 14, and Bryan, 10.
"It's my first time doing this. I've been here 15 years and I saw the kids run it, and then I learned everybody can run it," said Da Costa. "You see a lot of friends, a lot of people, we love it."
Eduardo Gonzalez '18 has a lifelong love of running and finished the race in the Top 50.
"We're out here for fun and fitness and to have a good time. I'd love to see more of these throughout the year," Gonzalez said. "I love that we can bring together several different universities and people around the community to participate. I think it's great."
Save
Save
Save
Save
Save