First in an occasional series on Harvard's wide-ranging programs and research in Europe.
FREIBURG, Germany — The sky soared blue and flowers dotted the ground at Auschwitz when Ayanna Dunmore visited.
"When I was looking at the ruins of the gas chamber, a butterfly was flying … next to me," Dunmore said.
It was mid-summer, and nature's exuberance provided a startling counterpoint to the horror associated with the camp where the Nazis systematically gassed more than a million people, most of them Jews. Beauty and memory created a dissonance for Dunmore, a Harvard sophomore, and her Harvard Summer School classmates.
"It was very hard to be in that space, but it was also very eye-opening. There's only one gas chamber left, which we did walk through. That was actually one of the most disturbing parts for me," Dunmore said. "You could definitely imagine what it must have been like for the people who were actually there.
"I just kept feeling like there is a very big difference between learning about the Holocaust from history books and even the Holocaust Museum … [and] going to where it happened, walking along the trail where those poor prisoners were actually forced to walk, and being at places where so many atrocities were committed — walking into the gas chamber and thinking … that could have been you. It creates a lot of emotions that are hard to put into words."
To Sven Beckert, a strong summer program is about dissonance. It's about immersing students in a new environment, exposing them to fresh perspectives, and challenging them, not just intellectually, but also emotionally and socially, in ways impossible during regular classes in Cambridge.
The inaugural eight-week program, officially the Harvard Summer Program in Freiburg, Germany, offered four classes to 20 Harvard students. Beckert, the Laird Bell Professor of History at Harvard and the program's director, taught the core course, examining European responses to migration, urbanization, and the lingering effects of its own fraught history.
"The general theme of the program is to explore how Europeans deal with issues of great contemporary relevance," Beckert said.
In addition to Beckert's course, Sheila Jasanoff, Pforzheimer Professor of Science and Technology Studies at the Harvard Kennedy School, taught a course on sustainability, while two faculty members from the University of Freiburg, Elisa Orru, a postdoctoral fellow at the university's Centre for Security and Society, and Uwe Wagschal, a professor of political science and chair of comparative politics there, taught privacy and inequality, respectively.
To Beckert, the classroom material served to prepare the ground for the out-of-class experiences. About half of his teaching occurred during an array of excursions beyond the classroom and Freiburg itself. The three-day trip to Poland and Auschwitz was a key excursion, part of the program's emphasis on historical memory and how Europe deals with its sometimes painful past, but students ranked other trips as important too, in particular a visit to a World War I battlefield in France whose preserved front-line trenches made a stark visual impact.
"One of the advantages of teaching a course like this in a setting that is intrinsically comparative is getting students to see that the same problem can manifest itself in a variety of different ways," Jasanoff said. "Part of the secret of being able to live in a multicultural world is being able to see from the other person's point of view what the world looks like."
In addition to the classroom teaching and the new understanding from travels around the region, the 800-year-old town of Freiburg was a classroom itself. Lessons were unavoidable just wandering its cobblestone streets, whether using budding German skills to strike up conversations, exploring the local culture through Flammenkuchen and other foods not found in Massachusetts, or even sampling urban transit models while hopping trams or dodging the legions of bicyclists who crowd the streets of lovely Freiburg, which prides itself as being Germany's greenest town.
"Even if I'm not around, students learn," Beckert said. "It's learning not for grade, it's learning for the rest of your life."
Green town as classroom
Freiburg today is a modern town built up around an old center, whose cobblestone streets, sidewalk cafes, and venerable stores are only accessed by pedestrians and bicyclists.
Freiburg prides itself on its environmental sustainability and provided a living case study for students in Jasanoff's sustainability course. The town is nested in a nation that, unlike the United States, has vigorously pursued clean energy policies, fostering renewables even as it works to close its nuclear plants.
"Germany as a country probably represents the opposite pole to the United States in its embrace of sustainability as a public policy issue," Jasanoff said. "Freiburg is probably the place you would name first if you wanted to study sustainability in Germany."
Sammota Mwakalobo, a Harvard sophomore from Quincy House, said the sustainability course was a big attraction of the program for her. A Tanzanian, her love of hiking and concerns about climate change came together in high school, when she hiked 19,341-foot Mount Kilimanjaro and saw the melting glaciers there.
Outside the classroom, students experienced the town's sustainability efforts firsthand, including its streetcars, in their daily commute from dormitories outside the town center and the ubiquitous bicycles that challenge cars for primacy on the area's narrow streets. Two students produced a video about Freiburg's "Blue Bridge," which town leaders decided to close to vehicles and reserve for bicycles and pedestrians and which has become a symbol of the town, Jasanoff said. Students also had to comply with the complex recycling system and toured Vauban, a neighborhood dedicated to sustainability, with roads designed to discourage cars and homes designed to conserve energy, including some that annually contribute more to the electricity grid than they use.
"There's always something to learn from another place, no matter what," said sophomore Michael Cheng.
The town also illustrates that sustainability can be a boon to the economy. Freiburg is home to 100 solar companies employing 2,000 people, has 700 jobs in environmental education, and has 12,000 workers in environmental economics and research, according to town statistics.
All that, combined with its location near Germany's borders with France and Switzerland, which encourages teaching about the European Union (EU) and cross-border migration, make Freiburg an ideal setting for the program, Beckert said.
Language and culture
Sophomore Daniel Menz applied to the program in part because of his interest in modern Germany and in part for personal reasons: his great-great-great grandfather emigrated from a small town in central Germany to Minnesota in 1853.
"Germany is so interesting at this time because it's the largest economy in the EU," Menz said. "It's amazing. It's been a pretty intense program."
In addition to the four core courses, there were optional language classes that proved, for some, an exercise in humility.
"My highlight was I finally ordered food in German," Dunmore said several weeks into the program, "which is a great moment."
The students lived together in hillside dormitories at United World College, under the eaves of the Black Forest, and when not in classes they were free to explore Freiburg, swim on hot days, hike nearby mountains, and immerse themselves in German culture and society.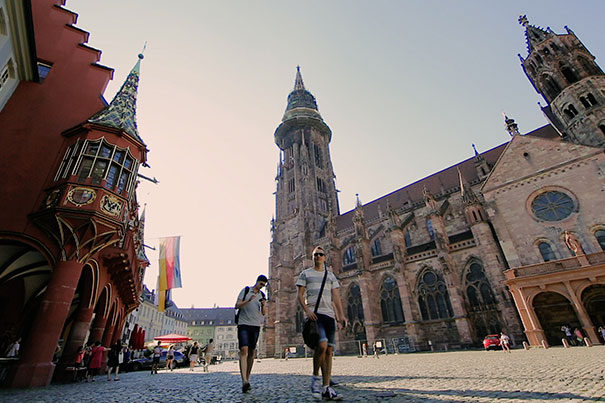 "I always ask, 'What did you see, what did you observe?' From students [you get] a sense how urban life can be different," Beckert said. "You go to a coffee shop in Cambridge, people sit with their computers alone. Here, you go to a coffee shop to talk."
Course teaching fellows Balraj Kaur Gill and Hilton Simmet not only assisted in class, they also lived with the students in the dorms and provided out-of-class guidance, such as an introduction to cooperative cooking, a life skill useful anywhere.
"Us cooking is pretty hysterical," said Kate Brady, a sophomore social studies concentrator living in Dunster House. "We thought we were so tough, but we can't cook for ourselves."
Harvard students shared the classroom with students from University College Freiburg, and each was paired with a German "buddy" who greeted them on arrival, showed them around, and eased the transition. The German students also diversified the classroom discussion, Jasanoff and Beckert said.
In one class, Beckert recounted, students were talking about success and how New York is the city in which to "make it." A German student offered a different point of view, saying, "I just want to be happy."
"They add tremendously to the discussion," Beckert said. "They have read different texts, had different experiences, and say surprising things."
A World War I battlefield
One place where the difference from Harvard's campus was particularly stark was Hartmannswillerkopf, a peak in southeastern France's Alsace region with a commanding view of the Rhine Valley.
It was at Hartmannswillerkopf, also known as Vieil Armand, that French and German troops faced off during World War I in a ferocious battle for the high ground. From trench lines sometimes so close together that troops could hear each other's conversations, they mounted assault after assault that moved the lines little, left 30,000 dead, and earned the mountain the nickname "man-eater."
After a trip of a little over an hour to get there, Beckert and the summer students toured the battlefield and sat beneath the shade of a tree to talk about World War I and its enduring impact on modern Europe.
"It is completely different from teaching at Harvard," Beckert said. "We do a lot of teaching on location … Learning on location is a big difference and a much better way to learn."
The trip to the quiet former battlefield included a tour by a French guide through the remnants of barbed wire and the trenches.
"He took us through the French trenches and through the German trenches and through no mans' land," said Harvard sophomore Uriel Espinoza Gutierrez. "You see how they're separated by maybe five meters at the most. And I think that was really telling, because you could kind of feel the memory there."
Sophomore Amelia Goldberg found a visual reminder of the battle's ferocity — reflected today in its trees — most powerful.
"The forest where the battle took place was completely destroyed, of course, because [of] cannons, artillery, heavy rain, and mud, everything. So there was a completely new growth of forest," Goldberg said. "When you get to the top of the hill and look down … there's just this line of a different color of forest around the edge of the hill … where the entire vegetation was wiped out and the traces [of the battle] still remain, preserved in the natural life."
In addition to its proximity to sites important in the world wars, Frieberg's location near the intersection of three European nations helps teach about migration in the modern world, and about the ease of travel across national borders within the European Union. The students even visited a Basel neighborhood that prides itself on straddling all three countries.
 Another trip was to Strasbourg, France, where students saw the European Parliament, the EU's legislative arm, and the European Court of Justice.
"It was educational to sit in those spaces and see where the deliberations happen," Jasanoff said of the impact on students. "My own view of this is it is a taste, it's an appetizer that will lead them to do certain kinds of exploration."
Related
A different kind of teaching
The Harvard program's roots are almost a decade old. That was when Beckert, who is from Germany, realized that his students often had little exposure to life outside the United States.
Beckert, whose expertise is in 19th century U.S. history, initially devised a semester-long course in Germany. When the University decided to concentrate study-abroad efforts in the summer, he developed the current program, with the help of funding from the President's Innovation Fund for International Experiences.
"It helps for students to see things could be different," Beckert said. "In the U.S., the debate [on problems like sustainability and migration] often suffers from a hopelessness … It can be done; there are possibilities. That's something we must teach them."
Another characteristic of the program is that it throws instructor and students together for longer periods of time, allowing teachers to get to know students better then they would in a Cambridge lecture course.
"We leave [for excursions] at 9 [a.m.] and are back at 9 p.m.," Beckert said. "We read 'All Quiet on the Western Front,' and I was walking with a group of students talking about how literature contributes to writing history. It's not on the syllabus, but these moments happen a lot … For me as a teacher, it's much more satisfying.
"It's also fun. It reminds me of why I wanted to be a teacher. We're making a difference in the lives of very smart people."
Save
Save
Save
Save
Save
Save
Save
Save