An internship in Malaysia, research in Brazil, a program in Italy — a group of Harvard faculty members is exploring the world to investigate the potential for innovative summer programs for Harvard students in coming years.
The faculty members are recipients of grants from the President's Innovation Fund for International Experiences (PIFIE), established to provide seed funding to develop academic experiences abroad for undergraduates. The money is intended to help faculty members interested in creating courses clear one hurdle in the planning process: the need to visit potential sites in the target country, locate classrooms, explore the feasibility of field trips and other excursions, and establish personal relationships with local partners. The fund was created as part of David Rockefeller's donation to support student international experiences, and seeks to encourage participation by faculty members at the graduate schools as well as at Harvard College.
Three grants were awarded this spring. One went to Sunil Amrith, the Mehra Family Professor of South Asian Studies, to explore the feasibility of an eight-week summer program on the importance of port cities in Southeast Asian culture and society, with time split between Singapore and Penang, Malaysia. A second was awarded to Robin Gottlieb, professor of the practice of mathematics, who is designing a summer program in mathematics and the history of science in Lucca, Italy. The third went to Viviane Gontijo, preceptor in Romance languages and literatures, and Josiah Blackmore, the Nancy Clark Smith Professor of the Language and Literature of Portugal, who are investigating returning summer study to Brazil for the first time since 2011, through a program in the coastal city of Recife.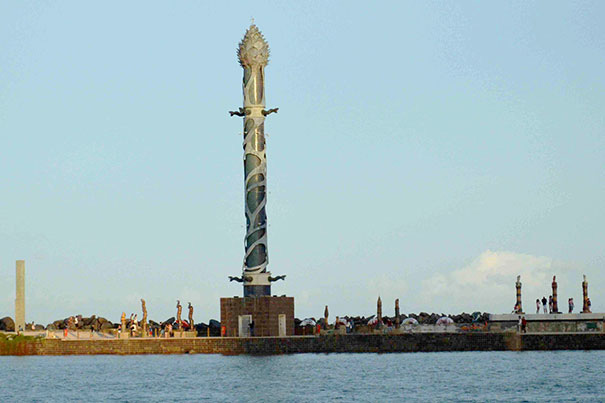 The programs are in various stages of development, with details being worked out, innovative elements explored, and local partners identified. Amrith, for example, envisions a program that begins in Singapore and runs there for four weeks and then switches to Penang, a Malaysian island dominated by the city of George Town. The Singapore portion of the program will involve intensive lectures and field trips. The Malaysia portion, by contrast, would offer a four-week internship with a local nonprofit, during which students could do meaningful work even as they get an immersive experience in Malay culture, language, and society.
Amrith said the contrast between the two locations offers opportunities for instruction. Their histories are linked, having been administered together by the British until independence. Today, they are quite different, Amrith said, with Singapore having become an international commercial capital while Penang has developed more slowly. The course would explore the broader theme of how Southeast Asian multiculturalism is different from that in the West and how the prominence of port cities such as Singapore and George Town contribute to that.
"One of the things we're doing with the PIFIE funds is exploring what's viable," said Amrith, who is visiting Singapore and Malaysia this month and expects the first classes to be offered in 2017. "Partly, it's about choosing between alternatives."
That 2017 timeline is similar for the Brazil program, though a pair of Harvard students are getting a taste of what's to come during a pilot offering this summer, according to Gontijo. With the benefit of PIFIE funds, Gontijo traveled to Recife over winter break to explore a partnership with the ABA Brazil-U.S. Binational Center, visit with non-governmental organizations, meet with local scholars and artists, choose host families for students to stay with, and develop pilot projects to engage Harvard students in a range of service-learning opportunities.
This summer, she will be advising two students who will sample aspects of the program while conducting research in Recife, with one student focused on affirmative action in the Brazilian educational system and the other on aspects of the Zika virus during the Olympics.
"I am very enthusiastic about these preliminary experiences and believe their work will be a great way to demonstrate that our summer program will offer learners much more than language skills," Gontijo said. "Students will return to Harvard with a greater appreciation of how the study of a foreign language in an international setting uniquely enhances one's cultural awareness. This enriching experience will provide valuable lessons toward their lives as global citizens and in their careers as students, researchers, and future professionals."
As those programs continue their development, recipients of past PIFIE funds are looking forward to implementing their programs this summer. A summer program in Tbilisi, Georgia, is getting underway for the first time.
"The funds enabled us to send two exploratory groups to Georgia, in fall 2015 and spring 2016, to get the lay of the land in what is largely a new country for our program faculty, and to confirm our instincts that Tbilisi had just the right mix of linguistic resources and cultural and historical fascination that we were seeking in developing a new intermediate Russian language program for Harvard," said Steven Clancy, senior lecturer on Slavic languages and literatures and director of the Slavic Language Program. "As June approaches, there is a great deal of excitement among our program faculty and the 16 students who will be studying with us during our first summer in Georgia."
For John Hamilton, the William R. Kenan Jr. Professor of German and Comparative Literature and chair of the department of Germanic Languages and Literatures, the funds helped him and his colleague Lisa Parkes create a course that uses Viennese culture — performances, concerts, and exhibitions already going on in the Austrian capital — as the structure of the course. Being offered for the first time this summer, the course will expose advanced German students to particular works during class time, followed by attending actual performances.
"It's important to be on the ground and see these things, meet contacts, and discuss excursions in the city," Hamilton said. "We're allowing the city to dictate what we study and how we approach it." The result will be "the city itself as text."