The new season at the American Repertory Theater (A.R.T.) takes aim at some serious subjects, including class, gender identity, turning points in Irish and Argentinian history, and the crisis facing the American education system.
Versatile actress, playwright, professor, and MacArthur Award winner Anna Deavere Smith kicks off the season in August with her latest production, "Notes From the Field: Doing Time in Education." No stranger to tackling charged topics, Smith returns to her familiar solo format, exploring the school-to-prison pipeline through the lens of various characters: students, parents, teachers, and administrators. During the show, the audience is invited to participate in the dialogue through a series of discussions.
"I feel we were really looking for a way in which the A.R.T. could deal with the issue of race relations in America, and in particular program a theatrical catalyst to deal with the Black Lives Matter movement," said Diane Paulus, artistic director of the A.R.T. "And when the opportunity to bring Anna Deavere Smith to campus came up, that answered everything for me."
Although known to many fans for her TV work, including roles on "The West Wing" and "Madam Secretary," Smith's powerful stage presence has captivated audiences for years. She last appeared at the A.R.T. in 2008 in "Let Me Down Easy," a one-woman show featuring close to 20 characters. Smith's latest A.R.T. effort will be accompanied by music from jazz bassist and composer Marcus Shelby.
"To me, it's exactly what we should be opening the season with. I really couldn't be more excited about Anna as an artist, about the subject matter, and about the dialogue I hope it's going to foment on campus," said Paulus.
History takes center stage at the A.R.T. in September with Ireland's Abbey Theatre production of "The Plough and the Stars," written by dramatist and political activist Sean O'Casey. The wartime drama explores the Easter Rising in Dublin, an armed uprising against the British Empire that marked the beginning of the republican revolution in Ireland 100 years ago.
Victorian-era intrigue is on tap in December when award-winning director and Harvard alum Bill Rauch '84 returns to take the helm of "Fingersmith." The play, written by Alexa Junge, is based on Sarah Waters' 2002 crime novel of the same name, and swirls through "London streets, madhouses, and a stifling mansion with a shocking secret."
The past year has seen a number of milestones in the American transgender movement, and that momentum carries onto the A.R.T. stage in "Trans Scripts, Part 1: The Women," which begins performances in January. Based on interviews with people who identify as transgender, the new work focuses on the lives of six transgender women. Directed by Jo Bonney, the play received a Fringe First Award for new writing for its author, Paul Lucas, at the 2015 Edinburgh Fringe Festival.
"We knew then and there," said Paulus of the decision to bring the play back to the A.R.T.'s Loeb Drama Center after a sold-out reading at Oberon last year. "We loved the script, saw the audience response to it, knew that we wanted to program it, and made a very deliberate decision to put it on the main stage … We really felt giving the subject matter a main stage platform was an important signal."
In 2013 the A.R.T. mounted a mesmerizing production of the Tennessee Williams classic "The Glass Menagerie" that went on to Broadway acclaim. The playwright's work will be back in February when the A.R.T. stages "Night of the Iguana." Directed by Michael Wilson, who has devoted much of his career to interpreting Williams, the tale of love and lust unfolds during a night of tropical heat in a Mexican town.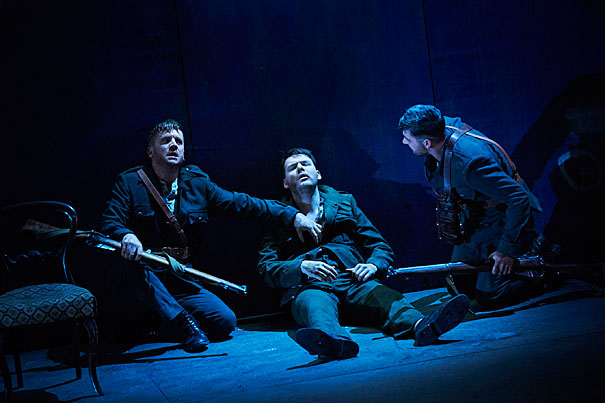 History and movement will collide in the new, tango-infused dance and theater piece "Arrabal" in May 2017. The work "invites audiences into the underground world of Buenos Aires' tango clubs for a dance between the present and the past." True to the A.R.T.'s immersive spirit, the show invites audience members up on stage for tango lessons when they arrive. The story follows a woman's search for the truth about her father, one of the "disappeared" during Argentina's "dirty wars" of the 1970s and '80s. Oscar-winning composer Gustavo Santaolalla is behind the score.
"I love that our season is classic plays like 'Night of the Iguana,' adaptations of novels, devised pieces like Anna's work and 'Trans Scripts,' and of course 'Arrabal,' which is a project that I have been tracking for several years," said Paulus. "We have not had a production that has really dealt with issues from Latin America … [It] is thrilling to me … that we can bring up this really serious 'disappeared' movement from Argentina in a theatrical form … It's about a really serious subject matter, but it's driven by music and dance.
"I think next season represents what I hope people can identify now with the A.R.T.," said Paulus, "which is a wide variety of form and sources of inspiration — novels, current politics, devised work, dance theater, and all shows that will touch on issues that I hope will catalyze dialogue and create an energy around them, a stir, provoke a kind of necessity for something to happen as a result of the theatrical event."
Solo shows, dance parties, multimedia events, and performance art all beckon during Oberon's upcoming season. Highlights include a coming-of-age musical called "A Ride on the Irish Cream" with cabaret and performance artist Erin Markey, and a series of performances for small audiences at offsite locations. As always, the black-box theater will rock every Saturday night with "The Donkey Show," the disco-inspired retelling of Shakespeare's "A Midsummer Night's Dream," now in its eighth season.
For a complete schedule, tickets, show times, and related events, visit the A.R.T.'s website.