Food is a central part of our everyday lives, but many of us have become increasingly removed from understanding its origins. It may be hard to see beyond the convenience of our modern food system, but its production methods have created harmful environmental, social, and health issues that are far-reaching.
On a mission to reconnect the community to what it eats and to emphasize the global impact of a healthy, sustainable food system, Harvard is inviting University and local community members to gather for a two-day summit of explorations and conversations about food.
The Foodbetter Harvard summit on Thursday and Friday was envisioned by Aaron Bernstein, associate director of the Harvard Center for Health and the Global Environment and pediatric hospitalist at Boston Children's Hospital, and organized and sponsored by the Office of the Executive Vice President in coordination with Harvard University Dining Services, the Harvard Office for Sustainability, Harvard College Office of Student Life, and the Harvard Office of Work/Life. Learn more about the events and activities at: http://foodbetter.harvard.edu/.
The Gazette spoke with Bernstein and Executive Vice President Katie Lapp about the motivation behind Foodbetter.
GAZETTE: Ari, what inspired you to get Foodbetter off the ground?
BERNSTEIN: As my dear friend and colleague Barton Seaver says, "Everybody should have basic literacy about food" — meaning that in this world, where we have, particularly in the United States, some of the best, nutritious food, isn't it wonderful to know something about it and get excited about what we eat? We live in a world in which we have the most bizarre circumstances, with almost a billion people who don't have enough to eat, and two billion people who have too much to eat. We have immense amounts of food waste — in the United States about 30-40 percent — which makes it the third-largest country of greenhouse gas emissions.
We're at a major academic institution, with some of the most amazing resources of all kinds in the world. It seemed to us that it was a great opportunity to try to provide a focal point to all this as it relates to food. What is at the very heart of this is a celebration. It's not about the problems in my mind. This is a way for this University to come together and celebrate food, and to talk about what's being done in our backyard to deal with some of the most pressing issues that relate to food, be it the food waste problem, greenhouse gas issues, water issues, or obesity and hunger issues.
GAZETTE: How is the University uniquely positioned to address these issues?
BERNSTEIN: One of the things that makes this a particularly exciting thing to do at Harvard is that we have such a diversity of interests across the campus. There's an opportunity for, forgive the pun, cross-pollination, to bring together students from various parts of the University, and work with their interests and skills.
LAPP: Harvard University Dining Services is kind of our ground zero for a lot of the work that we've been doing around food sustainability. They have exposed me to all the wonderful things they do, whether it be the community gardens in Cambridge, or how they visit classrooms to show students the science of cooking. A lot of resources are spent at this University to make sure we're providing the best food to our community. We're also working with an organization called Food for Free to make sure that the excess food that we have in our dining halls or various food venues is given to the community, as well as composting all of our food waste. Some of the summit participants are international experts, and we want to celebrate them, show them off, and have our community benefit.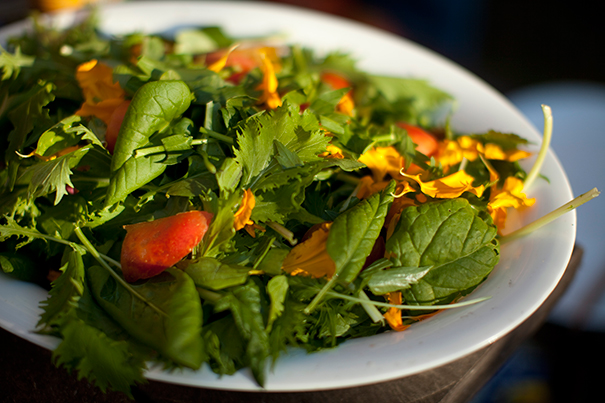 GAZETTE: How does the Foodbetter mission go beyond the Harvard community?
BERNSTEIN: The summit will feature local food vendors, everything from Flour Bakery to a little cider shop to seafood provider Red's Best. It's so easy for us, in our modern lives, living in cities, where all of this food comes to our door, to know anything about it. This event is going to give people a sense of what the broader picture is. It may give people insights into how we might be able to do a better job at dealing with food waste — help us understand where food's coming from, where it goes, who's eating it.
LAPP: As part of a community, not only students who study at Harvard, but our surrounding communities, we've certainly invited them to come and take part in all the various events. Hopefully we can take what we learn from experts about the sustainability of food, take that back to our communities, and demand that some of these best practices be put in place with our purchasing power. I'm really excited about it.
GAZETTE: What do you hope Foodbetter participants will take away from the event?
BERNSTEIN: I hope they'll at least take home something extremely tasty to eat, because there's going to be a lot of good food. I think that it would be fantastic if people were able to develop an appreciation for something that is so vital to our existence. Whether that's a new kind of cupcake they see, or it's something to understand about the idea of food waste, or it's an inspiration to engage in some enterprise that addresses one of these challenges, I think there's potential for all of it.
LAPP: Also, showing people how to cook differently and think about food waste. I think we could all benefit from that conversation. Many of us probably do it without realizing, and don't know what we should do to reduce food waste.
We really have the brightest minds. Some of the greatest minds in the world are on this campus. Some we have in the form of people like Ari, and some we have in the form of the freshmen who are actually thinking about these issues. So, getting those seeds literally planted is what we're hoping for in this summit.
GAZETTE: Any new developments with Harvard's Sustainability Plan?
BERNSTEIN: The Department of Nutrition and the T.H. Chan School of Public Health are having a conversation with the Office for Sustainability about what healthful and sustainable food standards [that are committed to in the health and well-being section of Harvard's University-wide sustainability plan] would look like for the University. We're using the healthy eating plate and pyramid, which are very much based upon the federal healthy eating plate but are a little more ambitious and based upon a lot of research that's been done here. I think that we have so much in our power as an institution, as a place where culture is defined, to have people understand what a healthy and sustainable diet looks like — especially if they've never seen it before. I think that's going to be a really exciting and interesting thing to explore.
GAZETTE: Lastly, how do you both use Foodbetter in your personal lives?
BERNSTEIN: My family composts. We also have the Harvard healthy eating plate and pyramid on our fridge, and we actually try to use that. We're not always successful, but it's there. We're also starting to plant a very small garden.
LAPP: I've become really interested in the declining bee population issue, so I'm learning what you can plant in your garden to support bees. I also grow some vegetables. I like that I don't need to buy tomatoes, I can grow my own. They taste better, and it helps me reconnect to how our food is produced.