As 2015 draws to a close, the Gazette looks back on some of its top stories. It was a year when breakthrough research identified harmful chemicals in e-cigarettes and learned how toxic co-workers can be, but also how coffee and even a little sarcasm can be good for us.
And it was a year in which esteemed scholars such as poetry critic Helen Vendler and physicist Gerald Holton spoke deeply about their intellectual journeys, while pianist Vijay Iler touched on the value of practice. And faculty shared the books that shaped them.
As always, inspiring students sparkled, such as the five members of the Class of 2016 selected as Rhodes Scholars, a onetime Somali refugee determined to lead her homeland in a new direction, the young writers stepping up to be journalism's hopeful future, and a cadre of Buddhist monks from Asia studying at Harvard Divinity School.
In arts and sciences, an Academy Award-winning actress confessed to feelings of self-doubt while at Harvard College, the Faculty of Arts and Sciences added a new theater, dance, and media concentration for undergraduates, and a historic $400 million gift secured the bright future of Harvard's School of Engineering and Sciences (SEAS).
Students, faculty, and administrators grappled with disturbing results of a national survey on sexual assault on college campuses. President Drew Faust spoke candidly about many developments, including the  House renewal project, the Harvard Campaign, and the expanded Harvard Art Museums, as well as some of her top priorities for the academic year, while Provost Alan Garber made a persuasive case for protecting academic disciplines.
The Gazette took readers to Mexico for a series exploring Harvard's many efforts to confront housing, pollution, and traffic challenges, and brought home the remarkable journey taken by middle school students from a hardscrabble Brooklyn neighborhood to Harvard's campus last spring to learn that college is not an abstraction, but a possibility. A three-part series examined the epidemic of opioid abuse and what can be done to counter it.
Stories glimpsed life in earliest Colonial America, with a look at the Old Burying Ground that opened in 1636, the year of Harvard's founding, and an ambitious archival project to digitize the University's collection of priceless diaries, journals, notebooks, and other documents from 17th and 18th centuries.
Here are some of the year's most popular and significant Gazette stories, along with the top videos shared on YouTube.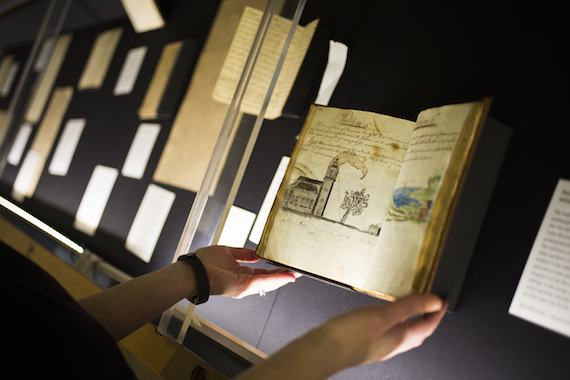 A digital portrait of Colonial life
Wealth of detail in wide-ranging archival project
Part of the University's endeavor to digitize all its collections and make them available free of charge, the Colonial North American Project contains material scattered through 12 repositories — from Houghton Library to the Harvard University Archives to Loeb Music Library.
Go ahead, be sarcastic
Research uncovers creative benefits — yes, benefits — in using sarcasm when people trust each other
Despite sarcasm's nasty reputation, new research finds that it can boost creativity and problem-solving in the workplace.
Beware those toxic co-workers
Study says they undercut groups in destructive, expensive ways
The new study examined both the human and fiscal costs of toxic workers.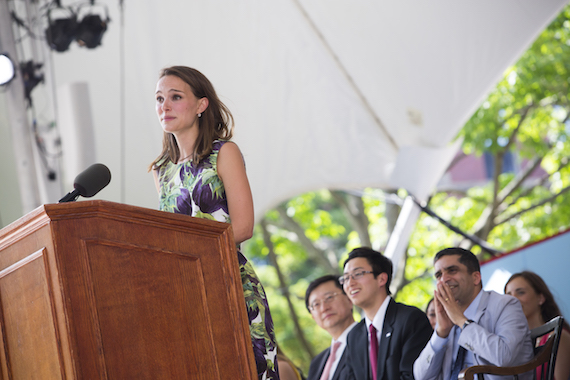 Portman: I, too, battled self-doubt
Class Day speaker says that even as a Harvard student and successful actress, she questioned her worth, but learned to set her own goals
Natalie Portman, the Academy Award-winning actress, returned to Harvard for Class Day to share her own experience with insecurity.
Harvard receives its largest gift
John A. Paulson gives $400 million to endow School of Engineering and Applied Sciences, securing vision for Allston-based innovation
As the School prepares for an expansion into Allston, it receives funding to secure its impact on the world.
The books that shaped them
Six professors reflect on their most memorable titles
Faculty members talk about the formative books that shaped their lives and even their scholarship.
Q&A with Harvard President Drew Faust
Faust discusses University's priorities and challenges
At the beginning of her ninth year as president of Harvard, Drew Faust outlined her plans for the University, and the challenges it faces.
A onetime refugee aims high
When she graduates from the Kennedy School, Fadumo Dayib plans to run for president of Somalia
A 2015 graduate from Harvard Kennedy School explains her journey from Somalia to Cambridge, and what she hopes to accomplish upon her return home.
Chemical flavorings found in e-cigarettes linked to lung disease
Focus on nicotine overshadowed other hazards attached to smoking device
Diacetyl, a flavoring chemical linked to cases of severe respiratory disease, was found in more than 75 percent of flavored electronic cigarettes and refill liquids tested by researchers at the Harvard T.H. Chan School of Public Health.
Student scholars, with dreams aplenty
Five Rhodes recipients from Harvard share goals before heading to Oxford
The Harvard students chosen as Rhodes Scholars explained how they'll spend their time.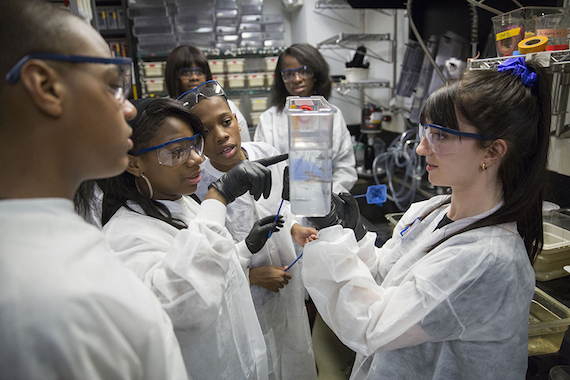 A college vision, made real
200 middle school visitors from Brooklyn sample what a university can offer
After "Humans of New York" photographer Brendan Stanton organized a campaign, the middle school students from Mott Hall Bridges Academy in Brooklyn, N.Y., visited Harvard to sample what a university can provide them.
Heroin's descent
Stages of losing control, on the street and in the body
The Gazette sought insights into the heroin epidemic across several disciplines, including law, health, and the science of addiction, for a three-part report on the crisis and new ideas for responding to it.
How coffee loves us back
Health benefits are a recurring theme in Harvard research
Coffee is everywhere, through history and across the world. And increasingly, science is demonstrating that its popularity is a good thing.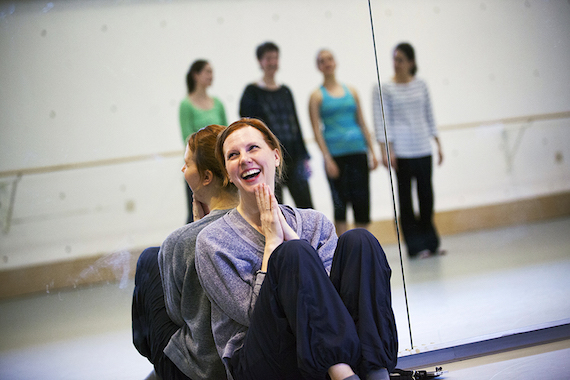 Theater, Dance & Media
FAS approves a new concentration in the arts
Members of the Harvard Faculty of Arts and Sciences (FAS) backed a concentration for College undergraduates in Theater, Dance & Media that blends historical and theoretical study with arts practice.
Troubling findings on sexual assault
Harvard's portion of national study paints disturbing picture
Following the release of national survey results, President Faust and the University's Task Force on the Prevention of Sexual Assault responded to sexual misconduct on campus.
The makeover of Mexico City
Aided by Harvard experts, officials are tackling housing, pollution, and traffic problems — and solving them
With Harvard experts helping, clever and dynamic Mexico City is dealing with global megacity challenges like traffic and housing, and could be a template for a flexible, functioning urbanism of the future.
Harvard's top three YouTube videos for 2015
A public address by Shinzo Abe, prime minister of Japan
Japanese Prime Minister Shinzo Abe addressed the John F. Kennedy Jr. Forum on a range of policy issues affecting his country and the Asian community.
Jumping on water: Robotic water strider
Watch how novel robotic insects developed by a team of Harvard and Seoul National University scientists can jump directly off water's surface.
Digital communications coordinator Rebecca Wickel contributed to this report.