It was the road trip of a lifetime for about 200 Mott Hall Bridges Academy students on Thursday — a journey that began not long ago and only as far away as Brooklyn, N.Y.
But for many of the students, who boarded buses bound for Cambridge at 5 a.m., Harvard might never previously have been on their list of destinations. That changed in January with a simple twist of fate.
Eighth-grader Vidal Chastanet was walking through Brooklyn one day when he was stopped by photographer Brandon Stanton, founder of the popular blog "Humans of New York," which features vignettes from strangers' lives. When Stanton asked who inspired him most, Chastanet said it was his principal, Nadia Lopez.
"When we get in trouble, she doesn't suspend us," said Chastanet, 13. "She calls us to her office and explains to us how society was built down around us."
The post went viral immediately. Three days later, Stanton and Lopez, who founded the academy in 2010 in Brownsville, Brooklyn's poorest neighborhood, launched a fundraising goal of $100,000 to bring the students, known at the academy as scholars, to Harvard.
Instead they raised nearly $1.5 million.
Money not used for this trip will go toward paying for future student trips to colleges, and $700,000 will create a scholarship fund available to the academy's graduates. A committee of academy educators and administrators will choose the recipients of what will be called the Vidal Scholarship Fund, the first of whom will be Vidal Chastanet himself.
The scholars arrived on the Harvard campus Thursday for a slate of activities built for them. In coordination with Harvard College Admissions and Financial Aid and Project TEACH, an early college-awareness program at Harvard that demystifies higher education and advocates that it is an affordable and attainable aspiration, the scholars got a sense of what college life is really like, exploring hands-on learning activities across campus, from the American Repertory Theater to the Harvard Museum of Natural History.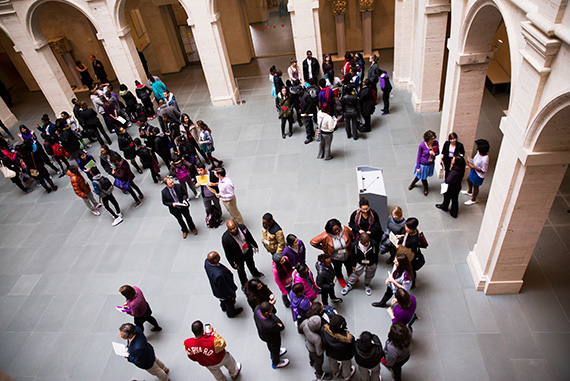 In an emotional opening ceremony, President Drew Faust greeted the crowd inside the Harvard Art Museums' Calderwood Courtyard, remembering that when she was named to lead the University she called upon her former teachers to join her in the inauguration ceremony.
"My sixth-grade geography teacher came, and I remembered what a hard grader he was and how difficult he had made life for me in the sixth grade. But these many years later we were reconciled over how much I'd learned then, and how much it had mattered to me for so very long," said Faust. "One day you will be seeing perhaps your teachers standing in front of you celebrating your achievements as you move into life and build on what they're teaching you now. They are inspiring, I know, and that inspiration I can tell you lasts throughout your lifetime."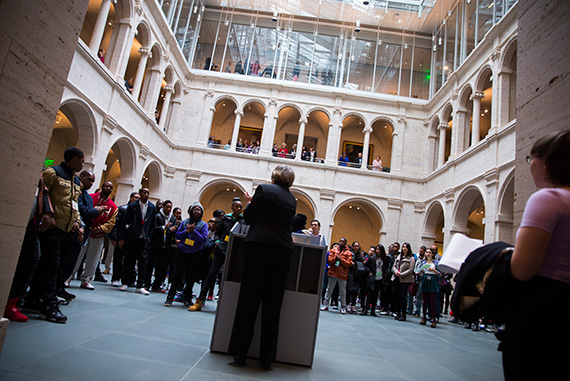 Lopez next addressed her scholars. "This is your right, and this is an option for you. The only thing that will stop you from getting to this space is yourselves," she said.
"The reason I chose Harvard" for the college visit "is because I stopped myself. No one else did it. No one said 'Nadia Lopez, you can't make it.' No one said I wasn't intelligent enough. I made an assumption about a space I had never been to. That's why you're here today."
"'Wow' is the only word I can say," said seventh-grade scholar Bryce Gilliam, who planned to attend a soft robots demonstration at the Harvard Biodesign Lab.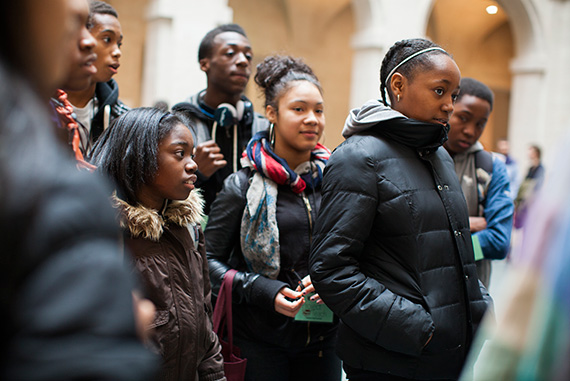 Harvard College Dean Rakesh Khurana was especially excited to meet the scholars. He's from Queens, he told them in an Agassiz Theater talk. And college is actually a lot like New York, he said. "You bring people from different walks of life, different backgrounds, and you see what happens."
Echoing Lopez's remarks, Khurana told the scholars not to hold themselves back and not to allow anyone else stop them, either. "People will try, but don't let anyone write your story for you," he said.
Those words resonated with eighth-grader Jaysha Stanback.
"Only my mother went to college. My father didn????t go because people doubted him. But now I know I can go," said the 13-year-old, who was excited to see the Hiphop Archive and who said that she'd been so excited to visit, she'd hardly slept. "I woke up every hour checking the time."
Later in the day, Dean of Admissions & Financial Aid William R. Fitzsimmons and a panel of admissions and financial aid officers spoke about how college is possible regardless of economic background. Congresswoman Katherine Clark, M.P.A. '97, who represents Harvard's Cambridge campus, also addressed the scholars, emphasizing not only the power of education — but also public service.
As for Chastanet, the visit to Harvard makes him want to attend college even more. Despite the magnitude of his sudden fame — he, Lopez, and Stanton traveled to the White House to meet with President Barack Obama in February — Chastanet was relaxed.
"It makes me feel proud," he said. He plans to study culinary arts in the future and said he relishes cooking Caribbean food.
What do his peers think of everything that's transpired?
"They look calm," he said, "but in their minds they're losing it."