Harvard celebrated its top-ranked seniors Tuesday at the 225th Phi Beta Kappa Literary Exercises at Sanders Theatre in Memorial Hall.
Harvard's chapter dates to 1779. All these years later, both the poet and the orator at the event offered lessons from the past.
Poet Laura Kasischke pondered the ceremony's centuries of tradition and its celebrated history. ("Longfellow couldn't be here today," she offered, "so you got me.") In five poems, she evoked the poignancy of family ties.
Orator S. Allen Counter, director of the Harvard Foundation for Intercultural and Race Relations, urged the assembled graduates to embrace the values he learned from his grandmother, who died at age 105: "integrity, compassion, courage, tenacity, the bond of your word," he said, and — the title of his oration — "a thirst for exploration."
Kasischke's poems drew on memories of the dead, and a tenderness for "the great silenced choirs of them / singing soothing songs," as in her "View from Glass Door."
Memory and the past it evokes have a genetic component, as well, said Kasischke, who is the Allan Seager Collegiate Professor of English Language and Literature at the University of Michigan. Her string of poems ended with "My Son Makes a Gesture My Mother Used to Make." It reads, in part:
The miracle of it.
The double helix of it.
The water running uphill of it.
Such pharmacy, in a world which failed her! She died before he was
Even alive, and here she is, shining in his eyes.
Counter's offering turned on DNA, too: his discovery, in 1986, in remote northwest Greenland, of the forgotten illegitimate sons of famed North Pole explorers Robert Peary and Matthew Henson, "left behind at the top of the planet, human collateral." (He later arranged for them to travel to the United States to meet their kin — their lifelong dream.) "Nothing is more rewarding," said Counter, "than helping others fulfill their dreams."
Well-wishers at the ceremony included President Drew Faust. The moderator was Murray and Martha Ross Professor of Environmental Sciences Ann Pearson, the outgoing president of Alpha Iota Massachusetts, Harvard's PBK chapter.
This year's Alpha Iota Prizes for Excellence in Teaching went to Selim Berker, the John L. Loeb Associate Professor of the Humanities in the Department of Philosophy; Eddie Kohler, Microsoft Professor of Computer Science; and Jane Unrue, a preceptor in the Harvard College Writing Program.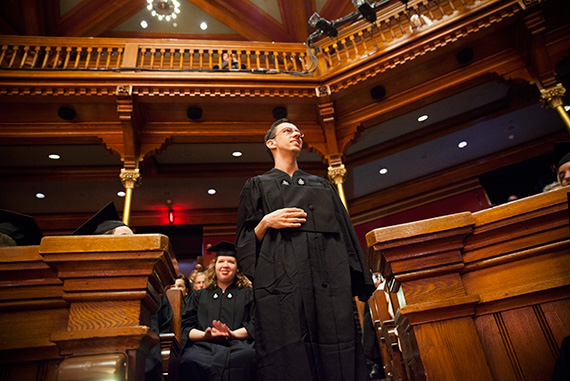 Kasischke and Counter were named honorary members, along with four graduates of Harvard's Class of 1965: neurologist Richard A. Ferber, M.D. '70, director of the Center for Pediatric Sleep Disorders at Children's Hospital, Boston; attorney James S. Hoyte, J.D. '68, retired senior administrator and lecturer in environmental policy at Harvard; scholar Elizabeth K. Helsinger, the University of Chicago's John Matthews Manly Distinguished Service Professor Emerita; and author Craig R. Whitney, a Navy veteran and a longtime reporter, foreign correspondent, and editor for the New York Times.
Stealing the day were three performances by the Harvard-Radcliffe Collegium Musicum, conducted by Andrew G. Clark, director of choral activities.
Raising his mortarboard to accept accolades was composer Evan O'Dorney '15. He had set to music the day's hymn, based on the Oliver Wendell Holmes poem recited in 1870 when the cornerstone to Memorial Hall was laid.