When undergraduates returned to Leverett House's McKinlock Hall for the start of the academic year, they found some surprises, including new programmatic and educational spaces, fresh life given to common rooms, and even a "rabbit hole" — far different from the one Alice ventured down.
Fifteen months of construction have produced a revitalized and fully accessible McKinlock, the second completed project in Harvard's House renewal initiative, a major fundraising priority in both the University and the Faculty of Arts and Sciences (FAS) capital campaigns.
"I love what they have done with it. There are a lot of major improvements that are really going to serve the Leverett community, if not the entire Harvard community," said Erick Juarez '15.
As with the first renewal project, Quincy House's Stone Hall, the renovation and restoration of McKinlock was guided by the fundamental goals of House renewal: preserving the historic character of the Houses; invigorating House life; connecting spaces and nurturing community; providing modern accommodations and sustainable operations; and taking the future into account.
"It's one thing to look at plans for a building; it's another to walk through and actually experience the excitement of the students as they live and learn in these renewed spaces," said Michael D. Smith, dean of the FAS. "It brings to life everything we had hoped to achieve when we began this process. We've learned a lot from the renewal of Stone Hall and now McKinlock Hall. We bring forward the lessons from these successful projects as we undertake our first full House renewal in Dunster House."
In addition to new and renewed spaces, other results include the elimination of walk-through bedrooms, and the addition of elevators and horizontal internal corridors that connect the traditional vertical entryways and provide access. While the interior has been fundamentally reconfigured for today's House life, great care was taken to enhance McKinlock's's distinctive character based on its architectural design, history, and traditions.
"They were really able to preserve the old Harvard feel," said Howard Georgi, Mallinckrodt Professor of Physics and co-master of Leverett.
Co-Master Ann Georgi was quick to jump in, "Actually, they've enhanced the Harvard feel. The wood glows again!"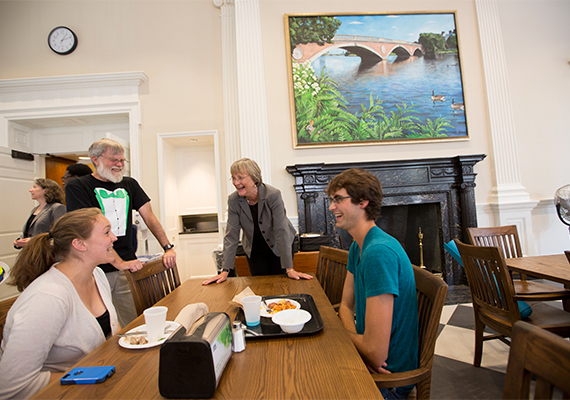 The dark wood of the Old Library Theater has been revived with a new luster, and with the addition of state-of-the-art electronics and lighting, the space may once again host community-wide performances, further integrating arts into House life. Both the senior common rooms and junior common rooms were also painstakingly restored, along with the dining hall, which is proving to be a popular lunch spot for students in and outside of Leverett House.
"I think everyone is excited to come in and see it," said Howard Georgi.
A unique architectural feature of the renovation is the innovative conversion of an old alleyway to create a light court. By covering the alley with a glass roof, the light court serves as a lounge connecting the historic dining hall to several new seminar rooms. This extra common space can accommodate overflow from the dining hall, and provides additional areas for meeting, studying, or socializing.
"The new light court represents warmth, which is a great unifying symbol for the House," said Justin Moore '15, who was walking through it as he made his way out of the building.
Moore's roommate, Elias Miller '16, a cellist, said he likes the three new music practice rooms in the lower level and the additional common spaces the renovation has provided.
"The downstairs is magnificent, and I love all the common spaces. It makes it feel like your room is really just your bedroom where you sleep, but all the common spaces are really inviting and make it feel more like a house. It helps to create a real sense of community," said Miller.
In addition to the music practice rooms on the lower level, the House has an art studio and a large lounge that Howard Georgi has come to call the "rabbit hole," in honor of Leverett's mascot.
"It's already proven to be a popular place, and I am hoping the name catches on," he said.
Upstairs, in a lobby just off the light court, three juniors were playing foosball between classes. They said in addition to the common areas, the reconfigured rooms throughout McKinlock are a welcome change.
"I live in a third floor room, and what's amazing is it's so bright," said Christine Cahill '16.
According to the house masters, the renewal of McKinlock has been a great success. "We haven't heard from a student who wasn't over the moon," said Ann Georgi.
Sustainability also is helping guide the renewal projects. Stone Hall was recently certified as Leadership in Energy & Environmental Design (LEED) platinum, the highest rating in the green-building certification program that recognizes best-in-class construction strategies and practices.
Sustainability improvements in McKinlock include energy-efficiency upgrades to reduce costs and curb greenhouse-gas emissions, use of nontoxic building materials and improved lighting, reuse of materials when appropriate, and installation of a rainwater harvesting system to reduce irrigation water usage.
Dunster is currently undergoing renewal and is scheduled to re-open prior to the start of the 2015-16 academic year. Winthrop House will be renovated next.