When the former Inn at Harvard is fully transformed to accommodate students from Dunster (and, in the future, other Houses undergoing renewal), it will be a home away from the House, with familiar features including a dining hall, lounge, junior and senior common rooms, a seminar room, and music practice spaces.
The impending renovation of Dunster House, the first full House to undergo renewal, is set to begin immediately after Commencement and last 15 months.  The Dunster community will be relocated during the next academic year to a series of swing facilities, with its hub at the former hotel in Harvard Square.
In addition to common spaces that architects and administrators have created for students throughout the one-time inn, double and single student rooms will occupy the upper floors. Each upper floor will also have a large common room.
"I really appreciate the way they approached the planning and listened to the students' feedback," said Jeff Fischer '16, incoming Dunster committee co-chair. "As far as the options they are providing, the new spaces, and how comfortable everything looks, I think it's exceptional, and everyone is really going to like it."
Throughout the process, student feedback helped inform design and other decisions large and small. For example, after seeing plans for round tables in the dining halls, students said rectangular tables would be better for moving around and working in groups. They also suggested more exterior lighting and Wi-Fi access in the outdoor spaces surrounding the former inn, which was provided.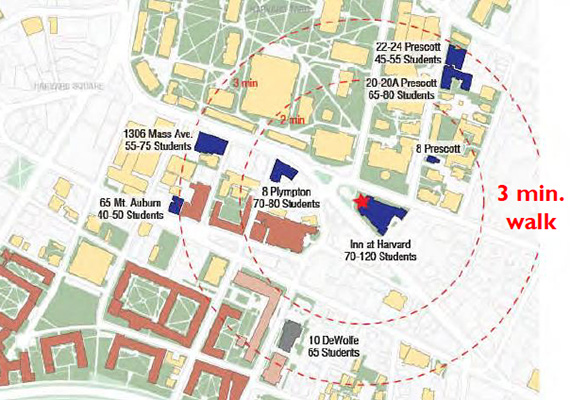 "Over the course of last spring and during the fall, we had a number of meetings regarding swing housing and Dunster. They took suggestions from students, and they really listened to us," Fischer said. "They really care about what students are looking for in their experience."
In addition to the former inn, other swing buildings are located at 8, 20-20A, and 22-24 Prescott St.; 8 Plympton St.; 1306 Massachusetts Ave.; and 65 Mt. Auburn St.
Quincy House students used swing housing last year, and with McKinlock Hall currently under renewal, Leverett students now live in those spaces. But it will be a different experience when Dunster residents move into those spaces and additional buildings in the fall, because it will be the first time an entire House community will be in swing.
The key difference is the transformation of the inn into a hub connecting the various buildings, all of which are within a three-minute walk.
"From the very beginning, the administration at FAS [Faculty of Arts and Sciences] worked really hard to come up with a program for House renewal, so that the swing year would meet those goals as well, with spaces that would support those social and academic programs. We wanted to make sure swing year continued to contribute to the student experience in a meaningful way," said Elizabeth Leber of Beyer Blinder Belle Architects & Planners, who was charged with redoing the inn. "There is some transformative work being done on the first and second floors, creating a vibrant space for dining and gathering, and I think we have done it in a way that students will be excited about when they see it.
"Full swing will provide a wide variety of student rooms, from apartment-style living in some of the buildings, to singles and doubles in the former inn. And because it was a hotel, the rooms have bathrooms in them," Leber said.
"We are excited about swing housing for our entire House community while Dunster is being renovated," Dunster House Masters Roger and Ann Porter said in a joint statement. "In the process of examining options for the configuration of the former Inn at Harvard, Dunster student focus groups provided helpful feedback.
"We are confident that the former inn will provide a great hub for Dunster House, and those other Houses that will undergo renewal in the future. A great dining hall, junior common room, and other common spaces in swing housing will enable us to maintain the close community that is characteristic of Dunster and that is at the heart of much undergraduate life. We are grateful for the FAS authorities and architects who have worked closely with us and our students to make this an inviting layout, and the promise of a great experience for our students and tutors next year."
Fischer added that he is confident Dunster life will flourish under swing housing. He pointed to the "Tour de Lev" held last term, which brought together Leverett students living in various swing housing buildings and the Leverett towers.
"Generally, people in Dunster are friendly and appreciate having each other around. Our dining hall is currently a hub for people to come together, so certainly I think that will continue," he said.
Dunster's renewal follows two "test projects": Stone Hall (the neo-Georgian portion of Quincy House formerly known as Old Quincy), which reopened to students last summer, and Leverett-McKinlock, whose upgrade is set to be unveiled this summer.
Winthrop House is scheduled to be the undergraduate residence renewed after Dunster.