Tommy Lee Jones '69 received the Harvard Arts Medal Thursday at Sanders Theatre in a ceremony hosted by fellow actor John Lithgow '67.
The medal recognizes a Harvard or Radcliffe graduate or faculty member who has achieved excellence in the arts and has made a contribution through the arts to education or the public good.
"I think more than any other event I have been anticipating this one with great excitement," said Lithgow, who shared the stage with Jones during a Harvard production of Christopher Fry's "The Lady's Not for Burning," in 1967.
The event, which signaled the opening of Harvard's annual Arts First celebration, was presented by Harvard's Office for the Arts, its Learning From Performers program, and the Board of Overseers of Harvard College. Harvard President Drew Faust awarded the medal.
Faust lauded Jones for his wide range of roles in more than 50 films. "From relentless marshals and sardonic sheriffs, to flawed and stoical fathers, wily lawyers, comedic drifters, psychotic bombers, serial killers, he has explored the gamut of human failings and virtues in characters real and imagined."
Lithgow was back at Harvard to celebrate the 20th anniversary of the festival he founded with the help of the Board of Overseers, and the OFA's then-director Myra Mayman. The actor missed the second night of his new Broadway production to be on campus Thursday.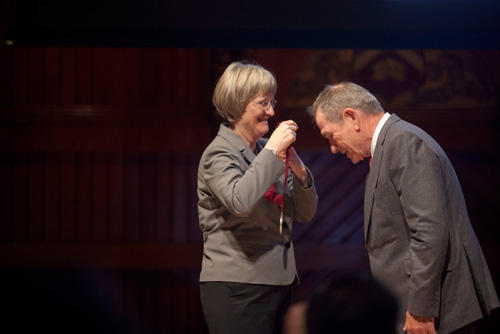 Known for his acerbic style and dry wit on screen, Jones has received three Academy Award nominations, winning one for his portrayal of a U.S. Marshal in the 1993 film "The Fugitive." He recently co-starred with Ben Affleck in the recession drama "The Company Men." His current projects include "Men in Black III," "Great Hope Springs," and Steven Spielberg's "Lincoln," in which he is cast as Thaddeus Stevens.
Born and raised in Texas, Jones majored in English at Harvard. Like many aspiring actors, he moved to New York after college to pursue a career, making his Broadway debut 10 days after graduating from Harvard. He landed his first film role just a year later in "Love Story," and has been a regular in Hollywood ever since.
In accepting the award, he praised Harvard's rich creative environment for helping him develop his talent and his lifelong approach to learning.
"I believe that my experience here was the best thing that happened to my creative life, and the reason for that is not simply what I learned, but I learned how to learn and I haven't stopped. And for that I will be grateful as long as I live."
Jones said he acts simply because he loves it and that he considers it a privilege. "Our job description is player," he said, "it just beats the hell out of working for a living."
But he urged those aspiring actors in the crowd to consider another line of work if they are unready to sacrifice their emotional and financial sense of security.
"If you can find anything else to do, please do that."
Jones caught the acting bug in the second grade when he was cast as Sneezy in his school's production of "Snow White and the Seven Dwarfs." Decades later, an acquaintance, who was a producer and Harvard graduate, helped him get his first film role after a casting agent told him, strangely, that he didn't quite look the part of what he actually was — a Harvard student who played football.
"Before I could say a word," recalled Jones, "she said, 'you're not right,' " for the part that required a "very special kind of football player."
Jones phoned his friend and 20 minutes later he had an audition scheduled for the next day.
"It was a good lesson," he said, "and a good introduction to the motion picture business."
Jones discussed his love for Harvard's football team, his love of acting, and his longstanding support of the Harvard University Polo Club inspired by his own love of horses and the fast-paced sport. Each year, Jones hosts members of the club at his ranch in Texas and his home in Florida, and has donated 15 polo ponies to Harvard.
Jones was a standout football star in college. He was a member of the Harvard team that took the field for "The Game" against Yale, when Harvard staged a 16-point comeback to earn a 29-29 tie.
The actor took questions from the crowd, including queries from old friends, former football teammates, students, and even one love struck admirer who asked him bluntly "will you marry me?"
His favorite part of Harvard: acting and football. His least favorite part of Harvard: "Walking in the snow after dark."