In a battle of Ivy League unbeatens, freshman defensive back Brian Owusu picked off two passes and freshman running back Treavor Scales scored two touchdowns as Harvard downed Cornell, 28-10, Saturday in Ithaca, N.Y.
Senior running back Gino Gordon paced the offense with 137 yards on 22 carries (6.2 yards per carry) and one TD while Scales added 92 yards and two short scoring runs for the Crimson, which improved to 3-1 overall and 2-0 in the league. Cornell dips to 2-2 and 1-1 in the Ancient Eight.
Punter Thomas Hull played a big role as well, pinning three kicks inside Cornell's 10-yard line and two inside the five in his return to Ithaca after booming a pair of 50 yarders there two years ago. He was aided by cover man Dan Minamide, who made two sparkling coverage tackles on Bryan Walters, one of the top return men in league history, statistically. Cornell ended with one return yard on punts. Harvard struck on its opening drive, asserting the ground game with Gordon during a 54-yard drive and finishing it with a five-yard scamper from Scales.
Mistakes plagued the Crimson on the afternoon however, as a missed 25-yard field goal led to a 47-yarder for the Big Red and an illegal shift penalty negated a 38-yard TD run by Gordon in the second. Harvard broke through with 3:12 left thanks to a 22-yard pass from Collier Winters to Marco Iannuzzi on 4th-and-10 from the Big Red 30. Two plays later it was Gordon with an untouched nine-yard scamper to make it 14-3 at the break.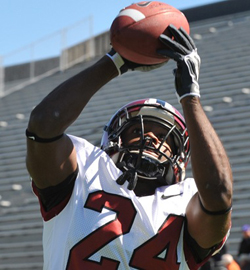 Late in the third, another critical mistake by the Crimson negated a Cornell punt and gave the home side possession at Harvard's 29 following an illegal participation call. Cornell capitalized as Ben Ganter found Shane Savage on a 17-yard pass and catch to make it 14-10 with 1:46 left in the third.
Harvard's defense made some important stop in the fourth and set up the final scoring drive, a seven-play, 37 drive capped by a three-yard plunge from Scales with 6:39 left. The final score came late in the game as Winters carried it in from 15 yards out.
Collin Zych led the defense with eight tackles (seven solo) while four players had a sack and the Crimson had seven pass breakups. For Owusu, his interceptions came on the second and third defensive downs of his young career.