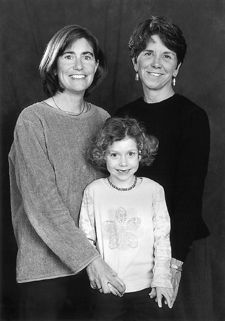 Hillary and Julie Goodridge, lead plaintiffs in the historic Massachusetts marriage case, have been named the recipients of the Harvard Gay & Lesbian Caucus' (HGLC's) 2004 Trailblazer Award. The award will be presented to the Goodridges at the caucus's annual Commencement Day dinner, to be held in Lowell House on Thursday (June 10). The keynote speaker for the event will be Jarrett Barrios A.B. '90, Massachusetts state senator and a leader of the fight against a state constitutional amendment banning same-sex marriage.
"The Supreme Judicial Court's landmark ruling revolutionized the lives of Bay
State same-sex couples who can now claim their equal rights under the law," says Tom Parry A.B. '74, president of the caucus. "We are honoring the Goodridges for their courage in challenging the status quo, and their willingness to put a human face on the first major civil rights battle of the 21st century."
The Goodridges met at a seminar at Harvard on disinvestment in South Africa. In 1996, in anticipation of the birth of their daughter, they chose "Goodridge" as their family name. The name was Hillary's grandmother's maiden name, which they took to recognize their growing family and responsibilities.
Keynote speaker Barrios is the Democratic state senator representing Cambridge and surrounding communities. While at Harvard, he chaired the BGLTSA (Bisexual, Gay, Lesbian, Transgender, & Supporters Alliance). In 1998, he began his legislative career when he was elected to the House of Representatives – the first openly gay man ever elected to the Massachusetts House of Representatives.
The caucus also sponsors reunion events for lesbian and gay alumni, including
---
The HGLC will hold its Commoncement Day seminar for gay and lesbian alumni in the Lowell House Junior Common Room from 4:30-5:30 p.m. on June 10. The caucus will then honor the Goodridges with a social hour, a dinner at 7 p.m., and an awards ceremony at 8 p.m. Reservations are required for the dinner only, and must be made online today (June 3). Members and friends of Harvard's gay and lesbian community are welcome to attend any of these events.
---
this year a seminar on the newly constituted Committee on Degrees in the Studies of Women, Gender & Sexuality. The seminar will feature Professor Afsaneh Najmabadi, Professor Bradley Epps, Marcel LaFlamme '04, and Stephanie Skier '05, and will be held in the Lowell House Junior Common Room from 4:30 to 5:30 p.m. on Commencement Day.
The Harvard Gay & Lesbian Caucus is composed of more than 3,500 gay, lesbian, bisexual, and transgendered (GLBT) Harvard and Radcliffe alumni/ae, faculty, staff, and students. The caucus was formed in 1983 with the aim of defending the interests of the Harvard GLBT community.