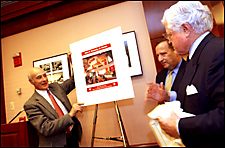 The Kennedy School of Government's Forum of Public Affairs at Harvard University will be named in honor of John F. Kennedy Jr., announced Kennedy School Dean Joseph S. Nye Jr. The Kennedy School Forum, which will be renovated during the summer of 2003 through a gift from the Institute of Politics (IOP), will be dedicated in the fall of next year.
"Throughout his adult life Mr. Kennedy maintained very close ties with the School, serving as a member of the Institute of Politics Senior Advisory Committee for 15 years," said Nye. "Having his name on our Forum wall will serve as a vibrant reminder of John's many important contributions to our institution."
Sen. Edward M. Kennedy said, "This tribute to John means a great deal to all of us in the Kennedy family. No one was more devoted to the Institute of Politics or more deeply committed to its goal of encouraging young men and women to participate actively in the civic life of our nation. He loved the Forum, and he would be proud to know that those who admired him so much at the Institute are honoring him in this way."
Caroline Kennedy Schlossberg echoed the sentiments. "I am honored that the Kennedy School of Government is renaming the Forum in John's memory," she said. "John always loved visiting Cambridge, interacting with students, and serving on the IOP board. I hope the Forum will always remain a place where young people can discuss and debate major issues facing our society and envision a life of public service."
Dan Glickman, director of the IOP, said it was fitting to name the Forum in John Kennedy Jr.'s honor. "On many occasions in the Forum, John exhorted students to heed his father's call to public service. He was an inspiration to many young people and his presence is sorely missed."
The Forum serves as the Kennedy School's primary public venue for speakers, panel discussions, and debates. Since its inception in 1978, the Forum has hosted more than 1,700 events, seen by live audiences totaling more than 500,000 people and millions more via cable television, teleconferencing, and the Internet. The founding donor, former oil company Atlantic Richfield (ARCO), will continue to be recognized for its original gift within the new Forum format and programming.
The Institute of Politics, which administers the Forum, was established in 1966 with an endowment from the John F. Kennedy Library Corp. to inspire undergraduate students to enter careers in politics and public service and to promote greater understanding and cooperation between the academic community and the political world.