Harvard Yard was the scene of countless reunions on Sunday, as members of the Classes of 2020 and 2021, many accompanied by parents and siblings, came together to celebrate in-person Commencement more than two years after the pandemic abruptly altered life and learning at the University.
Playing catch-up
On a glorious Sunday morning, Madeleine Snow '20, Miranda Mize Escurra '20, and Rocket Claman '21 were busy taking selfies as they waited for their turn to march to Tercentenary Theatre to celebrate their graduation in person.
The moment was a long time coming.
Like many of their classmates, Snow, Mize Escurra, and Claman were happy to be back on campus. "It's wonderful getting to reunite with my friends, roommates, and classmates, and feel the energy of Harvard again," said Snow, a psychology concentrator with a secondary in Theater, Dance, & Media.
Mize Escurra, a neurobiology concentrator with a secondary in TDM, said she had a hard time when her class had to leave campus in March 2020, but she was grateful for the opportunity to mark with friends their shared achievement.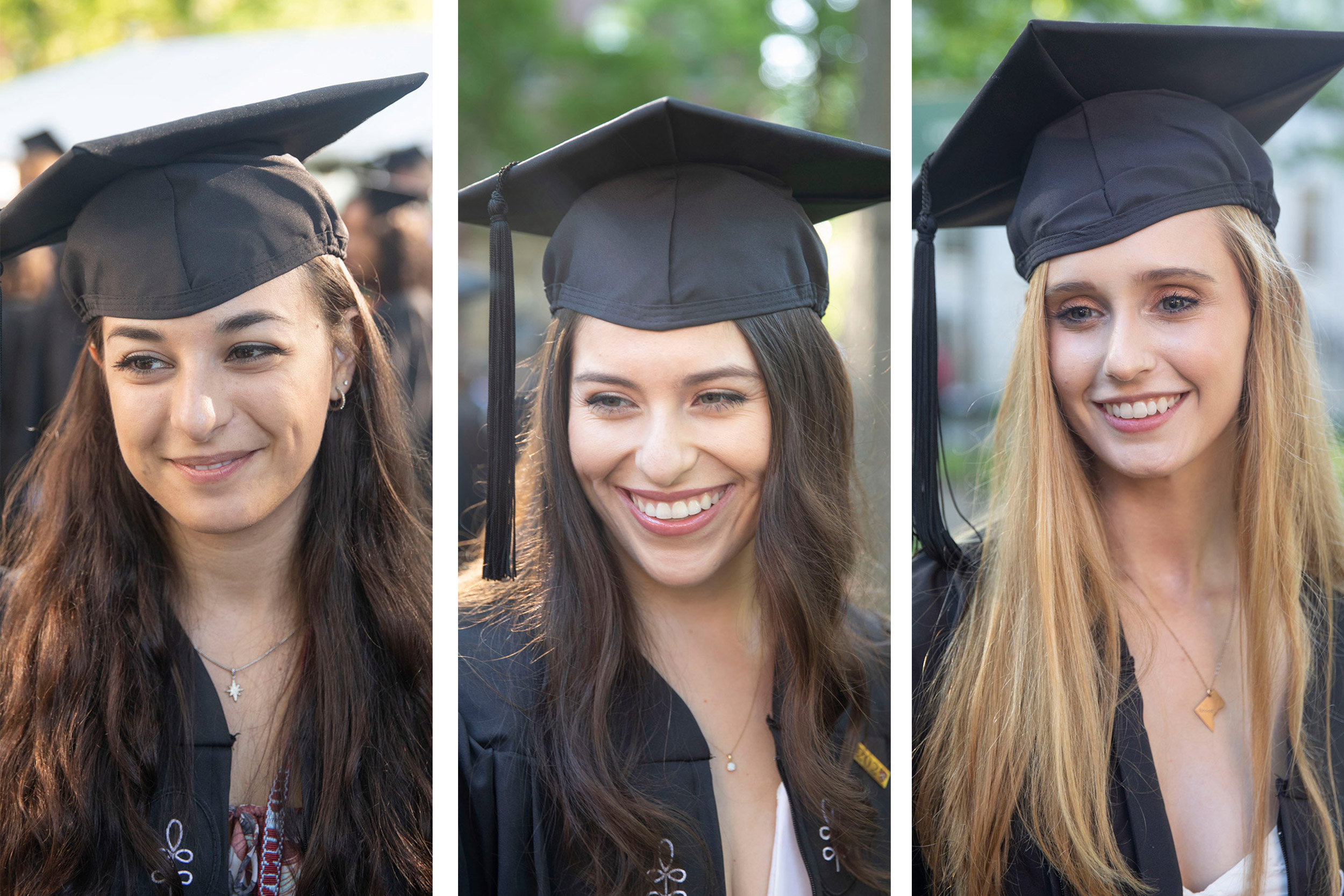 "My dream was always to go to Harvard, and to not get to celebrate the ending of that journey with the people that had become my closest friends was heartbreaking and really took away from that experience," said Mize Escurra, who is applying to medical school. "It's so special for us to come together to celebrate. It gives us a sense of closure that all of us needed."
For Claman, a history and literature concentrator with a secondary in studies of women, gender and sexuality, coming back to campus offered the chance to catch up with friends.
"Some people you come back and after a year or two years they look exactly the same, and others you barely recognize them," said Claman, who works in theater and shares an apartment with Mize Escurra in Boston. "It's been really exciting to get to reunite with people and hear where they are at in life and see how they've grown and changed but also remained the same."
The way we were
For a group of former Mather House residents, the return to campus inspired mixed feelings — most of them welcome.
"Coming back with everyone here adds a weird sort of energy with a lot of happiness and a lot of pride," said Hakeem Angulu '20, a joint concentrator in computer science and statistics who now works as a software engineer for Google. "It's a lot of mixed feelings, but overall, I'm very happy."