Two professors were announced as winners of the Roslyn Abramson Award, given annually to assistant or associate professors for "excellence and sensitivity in teaching undergraduates." The recipients are Derek Miller, John L. Loeb Associate Professor of the Humanities, and Elizabeth Hinton, assistant professor of history and of African and African American Studies.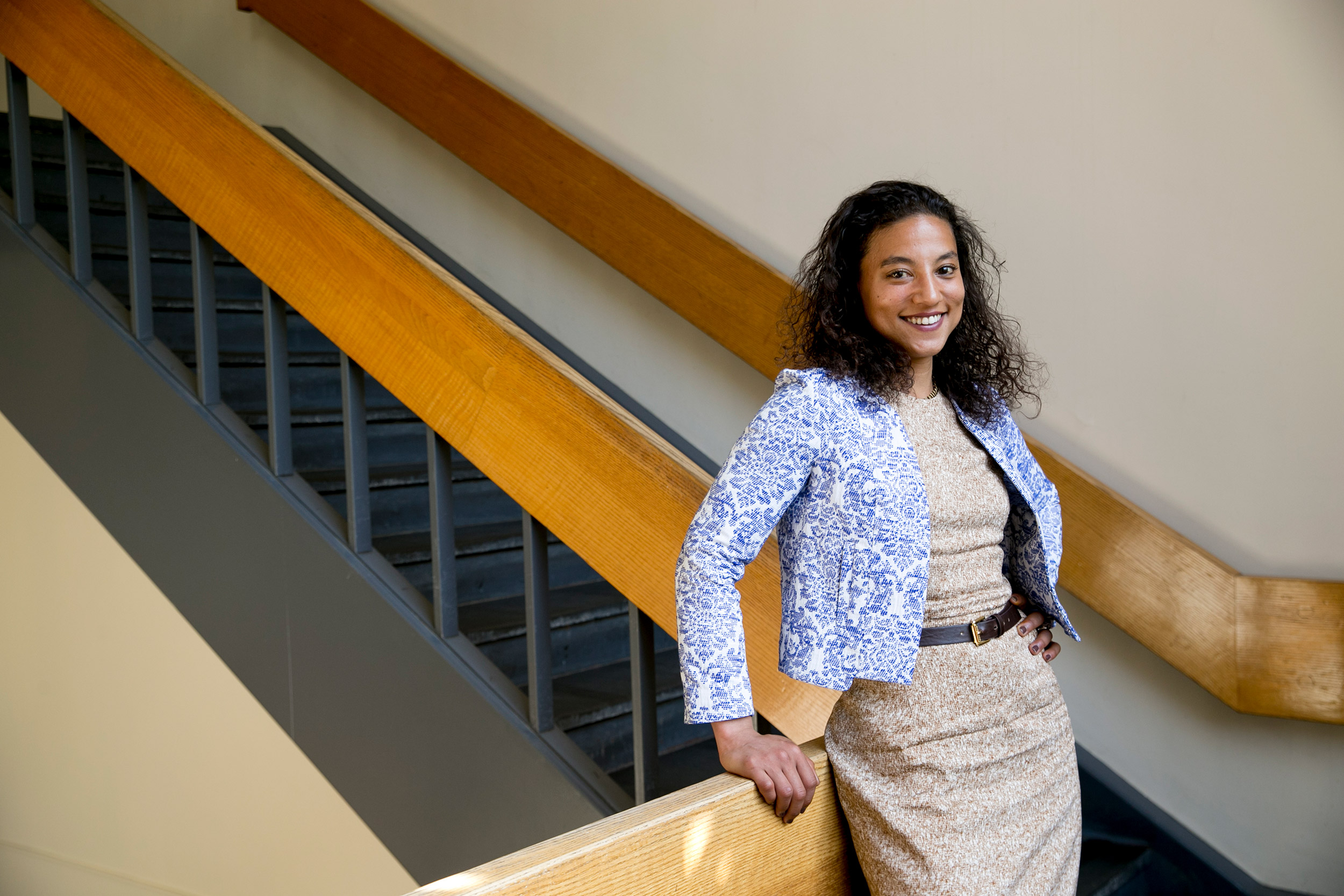 The recognition came with a formal announcement at the May 1 Faculty Meeting, as well as a $10,000 award, established as a gift from Edward Abramson '57 in honor of his mother. The recipients are chosen each year based on their accessibility, dedication to teaching and research, and ability to effectively communicate with and inspire undergraduate students.
"Elizabeth Hinton and Derek Miller are outstanding teachers and scholars, both of whom bring extraordinary passion and energy to their fields," said Edgerley Family Dean of the Faculty of Arts and Sciences Michael D. Smith. "They have a remarkable ability to engage with and inspire students, and ensure that Harvard is a welcome and inclusive environment for every student. On behalf of the Faculty of Arts and Sciences, I am pleased to offer them my sincere thanks and congratulations."
Derek Miller
For Miller, the news of receiving the prestigious award was met with a flurry of emotions. "I was completely shocked, flabbergasted, and overwhelmed," he said.
Miller described the environment in his classroom as one in which he strives to learn as much from his students as they learn from him.
"I try to emphasize the role of conversation in my classes, and I've been fortunate to have class sizes where it is manageable to do that."
Asked what he intends to do with the research stipend, Miller cited an interest in updating the formats of historical works.
"We have some databases of theater production, but some are only in books or other formats, and I'm hoping to use this funding the explore ways to put material in a format that can be more easily used in a classroom setting."
Miller said that he tries to tailor his teachings to every student, whether their concentration is in his area or whether they are just taking his course to fulfill an elective credit.
"Students come to my class for a variety of reasons. I try to create projects that are for everyone who walks through my door, and conduct them in a way that works for them and will allow them to get the most they can out of the experience."
Elizabeth Hinton
Hinton admitted to being caught off guard when informed of her selection as an Abramson Award recipient. "I wasn't expecting it all," she said. "It feels wonderful to have my teaching recognized in this way."
Hinton said that her love of teaching comes in part from the rewarding experience of seeing students grow throughout the course of a semester.
"I love history, and I love working with students to improve their critical thinking and their writing skills. When you work with a student on multiple drafts of a paper and see the final products and how it has come to fruition, it is extremely rewarding."
Hinton noted that one of the most gratifying aspects of teaching is seeing students continuing to pursue the topics she covers after graduation.
"One student graduated in 2015 and went on to work for the Vera Institute of Justice in New York. It was so wonderful to see her work in my class, and then be inspired to continue this line of work after graduation."
For Hinton, teaching is an ever-evolving process, and one she is always looking to make enhancements to. When asked how she intends to use the $10,000 award, she said that although she was still thinking about it, she hoped to put the money toward new ways to expand her teaching.
"I'm always looking for new ways to improve the experience for my students, so hopefully I can offer them additional travel or research opportunities."