As a boy in rural Alabama in the 1940s, U.S. Rep. John Lewis, LL.D. '12, recalls how he used to hide under the front porch of his home to wait for the bus to come up the hill and take him to school. He badly wanted an education.
His teachers encouraged him to read, but his family had few books, so he would wait until his grandfather was done with his newspaper and read that instead. It's where he drew the inspiration he needed to become an icon of the nation's Civil Rights Movement and an influential congressman.
"I kept hearing my parents and my grandparents saying, 'Boy, don't get in trouble; don't get in the way,'" Lewis told a rapt audience of 600 Harvard alumni gathered Monday evening at the Smithsonian National Museum of African American History and Culture for Your Harvard: Washington, D.C. "But Rosa Parks and Martin Luther King Jr. and my teachers inspired me to get in the way, to get in trouble," he said, "what I call today 'the good trouble.' And I want to thank you, as graduates of Harvard University, as leaders, for getting in the way. Thank you for getting into trouble."
The story shared by Lewis, whom Harvard President Drew Faust called "one of my heroes," resonated on an evening in which Faust emphasized the link between liberty and learning.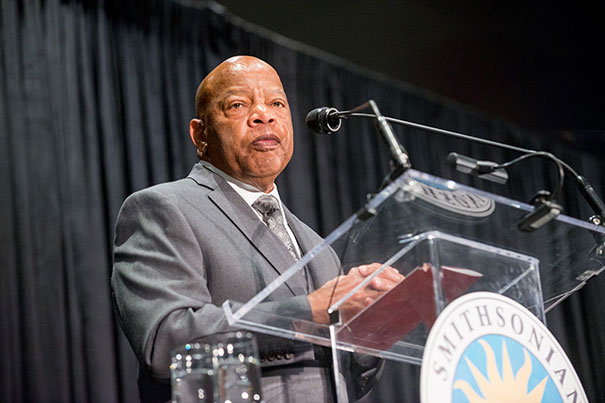 "Education liberates the mind, even when the body is oppressed. It gives us perspective — as a passport to other times, other places, and other points of view, as well as a way to learn about ourselves, to reimagine our lives — that alters us forever," said Faust, who is also Lincoln Professor of History.
The program, which took place on the anniversary of a U.S. Supreme Court ruling banning segregation of public buses, opened with a moving performance of "Sing Out/March On," a song written by Joshuah Campbell '16 and sung by Campbell, Aislinn Brophy '17, and students Eden Girma '18, Isaiah Johnson '20, Lindiwe Makgalemele '18, Roderick Mullen '19, and Michael Wingate '18.
In her remarks, Faust paid homage to the museum's artifacts that serve as testaments to a passion for learning — including a leaflet for Freedom Summer, a 1964 program that Lewis helped organize in which 1,500 college student volunteers registered thousands of first-time voters in Mississippi and opened more than 40 "freedom schools" — and she recognized that there remains a troublesome disparity in educational access fueled by geography.
"What Freedom Summer volunteer could have imagined that we would still be discussing today, in this museum, the persisting gap in educational attainment in a nation where, after more than 50 years, access to education is still not equal?" Faust said.
It is incumbent upon Harvard, Faust said, to help close that gap in order to attract students of talent and promise from every background, across the U.S. and the world. Harvard has worked to make strides in that area, particularly through financial aid, merit-based testing, its merger with Radcliffe College, and its outreach and advocacy for first-generation, low-income, and undocumented applicants.
"The pursuit of truth and the pursuit of education have defined Harvard's purpose," Faust said. "And that purpose has led inexorably — even if far too gradually and sometimes haltingly — toward increasing access and inclusion, toward opening the gates of learning."
Faust closed with a call to action for Harvard's future direction: "Education and freedom are inseparably intertwined, as this museum so powerfully reminds us. We must continue to advance the hope and the reality of what education can achieve. We must continue to insist and to demonstrate that facts and knowledge matter. We must heed the call to arms, as we continue our work to open the gates and close the gap."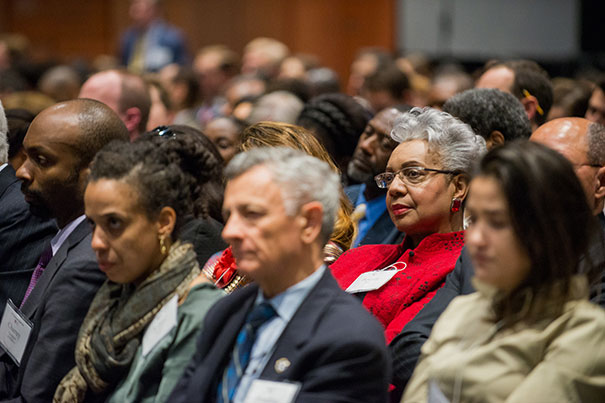 Faust's remarks came on the heels of a spirited faculty conversation that explored further the challenges to educational equity in America. The speakers discussed the merits of school integration, improving schools versus students, affording families the opportunity to choose their school districts, and local involvement in education reform.
Tomiko Brown-Nagin, professor of history in the Faculty of Arts and Sciences, Daniel P.S. Paul Professor of Constitutional Law, faculty director of the Charles Hamilton Houston Institute, and co-director of the Program in Law and History at Harvard Law School, grew up in the Deep South in the 1970s and was among the first African-Americans in her area to attend an integrated school. "Many will say desegregation is too costly for black students; there's social isolation, low expectations, and a lot of other disadvantages," Brown-Nagin said. "But at bottom the benefits outweigh the costs. Students who attend desegregated schools end up with higher career aspirations and in a better place in our world."
Roland G. Fryer Jr., Henry Lee Professor of Economics and faculty director of the Education Innovation Laboratory, agreed with the argument for integration. "Kids who grow up in inner cities and in poverty need more resources than the students they should 'hitch their bandwagon to,'" Fryer said. "Social mobility has slowed because kids don't have that kind of opportunity. To get to a true meritocracy, that's where we need to go."
Whether the solution to closing the gap in education comes down to schools or students was another matter up for debate. "Students should get to school in the right shape and ready to learn. That requires a whole different set of investments," Fryer said. "Schools can be great accelerators of the inputs that they have. Whatever we bring them, they can make better. Some of the best schools in the world can take kids who are in poverty and get them to 'pass the test.' But if we got them kids who just got more sleep or were ready to learn when they got there, they would be ready to excel more.
"I believe in parents having more choices. We need to decouple the relationship between exactly where you live and the quality of education," said Fryer, whose research examines geography and the negative effect it can have on educational equity.
"We need to break down the barriers that exist between suburban and urban schools," added James Ryan, dean of the Harvard Graduate School of Education and Charles William Eliot Professor of Education. "The parents and students who attend these different school systems, while just a few miles away, couldn't be further apart. If you think about what happens from that ignorance, it's a fear of the unknown or a feeling of, 'Oh, it's too bad those kids aren't doing well. But they're not my kids.'"
Education is the Civil Rights Issue of Our Time
Your Harvard: Washington, D.C. was the latest in a series of global gatherings during The Harvard Campaign. The program was co-sponsored by the Harvard Alumni Association, the Smithsonian Institution National Museum of African American History and Culture, the Harvard Club of Washington, D.C., and the Harvard Black Alumni Society. The series will continue in February with a gathering of alumni and friends in San Francisco.