It was probably the first time a Harvard lecture ended with audience members tossing their sneakers toward the podium.
The unusual autograph session capped designer Virgil Abloh's hourlong talk Thursday at the Graduate School of Design (GSD), which mirrored his multiplatform career: bold, dynamic, and audacious.
"He's a contemporary young voice who can disrupt. Architecture needs some disruption," said Eric Howeler, an associate professor of architecture. "Design has never been as well-regarded as it is today. He's connecting to people, to clients, to fashion. It's great for people to think big about design, not just architecture."
The talk at a packed Piper Hall marked Abloh's second visit to Harvard (the first was with Kanye West, for whom he worked as art director for many years). Abloh, a Chicago native, titled his lecture "Insert Complex Title Here," encouraging audience members to find their creative voices. His own contribution took the form of a seven-point manifesto called "Personal Design Language." It included the idea of speaking to "the tourist and purist simultaneously," and a "3 percent approach."
"Things are intriguing to me when they're slightly edited, like these shoes," he said, taking off one of his Nike Air Forces to show the crowd his design for the sneaker giant. "I was only interested in restraining myself, and only editing it 3 percent."
Abloh, who founded the Milan-based fashion label Off-White four years ago, passed around different sneaker prototypes, then shared photographs of concepts for his new millennial-focused furniture collaboration with Ikea.
"Surreal" was his initial reaction to being approached by the Swedish chain.
"Architecture, I used to think, was building buildings, but me navigating my way into this institution that provides furniture to real people — if I can bring an ounce of an idea, that's already an idea."
Sitting in the front row, Lanisha Blount, who graduated from the Graduate School of Design in May, was rapt.
"I believe in the power of the visual, so it was great to see someone who looks like me embrace a nontraditional path and be incredibly successful," said the 29-year-old design-strategy intern. "I am aware that as a black designer from GSD, I am one of a very small handful. I've met with several top-level executives and designers over the past year. It has been clear advice to take a risk now while it's easier. Seeing Virgil's success makes me feel encouraged."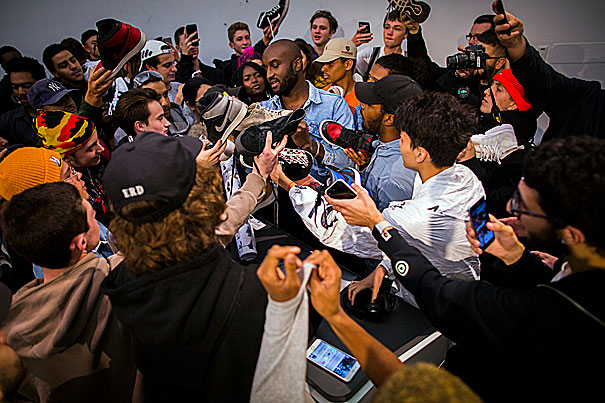 Abloh, who has a master's degree in architecture from Illinois Institute of Technology, was nominated in 2011 for a Grammy for art direction for his work on the Jay Z-Kanye West album "Watch the Throne." Diana, Princess of Wales, served as inspiration for his most recent Off-White runway show, with cocktail dresses and clutches made from tabloid media logos. Chicago's Museum of Contemporary Art is planning a retrospective of Abloh's work for 2019.
"He's unafraid to deconstruct his ideology in the public arena," said Oana Stanescu, a design critic in architecture at GSD and co-founder of the New York-based firm Family, who in her introduction recalled designing Off-White's Hong Kong store with Abloh exclusively via text message.
Abloh said he's been inspired by the work of Rem Koolhaas, Donald Judd, Jim Joe, and many others.
"I have mentors who are dead. I have mentors 30 years older than me. I have mentors 10 years younger," Abloh said, before ending the lecture with a new title, "Insert Yourself Here," and giving homework.
"Put yourself in my shoes," he said. "I'm not that special."