Harvard College today announced a $12.1 million grant from the Chan Zuckerberg Initiative (CZI) to boost the College's efforts to develop the next generation of public service leaders by supporting public service opportunities for undergraduates. This grant will be specifically aimed at providing additional assistance to students from low-income backgrounds, who can be deterred from participating in these experiences by financial constraints.
Over the 15-year life of the grant, the initiative will help finance up to 2,300 students who engage in service opportunities administered by Harvard's Phillips Brooks House Center for Public Service and Engaged Scholarship, which provides support and coordination to public service efforts at the College.
For Priscilla Chan '07, co-founder of CZI, expanding access to service opportunities is deeply personal. As an undergraduate student on financial aid, the Stride program — operated by the student-run Phillips Brooks House Association (PBHA) — made it financially feasible for Chan to pursue her passion for service by leading an afterschool program serving Franklin Hill and Franklin Field, neighboring public housing projects in Boston's Dorchester neighborhood.
"This generous gift will provide opportunities for even more of Harvard's remarkable and committed undergraduates to follow Priscilla's example of community service while at the College" said Harvard President Drew Faust. "We are grateful to Priscilla, Mark, and the Chan Zuckerberg Initiative for their help and partnership in creating pathways to pursue a lifetime of public service for our students regardless of their backgrounds or personal resources."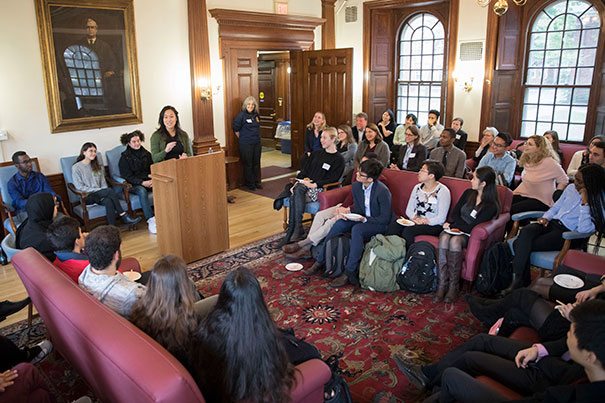 Currently, more than 400 students devote their summers to service with modest cost of living stipends, but, to date, funding has not existed to cover the student summer earnings contribution for those who receive financial aid. The Priscilla Chan Summer Service Award will remove this barrier by covering the entire summer earnings contribution for students who participate in immersive summer service experiences provided by the public service offices at Harvard College. Additionally, the Priscilla Chan Stride Service Program will not only sustain, but support the growth of PBHA's efforts to provide year-round service scholarships, mentorship, and leadership development for low-income students, as well as three postgraduate fellowships.
Chan views her community service at Harvard as a formative experience and hopes that this gift will enable greater diversity in public service leadership.
"The opportunity to work with the kids of Franklin Hill inspired me to pursue a career dedicated to serving children and families as a pediatrician and educator. As a student on financial aid, it was Harvard's Stride program that made it financially feasible for me to choose service over traditional work-study. It's my hope this gift will give many more students the ability to choose service that will inspire their passion and build their skills as the next generation of public service leaders," said Chan, who reunited with Franklin Hill residents on Sunday.
This grant follows another recent boost to public service at Harvard College from Eric Mindich '88 and his wife, Stacey, to establish 75 Mindich Service Fellowships and the Mindich Program in Engaged Scholarship, linking public service activities directly to the curriculum and expanding the options for undergraduate courses with public-service components.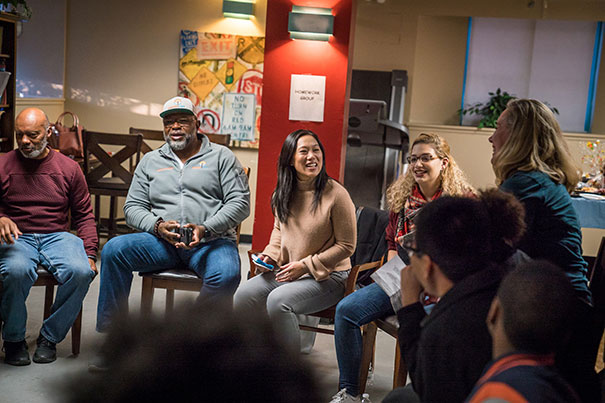 "This wonderful gift builds upon many collaborative efforts to provide our students with an education that creates pathways for them to realize their potential as citizens and citizen leaders for our society," said Rakesh Khurana, Danoff Dean of Harvard College. "I am deeply grateful to Priscilla, Mark, and CZI for this gift, and the doors it will open for our undergraduates to pursue community service opportunities."
Gene Corbin, Assistant Dean of Harvard College for Public Service, elaborated on the impact that CZI's grant will have at Harvard College. "More than half of our students become involved in an ongoing service program during their time at Harvard College, including a growing number wanting to devote their summers to service. As Priscilla can attest, the power of this community involvement is not just extracurricular, but co-curricular. The Priscilla Chan Summer Service Award will be a huge step forward in ensuring that all students can participate in these transformative opportunities, and we hope others will follow CZI's example in supporting these students' desire to serve."
Each year, more than half of undergraduates at Harvard participate in public service and 1,200 student volunteers join with PBHA's community partners to run more than 70 social service and social action programs that serve more than 6,000 residents of the Greater Boston area.
Maria Dominguez Gray, Class of 1955 Executive Director of PBHA, added, "For generations, these experiences have served as a strong foundation for a lifetime commitment to service. The commitment of CZI to sustaining and growing the Priscilla Chan Stride Service Program will strengthen this mission and increase diversity among public service leadership at Harvard and beyond."