At Harvard, small decisions can lead to big things. When I signed up for a class in Soviet Film, I had no idea that it would lead to my choice in concentrations — much less a trip to Moscow. I just wanted a break from short winter days and endless homework-filled nights, a silver lining on the silver screen.
Every Monday morning of my freshman spring term, Professor Justin Weir of the Department of Comparative Literature, a few graduate students, and I — the only undergraduate in "Slavic 147: Soviet Film After Stalin," — would gather in the main screening room of the Harvard Film Archive to watch one after another of the masterpieces from the grand tradition of Russian film.
I wasn't thinking that I would declare a joint concentration in Government and Slavic Languages and Literatures in my sophomore year. I definitely wasn't thinking that the following summer I would have the chance to relive some of the very same films I was watching. But as I write this, I have just returned from two months in Moscow, where I studied with the American Councils for International Education to improve my Russian-language skills and engaged in the most transformative and enjoyable experience of my life.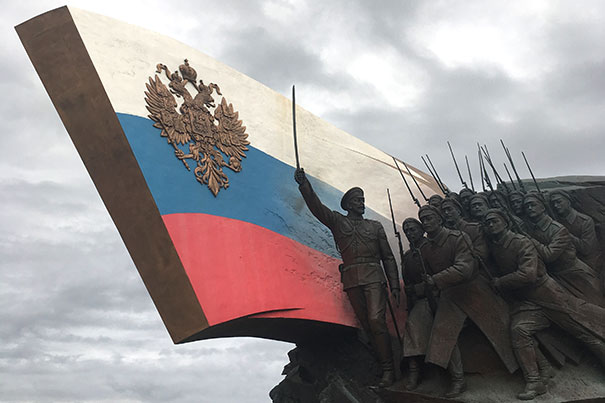 As someone deeply interested in politics and international affairs, I probably could not have chosen a more sensitive, and consequently more interesting, time to be in Russia since, perhaps, 1991. Diplomatic affairs between Russia and the U.S. had been dramatically deteriorating in recent months. In response to the Obama administration's seizure of Russian diplomatic compounds in Maryland and New York and expulsion of 35 Russian diplomats in the last days of 2016, as well as a new round of sanctions in the summer, in late July Russia ordered a reduction in American diplomatic personnel inside its borders. In turn, the U.S. forced the closure of Russia's consulate in San Francisco, and Russia is now considering forcing another reduction in America's diplomatic presence.
But the strained relations had little impact on my stay in Moscow. On the contrary, I felt incredibly welcome. I cannot count the number of times I was met with open minds and open hearts by Russians eager to discuss politics or art or life in its entirety over a bowl of borscht or a bottle of wine. It was not hard to fall in love with the city, the country, and the people who inhabit them.
In many ways, I felt myself the protagonist of my own film — my thinking, of course, greatly influenced by memories of those Monday mornings at the Harvard Film Archive. I thought often of "I Am Twenty" ("Мне Двадцать Лет," also known as "Ilych's Gate," "Застава Ильича"), a 1965 film directed by Marlen Khutsiev. I found the title of the film highly appropriate, given that I celebrated my 20th birthday in Moscow. Thematically, the movie deals with three young friends living in the capital city, following the stories of their everyday lives, with all their successes and failures.
While my program provided plenty of opportunities for tourism — walking the Kremlin and Red Square, cruising on the Moscow River, visiting the home of Tolstoy — by the end of the summer I felt as though I were a regular Muscovite, or something close. Just as with Khutsiev's characters, I had established a steady rhythm of life: the daily commute to and from my university; visiting museums, parks, and other places of interest in the afternoons; dinners with my host family; exploring Moscow's many bars and restaurants on the weekends. Of course I faced difficulties in communication and adjustment, but life, ordinary Russian life, felt good and enjoyable. 
A class on Russian media, taught entirely in the native language, also forced me to reconsider "The Return" ("Возвращение") by Andrei Zyagintsev, perhaps the foremost Russian director of our time. When I watched this film in Slavic 147, I was particularly struck by its aesthetics and complex symbolism. Zyagintsev beautifully tells the tragic story of two sons and the long-absent father who briefly returns home to take them on a fishing and camping trip in the north, with striking allusions to art and Christianity.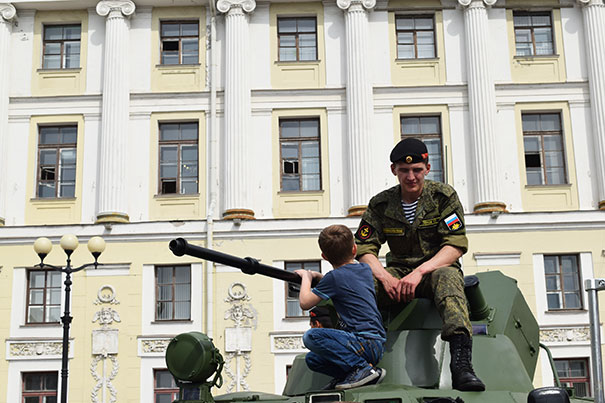 While the film's stylistics and embedded web of meanings were just as stunning watching it the second time in Moscow, now I found myself even more drawn to the complex interpersonal drama. The film's central themes address the difficulty of family relationships and masculinity. For me, it was a fascinating to compare the character of the father, a mysterious man of few words who treats his sons harshly in the hopes that they will become men, to my Russian host father, an incredibly kind, generous, and intelligent man who accepted me into his family and made me feel welcome just as I am. Rewatching "The Return" in Russia helped me more fully appreciate the people with whom I interacted on a daily basis and better understand the intricacies of the Russian psyche.
When I returned home to California, I had the feeling I often get when I first leave a movie theater. After immersing myself in someone else's reality in the darkness of a theater, I find myself disoriented during those first few minutes back in the brightness of real world, the pace of which is at odds with those preceding hours of film. Similarly, my first few days home were sluggish, jagged, filled with flashes of my wondrous two months abroad and a longing to return to Moscow. Even though I am now fully reacclimatized, I still find myself thinking of those long summer days and nostalgically replaying many moments over and over in my head. I suppose this is a natural reaction to any good film.
And like any ardent cinephile, I know someday soon I'll be back for more.