The pews in Memorial Church filled quickly last Wednesday as hundreds gathered to remember the late S. Allen Counter, a man many say shaped their futures and left an indelible footprint on the Harvard community — if not the world.
Nine speakers, including President Drew Faust, shared the podium for 90 minutes to tell a piece of the story of a gifted boy from the segregated South who became an erudite Harvard scientist and doctor, teacher, explorer, and statesman.
A noted neurophysiologist at Harvard Medical School, Counter was perhaps equally well known on campus as the director of the Harvard Foundation for Intercultural and Race Relations. When Harvard decided in 1981 to establish the foundation, Counter's name was at the top of the list of candidates to lead it.
His longtime friend and Harvard's senior admissions officer David L. Evans recalled that many counseled Counter against taking the ambiguously defined position, but Counter's personal philosophy advised otherwise. He accepted, and was the Harvard Foundation's only director until his death.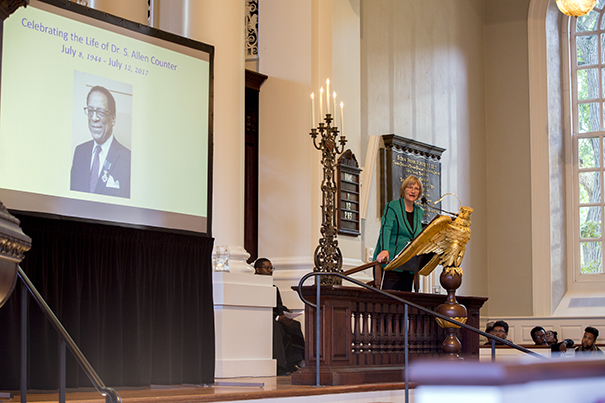 During more than 30 years at the helm of the foundation, Counter brought positive attention to an increasingly ethnically diverse academic community. He leveraged his scientific and academic weight to attract dignitaries to the College, including four Secretaries General of the United Nations: Boutros Boutros-Ghali, Kofi Annan, Javier Pérez de Cuéllar, and Ban Ki-moon.
Counter was a scientific explorer and proud of his membership in New York's Explorer's Club, of which he was made a member after his studies in South America uncovered African-descended people living in Suriname and the Andean Mountains, a story he wrote about in "I Sought My Brother." Later, while researching widespread hearing loss among the Inuits of Greenland, Counter discovered descendants of the North Pole explorers Admiral Robert Peary and Matthew Henson, each of whom fathered sons by Inuit women during their 1906-09 expedition. Counter wrote about the experience in "North Pole Legacy," and his book about reuniting the explorers' descendants with their white relations — "North Pole Promise" — was published just months before his death.
Related
Counter's ties to the Nobel committees in Norway and Sweden, where he earned his medical degree at the Karolinska Institute, helped him attract Peace Prize laureates such as Desmond Tutu, Eli Wiesel, Malala Yousafzai, and Kailash Satyarthi to the Harvard Foundation.
In 2009, Counter helped organize the ceremony in Oslo, Norway, where then-President Barack Obama received the Nobel Peace Prize. Three years later Counter was knighted by the king of Sweden, and in 2013 he received the Explorers Club's Lowell Thomas Award, for "just dealing and right action in field exploration."
And he did it all in a quiet, understated way, friends and colleagues said.
"Dr. Counter was extraordinary, but the funny thing was that he was so casual about it," said Doni Lehman '17. "I remember the first time I went to Dr. Counter's house. I couldn't stop staring at the walls. They were covered in notes from Michael Jackson and Barack Obama, surrounded by gifts from celebrities and dignitaries — things that anyone else would cherish as their prized possession, which Dr. Counter simply referred to as his 'things.'"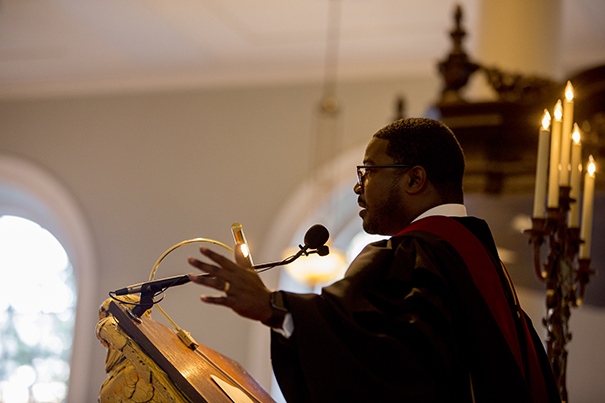 But things and symbols did matter to Counter, noted Devontae A.B. Freeland '19, a third-year intern at the Harvard Foundation. Freeland said that when Counter asked him to unveil a portrait of Richard Theodore Greener, Class of 1870, Harvard's first black graduate, some of his peers scoffed that the portrait was a meaningless symbol.
"Dr. Counter went out of his way to say that, actually, symbols, and representation do matter, thank you very much," Freeland said, "When, four days a week, I head to Annenberg Hall for breakfast and look up and see Richard Greener's face — seeing that black Harvard man's face, that means something to me."
That painting was part of the Harvard Foundation Minority Portraiture Project, which Counter launched in 2003. Greener was one of 17 portraits Counter commissioned from artist Stephen Coit '71, M.B.A. '77. Coit painted an 18th portrait, of Counter himself, in just under a month, and said he will dedicate it to Harvard in gratitude for Counter's support over the years. His painting of a robust-looking Counter, against a backdrop of performers from the Harvard Foundation's Cultural Rhythms festival, greeted guests at the memorial.
Counter died of cancer at his home in Cambridge home on July 12, just four days after his 73rd birthday. In June, when he met with Assistant Professor of Neurology Bruce Price to talk about his prognosis, Price was struck by Counter's bravery and dignity facing death — but thought it typical of his friend.
"When I think of Allen Counter my eyes still get moist because he has also taught us how to live," Price said. "He exemplified his lifetime motto, often repeated to his daughters and students: 'There is always a way.'
"In these dark times of bigotry and cruelty, oppression, divisiveness, and injustice, Allen Counter's righteous life dedicated to inclusion, diversity, integrity and equality, and hope stand in stark opposition. He's still challenging us. Stand up. Be counted. There's always a way."