Lesley Bannatyne has loved Halloween ever since she first put on a tail and ran out into the cold Connecticut night in October of 1967. Her passion deepened when she eventually wrote a book on the history of the fright night. Countless hours of research and five Halloween books later, Bannatyne is a sought-after authority on the scary subject.
Each fall she's a television and radio regular. She has written numerous Halloween-themed articles, and has been quoted in media outlets from The Wall Street Journal to the online magazine Slate on everything from the origin of jack-o'-lanterns to the rise of costumes for pets.
The requests start in August, said Bannatyne, longtime communications manager for Harvard's Music Department, when writers begin working on their Halloween features and show producers are lining up fall guests. This year, her engagements include a story on mischief for Smithsonian Magazine, an appearance on the radio show "Keeping the Spirits Alive!," and a CNN interview about the day's history and current celebrations.
Fifty years after her first Halloween outing, Bannatyne finds her love for the day has become almost visceral. "It's physical for me — the light comes at a certain angle in October, the temperature drops, there are colors that only exist at that time. I can sense it more than understand it."
Her deep dive into Halloween began almost three decades ago. Working as a freelance writer, she saw a call for proposals to write holiday books for the New York City publishing house Facts on File. Intrigued, she reached out but found that at that point the series only required writers for Halloween and Election Day. She opted for the former and pitched what became her 1990 book "Halloween: An American Holiday, an American History."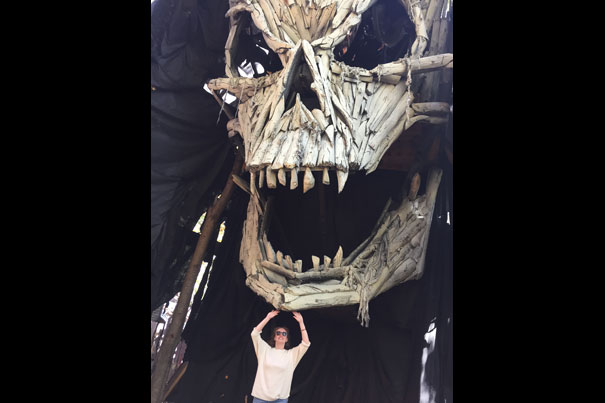 "Four more books followed because Halloween's not just one story, but many," said Bannatyne, whose works include an anthology of Halloween literature from the past 400 years as well as a children's book. "Halloween Nation," her latest, published in 2011, pulls back the curtain on costume shops and Halloween conventions and on the people for whom the holiday has become a personal passion, or professional goldmine. According to the National Retail Federation, Halloween is expected to bring in a record $9.1 billion for America's retailers in 2017, a jump of 8.3 percent from last year.
Harvard has provided a trove of information for Bannatyne, who studied English literature at Wheaton College and helped run a theater company for years before joining the music department as an administrator in 1996. She has spent many fruitful hours researching in Widener Library, an "incredible resource because it has things that nobody has, and has all of them." Harvard's folklore and mythology courses have also informed her work. This semester she's enrolled in "The Irish Supernatural" class at Harvard Extension School.
"It's that ancient Irish history," said Bannatyne. "I am always trying to find out more about that."
Through her writing, Bannatyne has uncovered much about the holiday descended from the ancient Celtic time of year known as Samhain, or summer's end, when spirits from the otherworld were thought to mingle with the living. Halloween crossed the Atlantic through the folklore of Irish and Scottish immigrants. Victorian Americans were intrigued with exotic locales like the Scottish Highlands, she said, and cheap printing unleashed a flood of newspapers and magazines that needed content. Editors quickly realized stories about Halloween in the Old World made for good reading, and increased sales.
American interest in Halloween is also closely tied to the Civil War, said Bannatyne. By 1865, almost every American household had experienced loss from the war, and many people, eager to connect with a loved one from beyond, turned to séances for comfort. "As such, a holiday that was somewhat ghostly took on greater meaning." In the 20th century, Halloween grew into a celebration.
The 1978 slasher flick "Halloween" (originally titled "The Babysitter Murders") yoked the holiday tightly to horror, said Bannatyne, broadening its chilling appeal. The movie attracted viewers in droves as it pushed Halloween to a darker, more violent place. In recent years, Bannatyne sees widening efforts to make it a more family friendly celebration. "Now there are more pumpkin patches, corn mazes, hayrides, pumpkin festivals, pumpkin floats, everything in an effort bring in families so that they can celebrate Halloween."
Memorable costumes for Bannatyne include her Donald Trump getup, and last year's disguise as Chief Martin Brody from the 1975 thriller "Jaws." Her outfit, in honor of the film's 40th anniversary, included a remote-controlled, helium-filled shark that swam overhead as the movie's ominous soundtrack played on her iPhone.
Not surprisingly, Bannatyne enjoys reserving one day of the year to be someone else.
"In the hard cold light of Nov. 1," she told an interviewer in 2010, "you really can't be a marshmallow Peep."
This Halloween, Bannatyne, whose costume remains a secret, will spend her morning putting the final decorating touches on her yard and "making sure the graveyard is still standing." Then she'll head to work to join her colleagues in costume, a department tradition for more than a decade. Then it's back home, where she'll don something from her "closet full of witch wear" in time for trick-or-treaters.
Bannatyne said that Halloween and the community it creates of people from different beliefs, backgrounds, and political views will always play an important role in her life.
"It's a wonderful buffer zone. Creativity and tribe come to the forefront. People often refer to Halloween as a dark holiday, as in morbid, but I've never seen it that way. I think it's a time when you can bring a little light and humor into all those dark things that scare us."