It may seem hard to beat a school vacation spent summiting one of the world's most famous peaks, but for not Ashley LaLonde. The Harvard sophomore, who climbed Tanzania's Mount Kilimanjaro two years ago, competed with a mountain of talent during last summer's break from classes.
After auditioning for shows on Broadway, the New York City native is ready to consider some hard choices, including the possibility of taking a break from her studies. But now she is thriving on Harvard's academic challenges and reveling in its robust acting scene.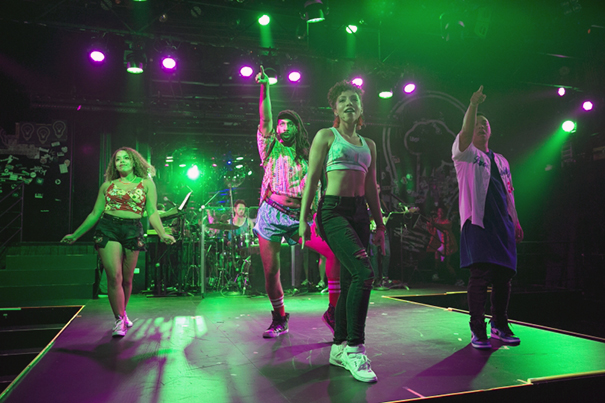 LaLonde has appeared in two Harvard-Radcliffe Dramatic Club productions, an A.R.T. Institute show, and last spring's tango-infused "Arrabal" at the A.R.T. She was asked to play the show's newscaster by the director, who remembered her from a callback in a Broadway show.
Traditional chorus lines were nowhere to be found in "Burn All Night," a show by actor-turned-playwright Andy Mientus. Much of the action unfolded at a 20-something hangout, a pulsing nightclub complete with an edgy, synth-pop sound courtesy of the Brooklyn-based band Teen Commandments. Though the show featured a young cast, its message about how to live and love in a world of challenges and uncertainty could resonate with audiences of any age.
"It's a show about a group of young people in a chaotic world that feels like it's about to end, which is not far from our current reality," said LaLonde, who played Kayla, one of the young millennials in the ensemble. "We are in a chaotic world. There are lots of problems. We sometimes choose to ignore them; sometimes we don't. The show, which had some seating on the edges but also had much of the audience on the floor with the swirling cast, wasn't a "fantasy world," LaLonde said. "It's the grungy truth."
Ironically, a life on Broadway was not an early goal for LaLonde, who grew up nearby. Instead, she dreamed of becoming a pediatrician until her senior year in high school, when she started going out for bigger auditions and realized that acting "could be a potential career path." She briefly considered a school for musical theater, but realized she didn't want to limit her options. "I wanted a school where the people would be passionate and kind, a school where I would feel intellectually challenged."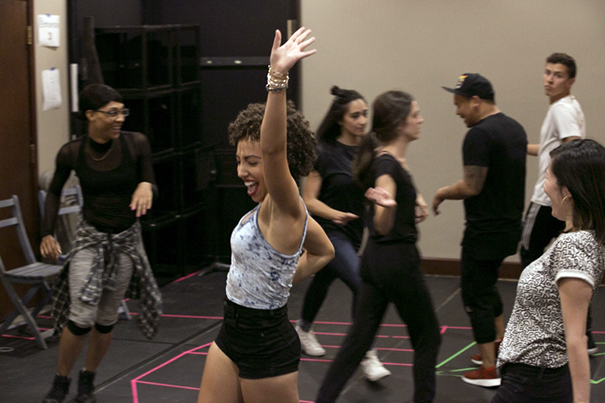 Her mother suggested applying to Harvard. LaLonde was skeptical until a trip to campus to meet with friends and see a student show changed her mind. "That visit was when I really saw myself here," she recalled.
At Harvard, LaLonde has made important connections both on and off the stage. The A.R.T. has opened doors for her professionally and personally, she said, introducing her to a range of interesting artists and professionals. Her Harvard time opened up new worlds, too.
"I would say the majority of my friends are interested in other things, and that's really wonderful because I get to hang around people who are completely different from myself and whose lives are very divergent from my own. My roommate and best friend is actually on the varsity soccer team, and she is studying medicine, and she's from the West Coast."
Academics and acting are not all that keep her busy. She is a peer advising fellow, a leader for the Franklin Fellowship, and an admissions tour guide.
"I have been so happy at Harvard. Very few people get to come here. Very few people get to do this, and I just feel so blessed," said LaLonde. "It really was the right choice."