On a beautiful, blue-sky day in late July, Ryan Dell sat on his bicycle alongside several other excited novice cyclists, eagerly waiting for the three words that would set them off across the parking lot of the Harvard Ed Portal in Allston.
"Ready, set, go!" yelled the 8-year-old from Brighton. "Let's go, let's do this!"
Ryan and his twin sister, Kaylee, were two of the children who participated in the "Beginners Biking Workshop," one of nine Summer Explorations offered by the Ed Portal. While some of the rising second- through fourth-graders were just learning to ride, the twins had already developed some biking skills. But there was still much to learn — why it's important to wear a helmet, hand signals, and about all the moving parts of a bike. Then, just outside the Ed Portal's back door, the young cyclists got to spin around the parking lot, with plenty of adults close by to lend a hand.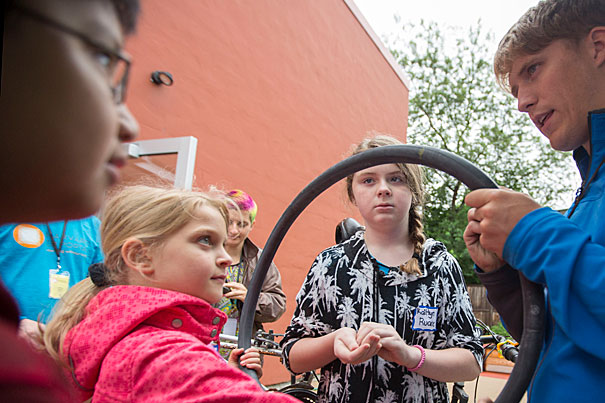 The beginners' workshop was one of a range of Ed Portal offerings that let Greater Boston youth explore everything from clay-making to play-making. For older riders, the "Bike Mechanics and Safety 101 Workshop" looked deeper into the mechanics and repair of bicycles, with a five-mile ride on the nearby bike path designed to expand technical riding skills.
"The kids in both workshops have so much energy, and they're super excited. It's fun to see them learning and hear what they have to say about riding a bike," said Sophie Massey, a Summer Explorations instructor and program manager at CommonWheels, a nonprofit community bicycle collective based in Allston.
More than 80 kids participated in this year's program, which featured nine weeklong workshops that gave students in grades one through 12 the opportunity to learn not just for fun, but by having fun. Taught by Harvard-affiliated students and staff, the free workshops ran through the month of July.
Cooking and coding
The sessions kicked off with Science and Cooking, where middle school students learned how to prepare food, and got to hone their science and math skills while learning about nutrition and health.
Right next door to the burgeoning chefs, kids in grades four through six were busy learning to code. The Creative Coding Studio workshop used the Scratch programming language to teach them to code doing things they already love to do — uploading pictures, adding sounds, creating games or animations, even telling stories.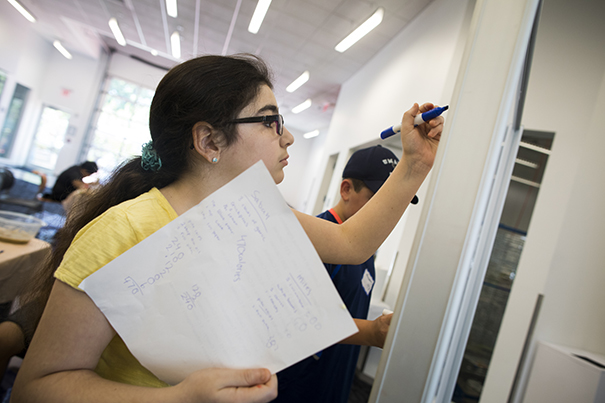 This was Grace Hammack's second year in the Creative Coding Studio. The 11-year-old from Brighton wanted to keep developing her computer skills and said she likes to "learn fun things" from people at Harvard.
"Grace learned coding was possible, she could create movement and things on the screen on her own," said her mother, Tammy Hammack. "We love the Ed Portal, even though we are in Oak Square and could argue that it would be easier to go other places. We think it's a great thing that Harvard does this. It's exposure to some really bright students and Grace really loves it."
Grasping soft robotics
For a little more hands-on action, "Soft Robotics" gave sixth- through eighth-graders a chance to fabricate an SDM Finger — a shape deposition manufacturing robot that grips and grasps — using tubing, cardboard, Kevlar, tape, and glue sticks. Instructor Sara Berndt, a research fellow at the Harvard John A. Paulson School of Engineering and Applied Sciences, said kids are attracted to the oozy-gooey part of soft robotics, which she likened to using Silly Putty, only the putty is silicone.
"This is my first year teaching this course, but I really love that we're able to expose kids to something they may not have had access to," she said. "At this age they are exploring through play, which is really important to encourage. They bring a fresh mindset and creativity to stuff that research fellows may have been working on for a long time."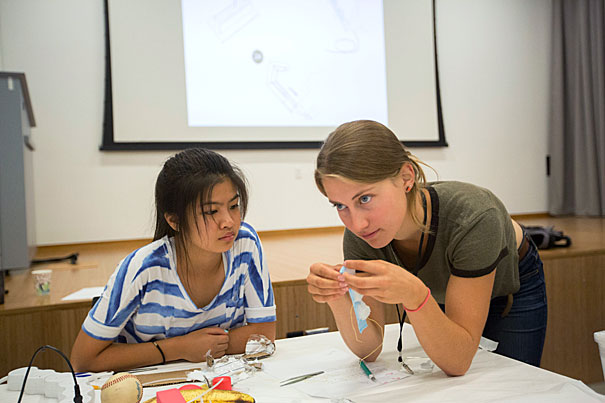 Abigail Hill, an 11-year-old from Brighton who is going into sixth grade at the Park School in Boston, had previously taken the Creative Coding workshop, but this time opted for Soft Robotics.
"The Ed Portal is intriguing because you can do stuff that is relatively hard, but when you actually get into it, you can understand it better and it's easy," she said. "Robotics is fun because you can make stuff and see the outcome, which is really cool. It's hard to tell which workshops I like more."
"Opportunity to talk and participate"
In another program, 19 high school students worked with Harvard University Department of Philosophy scholars and utilized HarvardX online courses to learn about consent and civic participation. The workshop, called "ThinkerAnalytix," explored issues such as free speech, sexual assault, harassment and racism, and different ways to approach consent.
Anne Sanderson, a Harvard philosophy research fellow and co-director of ThinkerAnalytix, a nonprofit organization, partnered with the Ed Portal to create this workshop as an internship for high school students. The program is helping Sanderson and her colleagues design a high-school level course on consent.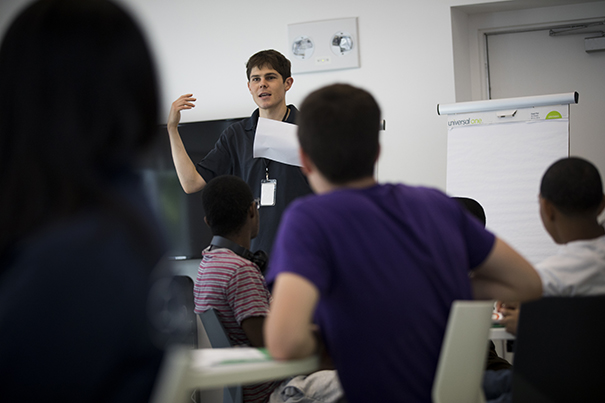 "I have spent several years working with the philosophy department and noticed how philosophers can take arguments to a fundamental level that challenges students to think and make difficult connections intellectually that they are capable of making," she said.
The curriculum offered collaboration, debate, discussion, and an opportunity to act out case studies. Students had nightly assignments that prepared them for the next day's material, and ThinkerAnalytix paid them a small stipend to provide feedback at the end of the week.
"I really like this, it's different from my regular classes in school," said Joedding Neal, an 18-year-old from Charlestown who'll be a junior at Brighton High. "When they're teaching something new they approach it in a different way than how they would a regular class. They give us more opportunity to talk and participate in a group setting."
In "Discover Your DNA: An Adventure in Laboratory Biology," middle schoolers came together to use laboratory equipment to isolate their DNA and learn how genes control what humans can taste. They even took a field trip to the Pagliuca Harvard Life Lab in Allston to check out the 15,000-square-foot space where Harvard faculty, alumni, students, and postdoctoral scholars work on innovations in biotech and life sciences.
Voice, body, mind, and imagination
While biotech inventions were on the minds of some summer explorers, others used their imaginations to turn piles of clay into works of art. In "Clay Creations!," students in the fourth through sixth grades designed and made garden-inspired pieces that were fired in the Harvard Ceramics Program's on-site kiln. Some of the clay creations even became art installations at the Ed Portal.
For eight first- and second-graders, the sessions included spinning like planets. During a week of space-themed creative play, craft projects, reading and improvisational games, participants at the "A.R.T. Kids Company Jamboree" learned about the different elements of theater — voice, body, mind, and imagination. The workshop culminated in a live performance.
"This is the very first year of 'A.R.T. Kids Company Jamboree,' which is a half-day program modeled on a curriculum we have been using with younger students for many years," said Brenna Nicely, the A.R.T. education and community programs manager. "Support, encouragement, and expertise from the Ed Portal have been essential as we are developing this wacky new program, aimed at teaching students different ways to express themselves creatively, further develop reading comprehension, and work together with their peers."
Although the American Repertory Theater has long partnered with the Ed Portal, this year was the first it took part in the Summer Explorations program. Nicely said she was thrilled that the A.R.T. could be a part of it.
Massey could not agree more.
"The Ed Portal offers a lot of important resources for community members, and it's so awesome that all the programming is free, it's such a great thing," she said. "I wonder what would have happened if I had this when I was a kid."