An East Asian history concentrator while at Harvard, John Weidman '68 never imagined that his knowledge of modern Japan would prep him for Broadway. But an idea he had for a play about Commodore Matthew Perry's 1853 excursion to the island nation struck a chord with theater producer Hal Prince, who enlisted legendary composer Stephen Sondheim. The result became the Tony Award-winning musical "Pacific Overtures."
"I thought: What do I know about that other people don't? East Asian history," Weidman recalled recently while discussing the origin of that 1976 success in the lobby of the Loeb Drama Center during a rehearsal break for the American Repertory Theater's (A.R.T.) tango-infused show "Arrabal," for which he wrote the book.
Life can provide zigzags, a fact that Weidman knows better than most. After Harvard, he attended Yale Law School but then realized he "didn't want to be a lawyer." Since he was both a longtime baseball and theater fan (he and his college roommate wrote a Hasty Pudding show), he sent out two letters in 1973, one to the commissioner of Major League Baseball and one to Prince, hoping to secure an internship. The baseball executive wasn't interested, and the producer didn't hire interns, but he liked Weidman's idea for a play. Three years later, "Pacific Overtures" debuted on Broadway.
With that unlikely start, Weidman found his calling and didn't stop, parlaying his early triumph into a career as a librettist, creating the words for musical theater and opera. He also wrote for the National Lampoon — a spinoff of the Harvard Lampoon, to which Weidman belonged — and for "Sesame Street."
With that writing track record, his attachment to "Arrabal," a production with no dialogue, may seem strange. It's actually a perfect fit. One of his most successful theater collaborations was with director and choreographer Susan Stroman on the light-on-talking "dance play" "Contact," which won the Tony for best musical in 2000.
"I got the call [for 'Arrabal'] because I was the guy who had written the book for 'Contact,'" said Weidman, acknowledging the plays' similar storytelling-through-movement design. "There's a very short list of people who have done that — I am not even sure there is anybody else on it."
Even with his broad background, "Arrabal," onstage at the A.R.T. through June 18, brings its own challenges, including deeply serious source material. The musical follows a woman's search for information about her father, one of the thousands of "the disappeared" who were abducted by death squads in Argentina during the 1976-1983 military dictatorship. Many were tortured, and others were never seen again.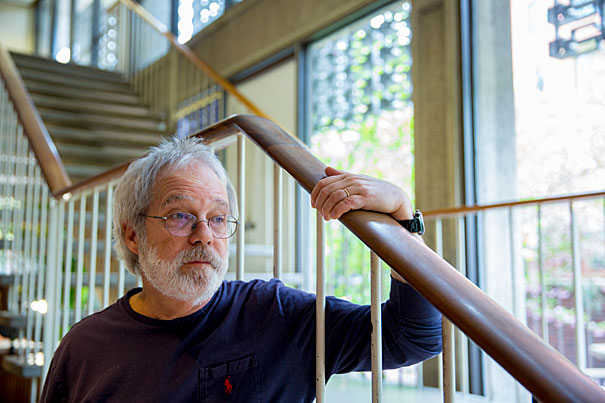 "My job was to try to be sensitive to what their story was," said Weidman, who struggled with the historical brutality he encountered while researching the project. Still, the suffering, he acknowledges, is central to the show's storyline.
"It seemed to me that if we were going to touch this material, deal with it at all, there was an obligation, in a stylized way, to be direct about the events that were the context within which this girl's story takes place.
"Not to put some version of torture on stage — you couldn't do that."
Another challenge is that lack of dialogue, including a few words that Weidman would have given anything for in the third scene to help explain a key plot point. While dancing took center stage in "Contact," it "had a lot more dialogue than people think," said Weidman. In "Arrabal" almost every element of the story is generated by the movement onstage, with the exception of an occasional video or projection.
Fortunately, Weidman can rely on the show's dancers, a talented team from Buenos Aires steeped in the tango tradition, as well as the five-member band Orquestra Bajofonderos, led by Academy Award-winning composer, singer, producer, and guitarist Gustavo Santaolalla, which blends tango, milonga, rock, hip-hop, electronic music, jazz, and classical into a unique sound.
"I heard Gustavo and his band play for the first time in at the Highline Ballroom in New York, and was hooked," said Weidman. "Not only did the music sound like nothing I'd ever heard before … it sounded inherently theatrical."
Weidman's working process involved intense discussions with director and co-choreographer Sergio Trujillo about how to create a compelling story that would make sense without language. Together, he said, they explored "where the story could go, how we could shape it, how the political story and the personal stories could interact and enhance each other — all around Gustavo's music."
But early on, words did work their way into the creative process. During rehearsals in Buenos Aires, Trujillo asked Weidman to go back to his hotel and write certain scenes as if they were "going to be performed in a play." Weidman drafted several pages of dialogue that Trujillo translated into Spanish and shared with the dancers, who then translated them into movement.
"In crucial places where the dancers needed to hit the story points inside the scene, I went away and wrote the story points as though they were going to speak from the stage. So it's been a really interesting kind of back-and-forth process."
The final product of Weidman's effort is a 15-page document that looks more like a treatment, he said, than a script, with descriptions of the action unfolding within each scene.
The hardest thing to convey onstage when using dance as a stand-in for dialogue? Nuance.
"Grief, joy, anger, frustration, they are all a lot easier than something which is more complicated, and there are story beats here that require that kind of complexity."
Weidman called the cast "astonishingly artful" at capturing those subtleties with their expressions. "That makes a huge difference," he said, "in terms of getting the story off the stage and into the audience."
"Arrabal" is playing at A.R.T.'s Loeb Drama Center through June 18. For information and ticketing, please visit the website.