It isn't an overstatement to say that Arts First has had a profound effect on the tens of thousands of students who have participated in the annual spring festival.
"I am always struck at each year's festival that while some of the students will become gifted professional artists, many others will be future leaders in medicine and public health, education, and law," said Jack Megan, director of the Office For the Arts (OFA). "Yet for each of them, participating in Arts First is important. Making art is meaningful. Their undergraduate years are our last best shot at engaging them in arts practice before they head out into the world. If we can do that, the world they enter will be the better for it."
Related
Megan has been at the helm of 16 Arts First festivals, including the upcoming 25th, which kicks off Thursday with the event's founder, actor John Lithgow '67, Art.D. '05, receiving this year's Harvard Arts Medal.
Unmistakable in Arts First is a "joyousness and sense of possibility," said Megan. The festival, he added, has created transformative experiences for students while also serving to connect disparate parts of the Harvard community — the Harvard Art Museums with the American Repertory Theater, classes across the arts and humanities, and countless other collaborators.
"At its core, Arts First celebrates student art-making," Megan said. "The energy of this has been generative. Over the years, it has drawn our attention again and again to the importance of the arts to our students and in the world generally.
"We have 3,000 students who participate in the arts — nearly half of the undergraduate student body. This commitment has been magnetic, pulling us toward opportunities to grow, to create curriculum, to explore new forms of learning through different modalities and creative endeavors. And, of course, it's been incredible to have a president who recognizes the inherent importance of the arts and who responds so genuinely to the students' passion for art-making. That has been a game-changer."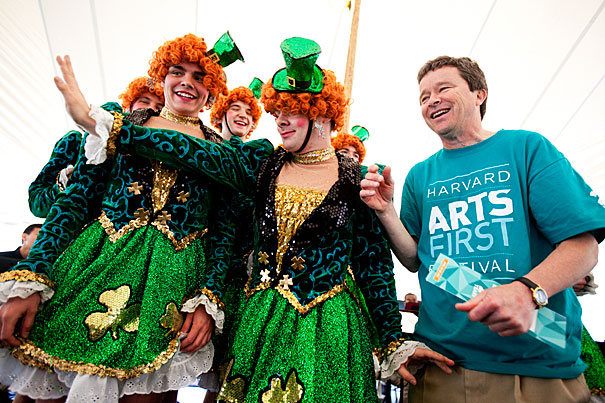 Among the artistic alums returning to campus for the festival is composer Nicholas Britell '03, whose score for "Moonlight" was nominated for an Academy Award.
"The environment Harvard creates is so important," said Britell, who will perform at Friday's "Celebration of Harvard Artists" at Sanders Theatre. "It recognizes that the arts can have a dual purpose: first and foremost, as a profound communication of human experience. Yet additionally, as we are learning more and more, the arts offer real practical benefits as well. Musical and arts education can have powerful cognitive benefits, especially early in life. The arts are such a critical part of experiencing the world."
Organizers began work on this year's celebration last summer. More than 120 student groups across the University have planned more than 150 performances, including dance, comedy, and concerts. There will be 30 visual art exhibitions. OFA has ordered more than 2,000 T-shirts for volunteers and participants.
"The challenge is to always make it new and fresh," said Megan. "For example, we have more practicing artists on the faculty, and we want to celebrate that. Vijay Iyer, a transformative force himself in our arts community, performed with his band on the Science Center Plaza in 2014. Yosvany Terry will play this year. We have also had the great joy of showcasing the masterful work of two vital resident ensembles: the musicians of the Silk Road, and the Parker Quartet. This level of involvement signals an exciting change at Harvard."
A Bach Society Orchestra performance of "Appalachian Spring" gave Myra Mayman one of her most unforgettable Arts First memories. The founding director of the OFA recalled the Aaron Copland suite, performed in Sanders Theatre years ago with a pit orchestra, as "an extraordinary moment."
"I was sitting across from Ivan Tcherepnin [the late music professor] and it was so much the sound of tendrils coming up through the earth and this delicate transitory moment of spring arriving," she said. "It was hair-raising and we exchanged smiles because it was so apt."
Still, Mayman couldn't settle on a single favorite Arts First experience. She recalled a group of visual arts students who re-created Manet's "Le Déjeuner sur l'herbe" in a tableau vivant featuring two women, one naked and looking out at the viewer, the other a scantily clad bather picnicking with dressed men.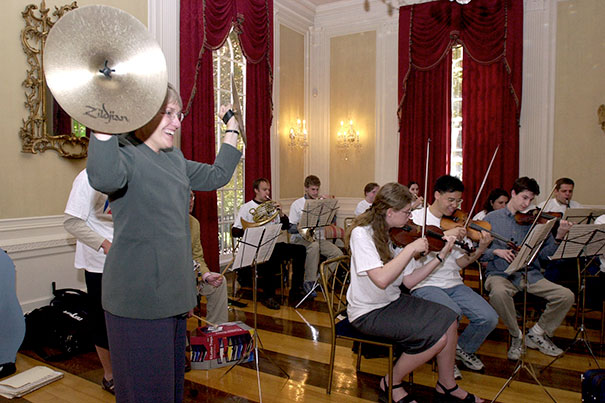 "I got a call from one of the women, who wanted to know if it was OK to be naked," said Mayman. "She ended up using discreet camouflage."
Credit for the inclusive and joyful celebration belongs in part to former Harvard President Neil Rudenstine, a staunch supporter of the arts who knew the idea had "real purpose."
"I knew this would be a major event, but also hoped — and I think it proved to be the case — that it would be a moment when all the arts groups felt they needed to perform in the best possible way," he said. "They worked incredibly hard, turned in superb performances, and people came."
As recalled by Mayman, Rudenstine's own inaugural, in 1991 — a weekend of performances with writers and musicians — served as a framework for Arts First, with Lithgow, an overseer at the time, the playmaker.
"John asked, 'Can you run an arts festival?,' and I said, 'Yes, as long as I can hire a producer,'" she said. "It was because of John that it happened. No one could say no to John Lithgow. No one on the planet."
Sam Wu '17 has been involved in Arts First since freshman year. The joint East Asian studies and music concentrator called the festival "a big part of my art-making experience."
In 2015, Wu staged a musical and visual art experience in the Calderwood Courtyard with his original work "Passacaglia, en pointe" for cello and harp accompanied by ballet dancers. In addition, a friend from Yale performed "Tree of Life," a Wu composition for piano, while another artist friend painted on a canvas dropped from a tree.
For this year's festival, Wu is collaborating with the same friends on a neurotechnology-based interactive installation called "still."
"I believe in thinking beyond my own art form to really see how I can express things beyond music," said the 21-year-old Adams House resident. "I believe in the physical aspect of music and feeling it in a visceral matter. Most times I can only imagine that, but I could see how the musical manifestation came to life with those performances, and Arts First allowed me to try something like that."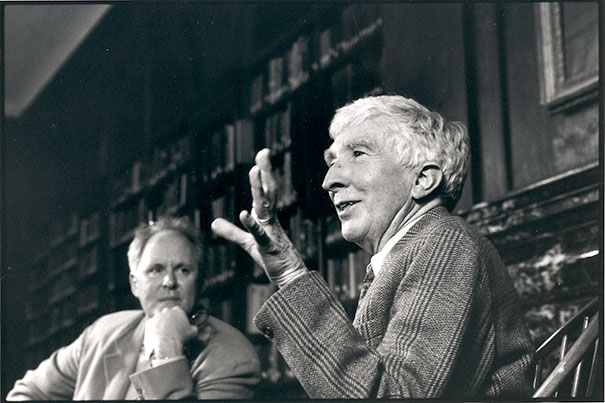 The 25th festival will also include group and individual performances from the Graduate School of Design, the Ed School, the Divinity School, the Law School, the Medical School, and the School of Public Health. Wu, who grew up in China, said watching different disciplines collaborate is as much fun as being on stage.
"Sometimes you see something you haven't seen before, and that is as exciting as sharing my work," he said. "It's one of the best times to be part of Harvard."
These experiences have staying power. Cici Yu '13, worked on Arts First all four years on campus, sometimes performing, always working behind the scenes, most notably as layout designer for the festival guide from sophomore through senior year.
"What's exciting for me is the production, the months of planning — organizing rehearsals, grant writing, going back and forth on ideas, arguing," said the 26-year-old, who now teaches high school math in Chelsea. "That's the fun part of the art-making."
Since graduating, Yu has returned to campus for every Arts First — and not just for the free T-shirt.
"I like seeing what's going on under the tent, the public art on display, and watching a cappella performances," she said. "It's free and outside, and students create really thoughtful work — things that make you stop and wonder."