They were called "an indomitable asset," "a consummate creator, innovator, and teacher," "the glue that keeps it all together," and even a "walking encyclopedia of Harvard knowledge and connections," but the dozens of Faculty of Arts and Sciences (FAS) staff who gathered in University Hall last week can now all boast of a new title — Dean's Distinction award winner.
"You have revamped our mentoring program to better meet the needs of our graduate students, enhancing their teaching and communications skills," Edgerley Family Dean of the Faculty of Arts and Sciences Michael D. Smith told the honorees during the ceremony. "You have worked collaboratively with administrative colleagues, coaches, and departments across the University to build awareness, grow attendance, and generate positive experiences for students and fans attending Harvard sporting events — including the first sell-out crowd for our women's hockey team. You have embodied the mission of Harvard College by taking time to listen to and counsel students — often well beyond normal office hours — challenging them to have difficult conversations, helping them build a strong intercultural community, and preparing them to lead in a complex world.
"You are essential to everything we do," he continued. "Our faculty and students are incredibly fortunate to have your ideas, your engagement, and your partnership. On behalf of the faculty, I extend my sincere thanks to you."
In all, 59 employees from more than 40 departments were presented with 61 awards by FAS Dean of Administration and Finance Leslie Kirwan at a March 9 ceremony in University Hall.
In addition to a number of individual honorees, the awards recognize the work of teams. This year, two were tapped for recognition:
The Aurora Teaching Fellow/Teaching Assistant Pilot group was instrumental in completing the first-ever FAS integration between our local system and PeopleSoft and the new Identity and Access Management (IAM) platform. As a result of this collaboration, the system has received positive feedback from end users. The extraordinary effort, actions, and dedication of this group truly assisted in forming the working model and expectation for other functional areas on the roadmap ahead.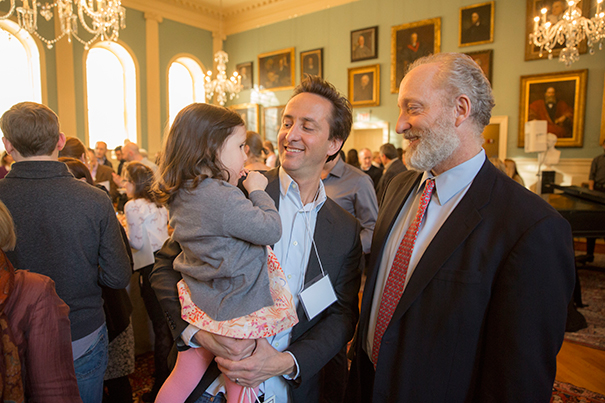 The Fairbank Center for Chinese Studies Team focused on four strategic initiatives as part of the center's 60th anniversary — Digital China, Environmental Humanities, China and the World, and Impact and Outreach. In addition to sponsoring digital and environmental postdocs, a digital humanities FAS course, and a new fellowship in Taiwan studies, the team launched a comprehensive rebrand that doubled its online following.
Among those who received recognition last week was Economics Department Director of Administration Belynda Bady, who led the Social Science Division's Culture and Community Initiative, which focused on bringing staff together to improve their sense of community, morale, and engagement.
"It feels really wonderful," she said of receiving the award. "One outcome of the initiative was that recognition is important — for people to say thank you for a job well done goes a long way, and I think what's great about this award is that it doesn't just come from your department or your supervisor, but the highest level staff are recognizing the work we do around the university."
For Ann Hall, director of communications for the Graduate School of Arts and Sciences, receiving recognition from the highest levels of FAS administration was a special honor.
"It is always nice to have your work appreciated, but to have it acknowledged by the dean of the FAS is a very special kind of recognition," she said.
Athletics Department marketing manager Andrew Vatistas, who was recognized for his efforts to boost awareness and grow attendance of Harvard sporting events, including the first-ever sell-out of a women's hockey game, said the award was a much-appreciated recognition of his efforts.
"It's very important [to receive this type of recognition]," he said. "We all get recognition in the Athletics Department from our higher-ups, but it's great to be able to be here in University Hall and to be recognized by the dean."
Dean's Distinction 2017 recipients:
Adam Aja, Harvard Semitic Museum
Belynda Bady, Department of Economics
Deanna Behrent, Office of Physical Resources and Planning
Jennifer Brown, Harvard University Herbaria
Leah Burrows, SEAS Communications
Julia Cai, Harvard China Fund and Fairbank Center for Chinese Studies
Mark Cellucci, Department of Psychology
Pamela Choi Redfern, SEAS Capital Projects and Planning
Kathleen Coviello, Department of Romance Languages and Literatures
David Crabill, Harvard College Office of Student Life
Hera Daldalian, SEAS Financial Operations
Dilek Dogutan Kiper, Department of Chemistry and Chemical Biology
Theresa Dugan, Instructional Media Services
Kerry Foley, Division of Continuing Education
Carla Greenwood, FAS Finance Office
Ann Hall, Graduate School of Arts and Sciences
Emilie Hardman, Houghton Library, Harvard College Library
Wendy Heywood, Department of Organismic and Evolutionary Biology
Heather Julian, FAS Development
Kathleen Lebel, Harvard College Office of Admissions and Financial Aid
Thomas Lee, Office for the Arts at Harvard
Krista Lester, Division of Social Science Administrative Support Group
Timothy Letteney, Harvard Museums of Science and Culture
Ben Marciniak, Office for Faculty Affairs
Jessica McCall, Division of Science
Paul Millett, HUIT Department of Information Technology Support Services
Wairimu Mwaura, The Harvard Foundation for Intercultural and Race Relations
Rebecca Nesson, Division of Continuing Education
Kimberly O'Hagan, Department of History
Pamela Pollock, The Derek Bok Center for Teaching and Learning
Patricia Purcell, Department of Chemistry and Chemical Biology
Marisa Reilly, Department of Earth and Planetary Sciences
Karen Rynne, Department of Music
Catherine Shapiro, Harvard College Freshman Dean's Office
Edward Soucy, Center for Brain Science
Madeleine Straubel, Department of Statistics
Laura Thomas, Department of Sociology
Andrew Vatistas, Department of Athletics
Patrica Vio, Department of Government
Jon Woodward, Harvard University Museum of Comparative Zoology
Aurora Teaching Fellow/Teaching Assistant (TF/TA) Pilot Group
Emily Amendola, Department of Visual and Environmental Studies
Dara Greenhouse, FAS Finance Office
Patricia Jenkins, FAS Finance Office
Joseph Lavin, Department of Chemistry and Chemical Biology
Laura Pascale, Graduate School of Arts and Sciences
Lauren Raece, Harvard College Office of Undergraduate Education
Karen Rynne, Department of Music
Paula Soares, Department of Visual and Environmental Studies
Thom Wall, Department of Government
Matthew Wallace, Graduate School of Arts and Sciences
Candice Wesson, Harvard College Office of Undergraduate Education
Douglas Woodhouse, Harvard College Program in General Education
Fairbank Center for Chinese Studies Team
Julia Cai, Harvard China Fund and Fairbank Center for Chinese Studies
Karen Christopher, Fairbank Center for Chinese Studies
Nicholas Drake, Fairbank Center for Chinese Studies and Harvard China Fund
James Evans, Fairbank Center for Chinese Studies
Sarah Gordon, Harvard University Asia Center
Mark Grady, Fairbank Center for Chinese Studies
Nancy Hearst, Fairbank Center for Chinese Studies
Caitlin Keliher, Harvard China Fund
Justin Wong, Fairbank Center for Chinese Studies