David Rockefeller '36, a prominent member of a storied family, a global leader in business and philanthropy, and a longtime Harvard University benefactor and Overseer, died Monday at his home in Pocantico Hills, N.Y. He was 101.
Born into a family whose name was synonymous with fame and largesse, Rockefeller graduated from Harvard College in 1936. He did graduate work at Harvard with economist Joseph Schumpeter before earning a doctorate in economics at the University of Chicago in 1940. The grandson of John D. Rockefeller, who founded the family's fortune, David Rockefeller embarked on an immensely successful career as a commercial banker and businessman, serving as the chairman, president, and CEO of Chase Manhattan Bank and chairman of the board of the Rockefeller Group. He also was an influential figure on the world stage for decades.
He was a generous donor to Harvard faculties and Schools, and that generosity has had a lasting impact on the University's institutions and vision. Capping decades of support for a variety of University priorities, in 2008 he pledged $100 million to increase learning opportunities dramatically for undergraduates through international experiences and participation in the arts, as well as supporting the renovation of the Harvard Art Museums. The gift was then the largest from an alumnus in Harvard's history.
"David was a visionary leader, an extraordinary philanthropist, and a devoted friend," said Harvard President Drew Faust. "His passion for Harvard was infectious, and his commitment to the arts, to experiential learning, and to increasing knowledge of other cultures has made a lasting impact on the University and the thousands of students and scholars who have benefited from his generosity. The Harvard community is deeply saddened by David's death, and we extend our deepest condolences to the Rockefeller family."
Rockefeller was a member of the executive committee of the Committee on University Resources, and was honorary chair of The University Campaign, which raised a record $2.6 billion for Harvard between 1994 and 1999. He also served on the Harvard Board of Overseers from 1954 to 1966, and was president of the board from 1966 to 1968. In recognition of his many forms of service to the University, he received an honorary degree in 1969.
Described by Fortune magazine in 1977 as "the nation's leading business statesman," Rockefeller was also an innovative philanthropist with a wide range of interests, including Latin America, modern art, and the sciences. In 1994, he donated $25 million to create the David Rockefeller Center for Latin American Studies at Harvard, which has become one of the pre-eminent institutions of its kind in the world and is distinguished as the first interfaculty initiative for international studies at Harvard.
Rockefeller's initial gifts to the center, which provided endowments for three chairs in Latin American Studies, have been emulated by other donors, and Harvard now benefits from seven new endowed professorships dedicated to the study of Latin America. In addition, eight endowed fellowships for visiting researchers have been added.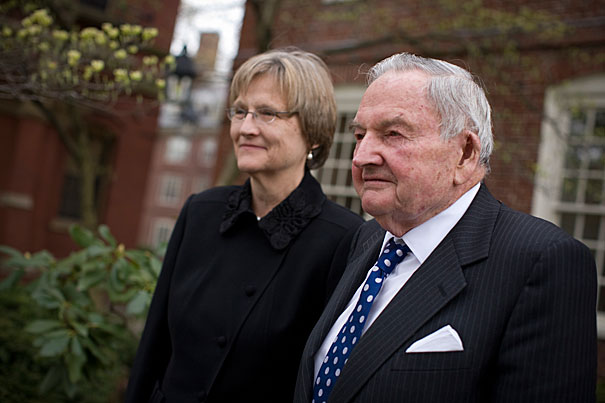 "In the early 1990s, David Rockefeller had the vision to help lead Harvard's effort in creating the first University-wide center of its kind," said former Harvard President Neil L. Rudenstine in 2008. "David realized that the time was right to turn attention — in a much more powerful and concentrated way — on Latin American affairs."
Rockefeller credited Harvard for his interest in global issues. "Harvard opened my eyes and my mind to the world," Rockefeller said in 2008. "It was because of Harvard's language requirement that I spent the summer of 1933 in Germany and saw firsthand the ominous rise of fascism. And it was at Harvard that I first studied art history. Harvard provided me with an intellectual framework to understand what I was seeing and experiencing that has stayed with me for my entire life."
Funds provided to students through the David Rockefeller International Experience Grants, established as part of the 2008 gift, have created opportunities for a generation of students to travel the globe to work on projects spanning the humanities, social sciences, and life sciences. "It seems entirely fitting that David's remarkable gift will ensure that all undergraduates, regardless of financial means, will have the opportunity to follow David's example and to become citizens of the world," Faust noted.
Rudenstine said in his 2008 remarks that Rockefeller's philanthropy was only one of his many callings. "It has characterized a life in which a natural spirit of generosity has been strengthened and deepened by an equally strong sense of responsibility for the common good — and for the health of institutions and societies around the world," he wrote, quoting his 1999 speech at the New York Public Library.
Many in the Harvard community felt Rockefeller's death personally. "For all its inevitability, this news is no less heartbreaking," said William L. Fash Jr., the Charles P. Bowditch Professor of Central American and Mexican Archaeology and Ethnology. "That truly is a gap that can never be filled. We can find solace by reflecting on all the wondrous and productive and world-changing things that he made possible for us and for our students, but also for generations to come."
Others recalled Rockefeller's lively mind and wide-ranging interests. As a child, Rockefeller developed a fascination with bugs. His beetle collection grew to 2,000 species and 150,000 specimens. He also amassed a huge, museum-quality art collection of 15,000 pieces.
"This is a deeply sad time for us all, as David touched our lives in so many unique ways," said Brian Farrell, director of the David Rockefeller Center. "He was a tireless advocate for higher education and particularly for international experiences, with a boundless intellectual curiosity in everything from beetles, our shared passion, to art and world cultures."