For Karen Mardini '18, the Syrian war began the day it reached her doorstep.
The conflict between rebels and government forces started in 2011, after rulers in Egypt and Tunisia were toppled in the Arab Spring. In the early months, rebels seeking to overthrow President Bashar al-Assad engaged with government forces in Damascus and other parts of the country.
The northern city of Aleppo, Mardini's home, endured occasional power outages, street protests, and armed skirmishes, and residents learned quickly to avoid going out at night. But it wasn't until the violence shut down her school that Mardini, then in 10th grade, realized that war had finally invaded her life.
"What was I going to do?" said Mardini, who was born in Canada and grew up in the neighborhood of Al-Sabil, near the Old City of Aleppo. "When I heard that the school was closing, I knew I had to leave home."
And so she did. A small Western Massachusetts boarding high school that Mardini found online offered her full financial aid, and, using her Canadian passport, she entered the United States in 2012. Two years later, she moved to Cambridge after being accepted to Harvard. She still misses her childhood home — her family's old piano, the smell of her mother's home-cooked meals — but she has found a new one.
"I'm really happy here," said Mardini, a computer science concentrator who lives in Winthrop House. "My roommate is my best friend. Here, I can always call someone and within five minutes we can hang out."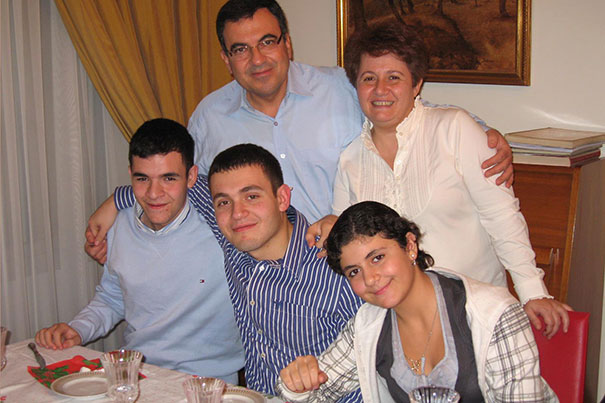 The sense of security Mardini had enjoyed since leaving Syria suffered a jolt when President Trump ordered a 90-day block on the entry of citizens of Iraq, Iran, Libya, Sudan, Syrian, and Yemen, citing concerns over ties to terrorist organizations in an act some saw as anti-Muslim. Mardini's mother is an Armenian Christian, and her whole family practices the Christian faith. Still, with the executive order now in federal court, her days are filled with fear and uncertainty.
"My dad called me the next day and warned me against leaving the country under any circumstance," said Mardini. "I'm scared to think whether or not I would have been admitted into the country to go back to school if classes had started after Trump's announcement."
Last year, to offer support to other Syrian students on campus and to raise awareness of the civil war, Mardini joined Nisreen Shiban '17 and Tala Atassi '18 to start the Syrian Humanitarian League at Harvard. But they couldn't do much.
"We wanted to keep the group as a humanitarian organization," said Shiban, who has lost five relatives in the war. "There was anxiety over becoming entangled in politics, and fear for our families back home. Now there is a sense of hopelessness."
That's what Mardini felt during her last year in Aleppo. Life as she knew it changed dramatically. Her father's licorice factory was burned down, and the grand hotel she used to pass on her way to school was reduced to rubble. Aleppo, one of the oldest cities in the world, has been nearly destroyed.
Related
The six-year conflict has claimed hundreds of thousands of lives and forced nearly 5 million people to flee their homes.
To maintain some sanity, Mardini is careful not to follow news about the war too closely. With her parents trying to start a new life in Canada, and her two brothers studying and working there and in the United States, she doesn't have to worry about her family's safety.
"I know I'm not going back," said Mardini. "My life in the past is Aleppo. It's not my future."
But since the president's order, Mardini worries about her future. She had hoped to work in the tech industry in the United States after graduation, but she fears that companies might be reluctant to hire people like her, given the precarious political climate.
"It's caused some fear and restlessness in my life," said Mardini. "It's really upsetting to hear about people, basically in my position, who were in the U.S. pursuing their studies and spending time with friends that are now no longer allowed to come back, while life without them in college continues. I'm unsure about what my future looks like."